Wanderers Cross Country to Compete
The Wissahickon Wanderers traveled coast to coast in January to display their running skills. Rock Steady teamed up with Chris Moore's brother, John, to excel in the San Francisco Half-Marathon on January 26. Snake Bite, who has been recovering from back problems, gamely competed in the 5k.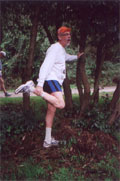 John Moore, who lives in San Francisco, finished 468 in an excellent time of 1:38:35. Rock followed afterwards in 1:55:16 and finished in 1456th place. Snake, who had not been training for more than a month because of the back problems, finished in 279th in the 5k race in a time of 28:16.
The half marathon course was a beauty. The initial stages of the race traversed Golden Gate Park. The course then followed the Pacific coastline for about five miles before finishing again in Golden Gate Park. With the beautiful course, enthusiastic atmosphere and perfect temperatures, the San Francisco Half-marathon was added to the list of Must-Runs for Wanderers.
Earlier in the month, Scott Quitel ran in the Frostbite 10-miler in New York's Central Park. The race lived up to its advance billing with temrperatures in the single digits. Scott was not deterred by the cold and finished in 661st place in a time of 1:28:37.