Campbell Proves Critics Wrong
"He's all washed up!"
" He's over the hill!"
" He couldn't run his way out of a brown paper bag!"
These were some of the comments circulating around the Wanderers clubhouse about Sam "Campy" Campbell. Campy in his prime had run the marathon in 3 hours and 3 minutes. Many Wanderers would kill in order to register that type of time. Campy has also bagged numerous New York and Boston marathons. But for the last decade, Campy had disappeared from the running scene.
Well, the word out on the street is that Campy is back. Campy joined by stepchildren Sam and Susannah Ames and Rock Steady ran the Rockport (Massachusetts) 5k for Wellspring in mid-June. Campy and Susannah grabbed fourth place in the prestigious father-daughter competition in a combined time of 60:24. Sam teamed up with the other Sam to finish 9th in the father-son competition.
In the individual competition, Susannah Ames ran in the 5k in a sparkling 26:21 to finish 63rd out of 273 runners. The two Sams battled it out finishing in 33:59 and 34:03 respectively. Rock Steady surprised even himself with a 34th place finish in 23:15.
Stay posted to the Wanderers website for future appearances by Susannah and the two Sams.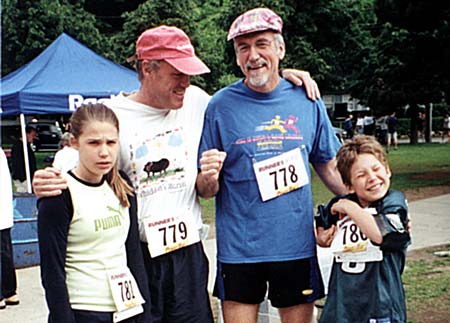 Susannah Ames, Sam Campbell, Rock Steady, and Sam Ames
look pumped prior to the Rockport 5k.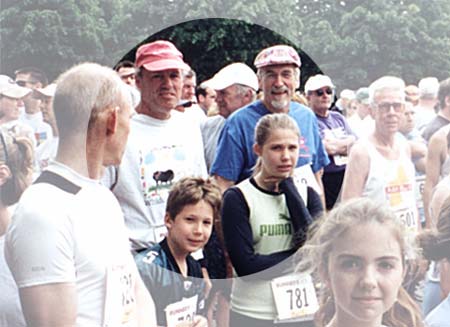 Our runners await the starting gun.