Wanderers Succumb to Cake in Lobster Classic

The last complaint you would expect to hear from a group of Wanderers is that they had been served too much cake. But that is exactly what Boston Marathon ace Kim Pierce and Rock Steady were muttering after the Lobster Classic 10-miler in Hancock, Maine, on July 26. In this race, it was a case of too much Judson Cake.
The Wanderers duo turned in two excellent runs with Kim running the hilly Maine coastline course in 1:22:29. Rock Steady was hot on her heels in 1:22:33. But even these performances could not match the run produced by 25-year-old Judson Cake from Bar Harbor. Cake captured the 10-mile race in a time of 57:47 beating his nearest competitor by almost two minutes.
The Wanderers finished 14th and 15th respectively out of 28 runners, and Kim placed second in the women's division. Meanwhile, Kim's daughter (and Snake Bite's niece) Morgan Southgate won third place in the girl's division of the 2.5 kilometer race. The nine-year-old Morgan was timed in a snappy 13:24.
Pieman Tom Humphrey was scheduled to run in the 10-mile race in what was being billed by the locals as a showdown between Pieman and Cake. However, Pieman was waylaid at Fernel's Down East Lobster Pound, and was never seen afterwards.
| | |
| --- | --- |
| | |
| Morgan and Kim show off the shirts they won in the Lobster Classic. | Wanderers Rock Steady, Morgan Southgate and Kim Pierce line up for publicity photo prior to the run. |
| | |
| --- | --- |
| | |
| Kim Pierce turns on the jets near the finish of the Lobster Classic. | Rock rambles toward finish line of the 10-miler. |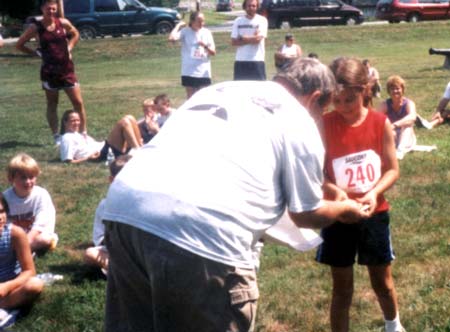 Morgan picks up medal for third place in her division of the 2.5k lobster run.