Roach Races Through Time
Wanderer Phil Roach combined athletics with a little history lesson when he competed in the Louisbourg 9th Annual Race Through Time 8-miler in mid-August.
Phil clocked 1:05:12 to finish 45th in a field of 89 at the Cape Breton, Canada, race. The course started at the village of Louisbourg and continued out to the Louisbourg fortress and then came back again.
"The course was relatively flat, but very scenie -- rocky coastline with great views of the harbour. The modern town is a small fishing village that gets lots of tourists in the summer," Phil noted in his field report to Wanderers HQ. "We ran out of town on the main drag and on towards the fortess which is a National Park/Historic Site. Paved road for the most part until we got onto park property and circled behind the fortress. We then came in through the back gates of the park and out the main gate and back to town. Very good packed dirt trail and roads over this section."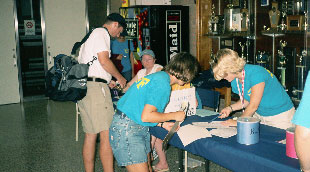 Phil Roach at registration (with bag)
The fortress of Louisbourg was constructed by the French beginning in 1719, and with the City of Quebec was considered the bulwark of New France. The fortress over its lifetime changed hands at least a half dozen times between the French, English and even the Americans.
The French fortress was huge and was supposed to protect the colony's Atlantic coastline. However, Charles Lawrence, a British governor during these colonial times, noted that "the general design of the fortifications is exceedingly bad and the workmanship worse executed and so disadvantageously situated that...it will never answer the charge or trouble." Lawrence, it turned out, was right. Louisbourg was only attacked twice, and it was captured both times.
The fortress was eventually razed by the English later in the 18th century, and the current fortress is almost entirely a recreation.
Back to the race. "There was one park animator in 18th century French Marine costume beating a drum as we exited the fortress," Phil continued in his field report. "Everyone seemed to pick it up on the way home as we passed this guy! No one passed us (Phil was running with his brother in law Perry MacKinnon) after about the 2km mark and we ran our fastest mile split over the last mile as a couple of people were trying to chase us down. Good spaghetti dinner afterwards, courtesty of a local ladies group. The 1st place trophies were these crossed swordfish swords on a plaque, hand made by a local fisherman...impressive."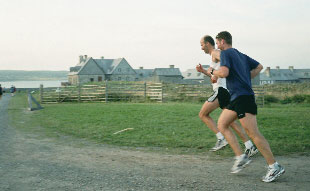 Perry MacKinnon coming through the fortress site.
Phil observed that when the Wanderers strike force comes up to Cape Breton this May for the Cabot Trail Relay, they should stop in for a visit at Louisbourg to pick up a little culture.