Wanderers Travel to Reading for Ugly Mudder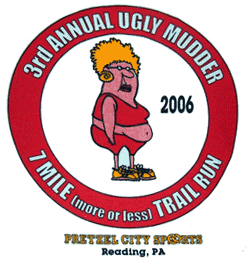 Wanderers turned out in droves for the Ugly Mudder Sunday the 26th of February. According to the race director, the Ugly Mudder turned out to be the largest trail run in the eastern half of the United States (in February, I think). Anyway, there were as many as 860 starters and 849 finishers. Consider also the weather – sunny, but temps in the 20's with strong winds resulting in wind chills in the teens.
Highlighting the course was a finish exceeding description as hill, with runners having to attack with all fours. (see Chris V's simian technique, and we assure you, the picture below hardly does it justice)
This large field and contingent of Wanderers were bested by an Alaskan setting a new course record at just over 50 minutes. Anyway, not too soon after, Chris Moore finished in 16th position squeaking, in at just under an hour. Right on his heels was wanderer veteran Paul Hines (1st 50-59) believed to be nursing an injury. Chris Verry, quickly becoming a veteran of the Reading Trail Series hit the tape at 1:06 in 63rd position.
Top Female Master Award at 1:12 went to sometime Wanderer (and devout Lady of the Auxiliary) Mary Pat McFarland. Barely a minute later Babs Gorka crossed the line (3rd F 40-49) unwilling to surrender the reigns to youngster Polly Jansen (2nd F 30-39) besting her by only 7 seconds.
Fresh off injury, and possibly her first race as a Wanderer, Wendy Stevens completed the course in a very respectable 1:21. Next to cross the line were Great One and Hard Boyle only 14 apart. Susan looks like you need to worry less about Carnage and look over your shoulder.
Always steady Dennis Crowne rounded out the mix getting bonus points for carpooling the crew AND purchasing the first pitcher of beer.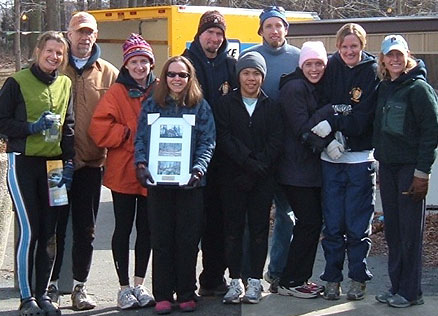 Wanderers before the race.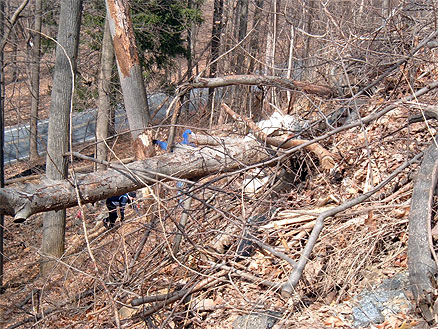 The finish required crawling up this 'hill'.
<- go to the last page | old news reports (pre 2008) » | current news »