Wanderers Cross Country Race is Another Classic!
Results (below) | Photos (below) | Additional Photos (new page)
The Chestnut Hill Cross Country Classic bills itself as open to runners of all ages and abilities. And that is exactly who showed up.... a great assortment of veteran cross country runners, newcomers to the distance, young runners, older runners, fast and slow. In all, 74 runners competed in the event sponsored by the Wanderers on September 16.
High school assistant coach Joel Alberts won the three-mile race in 16:05 followed by local cross country legends Chuck Shields and Bob Rimkis in 16:37 and 16:53 respectively. The Wanderers own Matt Palombaro finished fourth in 17:04.
Leah Whipple was the top women's finisher in 21:39 followed by Joan Affleck in 22:12 and Alison Myers in 22:54.
Jim Trainor also represented the Wanderers and finished strong in 32:16.
Great jobs were also turned in by Lola and Melanie in registration and organization, and as usual Paul Hines from Chestnut Hill Academy for directing the event.
The 5th annual Chestnut Hill Classic was held under cloudy skies but luckily the rain held off. Although not hot, the humid weather made the runners work hard.
Event Photos (1 of 2) | More Photos (2 of 2) | Results (below)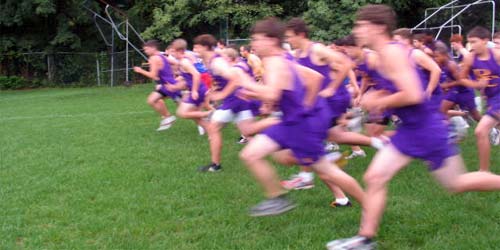 They're off!


The winner Joel Alberts sprints for the finish.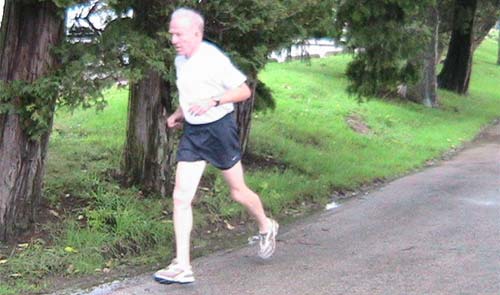 Bruce Gilbert looked strong out on the course.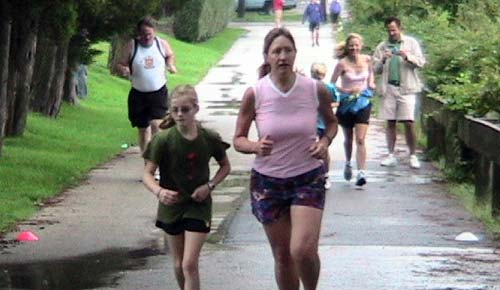 Madeline and Annabelle Canning set a good pace in the
early stages of the race with Jim on their heels.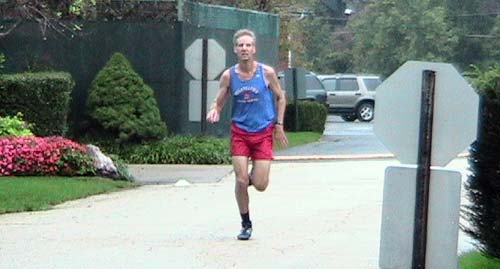 Chuck Shields was his usual powerful self out on the course. Chuck finished second.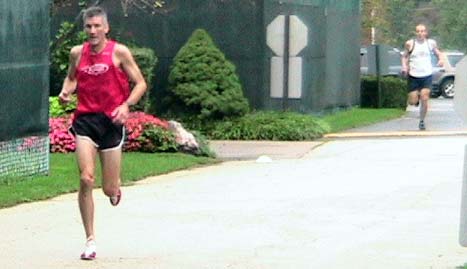 Veteran cross country runner Bob Rimkis showed
good early season form finishing third in 16:53.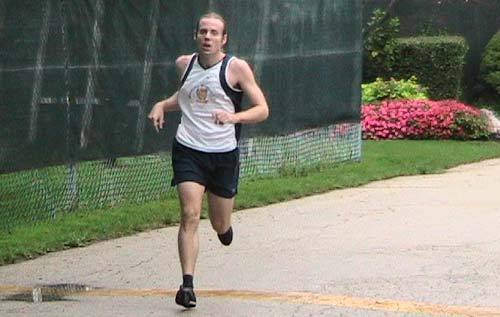 Although Matt was a little disappointed in his time, he still looked awfully strong.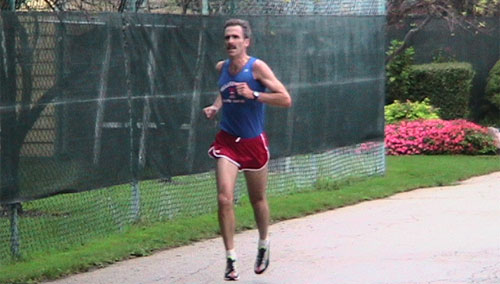 Bob Reynolds finished sixth in 18:04.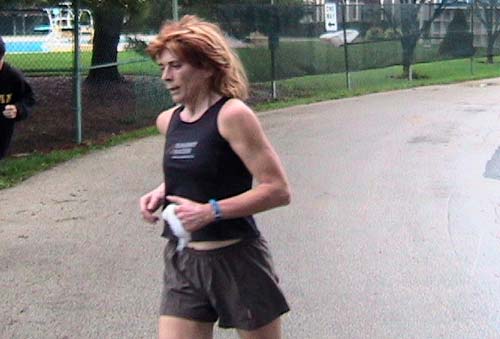 Leah Whipple was top finisher in the women's division in 21:39.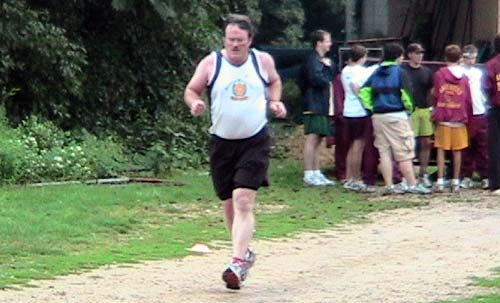 The Wanderers Jim Trainor just kept on truckin'. Great job, Jimbo!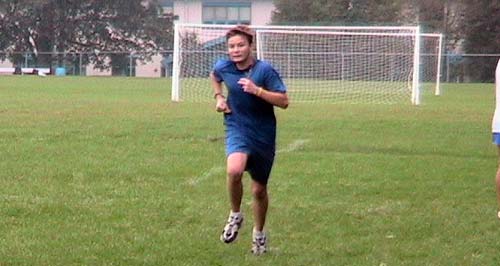 Jack Saint Clair dashes for the finish line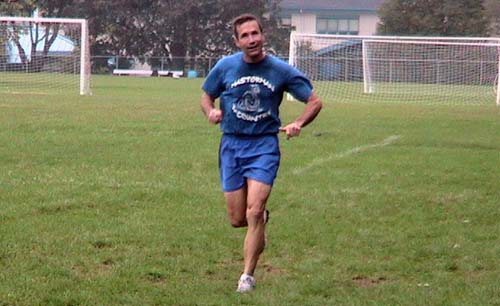 Father Kevin Saint Clair looks strong at the finish too!
Click here for ADDITIONAL PHOTOS >>
---
2006 Cross Country Classic Race Results
Place Name Time
1 Joel Alberts 16:05
2 Chuck Shields 16:37
3 Bob Rimkis 16:53
4 Matthew Palombaro 17:04
5 Keith Davis 17:47
6 Bob Reynolds 18:04
7 Rick Jacobs 19:00
8 Dan Bergman 19:17
9 Ross Patton 19:27
10 Dustin Wilson 19:39
11 Kevin Hughes 19:42
12 Mike DeVuono 19:57
13 Tim Weona 20:04
14 Vincent Miller 20:13
15 Jonathan Skoczalek 20:14
16 Steven Rook 20:15
17 Devon McKee 20:28
18 Dick Green 20:29
19 Greg Reed 20:31
20 Greg Crotty 20:51
21 Mike Wixted 20:54
22 David Kerr 20:55
23 T.J. Lackiewicz 21:03
24 Tyler Jones-Palmer 21:06
25 Robert Kates 21:08
26 Rasi Jenkins 21:12
27 Jozef Jozefowski 21:15
28 Steve Reddell 21:28
29 Doug Lott 21:34
30 Leah Whipple 21:39
31 Luke Coady 21:42
32 Nick Zasowski 21:51
33 Nick Travaline 22:04
34 Pat Weiler 22:05
35 Charles Graham 22:09
36 Joan Affleck 22:12
37 Mark Verica 22:17

Place Name Time
38 Gabe Keown 22:17
39 Teryk Miller 22:21
40 Brendon Anderson 22:29
41 Buck Walters 22:33
42 Jacob Kinzey 22:54
43 Alison Myers 22:54
44 Johnny Hass 22:57
45 Suzanne Watts 22:58
46 name unknown 22:58
47 Sam Bissell 23:19
48 Matt Wentworth 23:27
49 Kevin Dwyer 23:28
50 Rich Mohan 23:37
51 Nigel Hopkinson 23:39
52 Joe Stem 23:45
53 Greg Baird 23:54
54 Joe Wolfington 23:56
55 Charlie Frak 24:17
56 Chris Wadley 24:26
57 Bruce Gilbert 24:28
58 Ross Silmohoa 24:54
59 Steve Ferrarale 24:59
60 Alek Hughes 25:06
61 Brian Kelly 25:17
62 Sean Monahan 25:18
63 Andrew Dolan 26:06
64 Don Peterson 26:14
65 Sarah Frank 26:20
66 Carrie Brown 27:10
67 Jack Saint Clair 29:22
68 Kevin Saint Clair 29:32
69 Jim Trainor 32:16
70 Ian Bamberger 32:26
71 Robert Hass 32:53
72 Ellen Hass 32:53
73 Madeline Canning 33:25
74 Annabelle Canning 33:25
<- go to the last page | old news reports (pre 2008) » | current news »