Wanderers show their strength at this year's Ugly Mudder (Feb 25th)
By Irene Nagle
Photos (below) | Complete Results (below)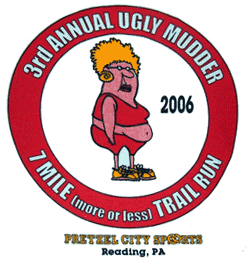 "Deep in the forest a call was sounding, and as often as he heard this call, mysteriously thrilling and luring, he felt compelled to plunge into the forest, and on and on, he knew not where or why; nor did he wonder where or why, the call sounding imperiously, deep in the forest." –Jack London
Much like the city of Philadelphia itself, the mountains and hills surrounding Reading, PA had experienced snowfall a week or so prior to a certain fateful Sunday morning when they would become the location of the notorious Ugly Mudder 7.2M Trail Race. However, unlike the city of Philadelphia, where foot traffic and public maintenance had by then cleared all trails and walkways, the paths that traced the UM race course through the untamed Pennsylvania wilderness had remained untouched by hand or foot of mankind, apart from one solitary set of footprints that had imprinted themselves throughout sporadic segments some indeterminable amount of time before the first runner had even ventured there.
From the time of the snowfall until the day of the race, the ambient air of the woods stayed cold so that the snowy covering turned from powder to a sturdy icy lattice of such fortitude that even Paul Bunyan in Waffle Stompers would not have been able to fracture the integrity of our crystalline white carpet. When combining this example of Mother Nature's capriciousness regarding winter weather with Ron Horn's sadistic enthusiasm for designing the most flamboyantly rugged and vicariously challenging trail courses this side of the Mississippi, what resulted was a race unlike any other to ever to be partaken by even experienced trail runners.
A course that was already brutal and ominous of its own merit, consisting of an untamed hilly terrain of rocks, roots, ridges, branches, debris and the like, was also covered with snow that had frozen solid, so that upon implantation of one's foot the effect was sliding instead of sinking, which meant that the commodity that was highest in demand amongst the runners that day was anything that helped increase traction with the ground. For each individual who dared to take on such a treacherous excursion, it was truly a battle of man vs. nature. Man prevailed, but not without the price of enduring a harsh battle with the elements, as testified by the sporadic blood stains on the snow that day. I would say that anyone who finished without a broken bone or a sprained ankle should consider themselves triumphant and in essence, a complete superstar.
The distinguished Wissahickon Wanderers made quite a demonstration of themselves as a club with a lot of spirit, a lot of strength, and a lot of guts. We affirmed ourselves as formidable competitors amongst the clubs participating in the USATF Mid-Atlantic Association Off-Road Series, placing 3rd with a score of 266.705, just a whisker behind the Philadelphia Athletic Charities and the winning Rosemont Running Club. As Dan had predicted, we certainly did give our rivals a rude surprise as we breezed by them. As for the specifics about the WW members who were among the 630 participants of this extreme event, our own venerable Barbara Gorka earned the title of Female Masters Champion with a time of 1:11:48. The first team finishers were Chris Moore for the men, who placed 18th overall and with a time of 58:14, and Irene Nagle for the women, who placed 48th overall and 2nd female overall with a time of 1:05:24. Among the other distinguished finishers were Polly Jansen (2nd F 30-39), Bob Reynolds (3rd M 40-49), Chris Verry, newcomers Joshua Dennis and Ronalyn Sisson, Doug Dubrosky, Ken Evans, Meagan Boyle (who got the satisfaction of her morning tea that day, much to her relief), Sharon Tasman, Krash Krazy Ass AKA Wendy Stevens, and of course, The Great One herself, AKA Susan Hurrey (who took us on a serendipitous tour of the residential neighbors of Reading on the way home).
The conditions had a lot of impact on performances that day. Polly developed a deeper appreciation for the invention of Yaktrax, and amongst the aforementioned sporadic patches of blood, contribution to that was made possible by Bob, who took a fall or two and scraped up some skin on his knee and chin to make for some tough-looking battle wounds. Both Barb and Irene took home some impressive glassware (this year's top finisher awards were lovely framed pictures of scenery from the trail). Ironically enough in Irene's case, the ice that she beat running on the trail got the best of her on the walk back to the car afterwards, when she slipped with plaque in hand, followed by the flinching sound of shattering glass. Luckily, pictures can be reframed and the damage undone, except for perhaps damage to her ego from the embarrassment from being so clumsy.
Event Photos:
Note: photos were not available for all Wanderers.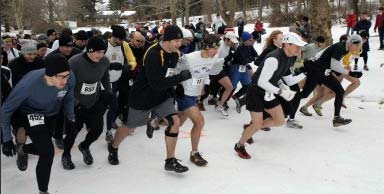 The start of the 2007 Ugly Mudder Trail Race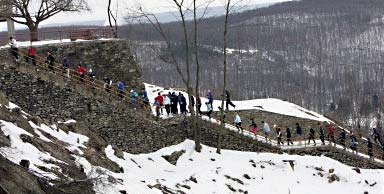 Mid-race
| | |
| --- | --- |
| Meagan Boyle | Joshua Dennis |


Chris Moore


Bob Reynolds


Barbara Gorka


Susan Hurrey


Polly Jansen


Irene Nagle

| | |
| --- | --- |
| Wendy Stevens | Chris Verry |
| | | | | | | | | | | |
| --- | --- | --- | --- | --- | --- | --- | --- | --- | --- | --- |
| Place | MIN | SEC | LAST | FIRST | CITY | STATE | SEX | AGE | BIB# | COMMENTS |
| 18 | 59 | 14 | MOORE | CHRIS | NORRISTOWN | PA | M | 34 | 393 | 7TH M30-39 |
| 25 | 1 | 15 | REYNOLDS | BOB | ERDENHEIM | PA | M | 49 | 460 | 3RD M40-49 |
| 48 | 5 | 24 | NAGLE | IRENE | PHILA. | PA | F | 22 | 408 | 2ND FEMALE |
| 54 | 6 | 35 | VERRY | CHRISTOPHER | PHILA | PA | M | 30 | 570 | |
| 64 | 8 | 19 | DUBROSKY | DOUG | BALA CYNWYD | PA | M | 38 | 168 | |
| 90 | 11 | 9 | DENNIS | JOSHUA | SOMERDALE | NJ | M | 34 | 139 | |
| 94 | 11 | 48 | GORKA | BARBARA | PHILA | PA | F | 44 | 218 | FEMALE MASTERS CHAMP |
| 100 | 12 | 4 | JANSEN | POLLY | PHILA | PA | F | 32 | 285 | 2ND F30-39 |
| 219 | 23 | 20 | SISSON | RONALYN | AMBLER | PA | F | 43 | 696 | 1ST F40-49 |
| 360 | 34 | 11 | BOYLE | MEAGAN | CONSHOHOCKEN | PA | F | 32 | 61 | |
| 444 | 41 | 20 | TASMAN | SHARON | PHILADELPHIA | PA | F | 30 | 547 | |
| 454 | 42 | 14 | STEVENS | WENDY | PHILA | PA | F | 34 | 536 | |
| 461 | 42 | 35 | HURREY | SUE | PHILA | PA | F | 39 | 282 | |
(click here for complete results in MS Excel format)
<- go to the last page | old news reports (pre 2008) » | current news »