Photos added 3/2 @ 5pm – There are many great attributes about the Wissahickon Wanderers, one being that we fear no weather. What? A little snow fell in the area? "Bring it on!" said 12 undeterred Wanderers as they descended on Reading, PA February 28th to tread upon all of the winter beauty that Mother Nature left us.
At this first USATF Off-Road Series race of 2010, the Wanderers proved that there is no "off season." Weeks of hill repeats and Rocky IV-like snow running elevated the Wanderers' intimidation factor and proved that we are indeed a contenting force.
Illustrious, notorious race director Ron Horn informed the crowd that this was the hardest course he had ever marked. He recapped, "The first 40-50 runners had to contend with snow that sank 10-12 inches with each step and some places on the course, 18-30 inches. The rest of the runners got to run in somewhat more packed snow but anybody that tried to pass, went right up to their mid-shins in white stuff."
That pretty much sums it up. In a field of 672 finishers, the Wanderers performed amazingly.
Special props go out to 3 Wanderers who ran this race as their Pretzel City Sports trail racing debut:
Phil "Boulderer" Ranly
1:15:19
6th in AG, 25th overall
Louis Secreto
1:16:30
"Wow…that was painful!"
Judy Broadley
1:40:53
Yes, YOU are hardcore!

The rest of the field:
Anita Zalewski
1:40:58
"Yak Trax are worthless!"
Erik Johnson
1:17:14
Yak Trax reinforced with shoelaces are also worthless.
Polly Jansen
1:22:25
3rd in AG. Yak Trax with elastic laces aren't any better!
Chris "I must break you" Verry
1:14:44
4th in AG, 17th overall
Lisa Franciotti
1:31:36
"That was…insAAAne!"
Noah AnStraus
1:17:43
Flip-flops in February? Of course!
Beth Auman
1:21:09
Wonderful Wandering Pagoda!
Doug Dubrosky
1:15:46
D.D.=Downhill Destroyer!
Hugh MacMullan
1:15:42
GPS King! Your exact location is somewhere in the woods!
Friends of the Wanderers running for that "other" team:
Jeff Hayes
1:13:48
1st Master, 5th overall
Paul Hines
1:16:40
6th in AG
Special thanks to Dan for loaning us the Technovan for the day. And to Noah who brought the Bose system since Dan blew out the Technovan's speakers! USATF team results should be posted shortly on mausatf.org.
Next up in the USATF Off-Road Series: Tyler Arboretum 10k, March 27th, Media, PA!
Event/Race Photos:

From left to right: Douglas Dubrosky, Christopher Verry, Phil Ranly,
Polly Jansen, Louis Secreto, Noah AnStraus, Judy Broadley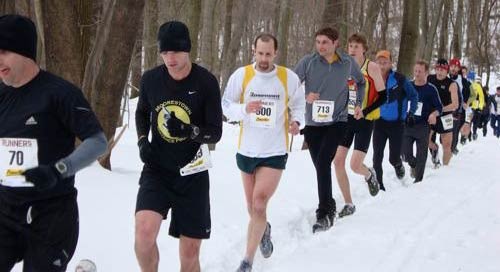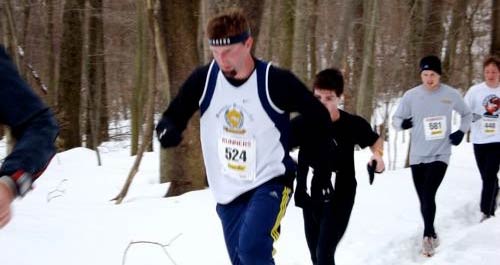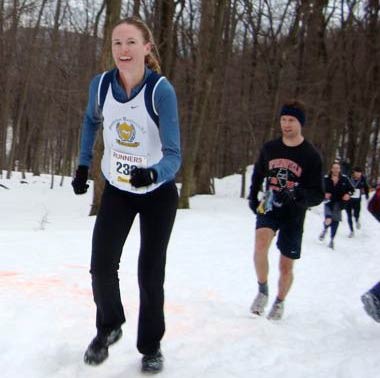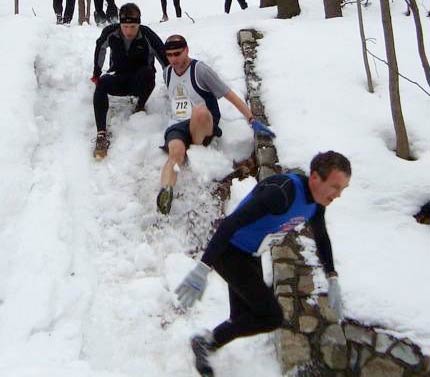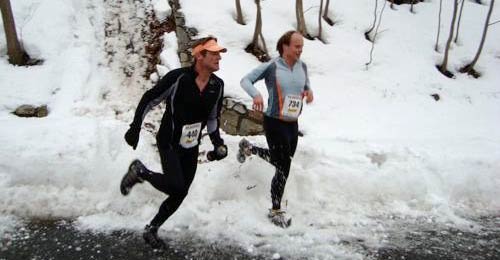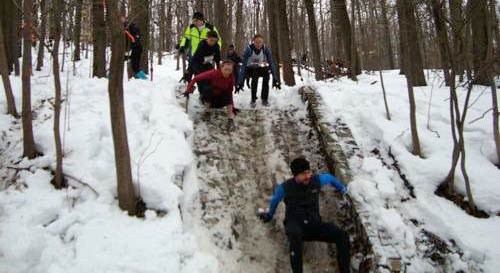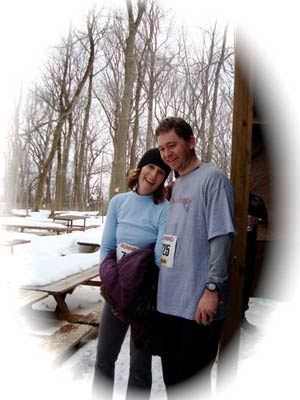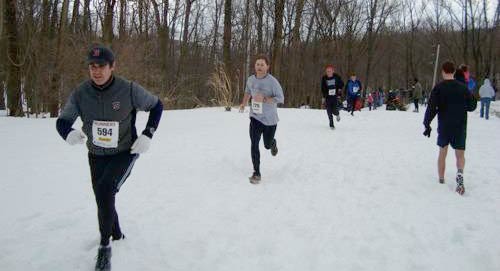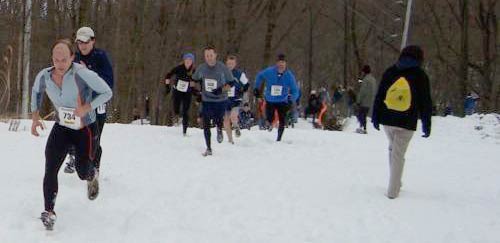 BLING ! Chris – 4th in AG, Phil – 6th in AG & Pol – 3rd in AG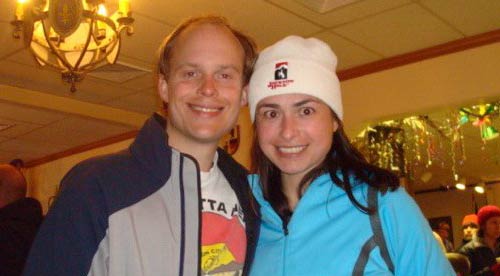 Erik & Anita happy to have survived the snow running insanity!

Lisa & Reena surely had a BLAST !!!

The pitchers were freely flowing as the Wanderers numbed their sore limbs!
From left to right: Christopher Verry, Polly Jansen, Noah AnStraus, Phil Ranly,
Louis Secreto, Judy Broadley, Douglas Dubrosky, Hugh MacMullan IV
Related Links: