The Wanderers have signed up for team competition in the 2011 USA Track and Field off-road series. The seven-race competition begins on February 27 with the Ugly Mudder trail run.
The USATF fact sheet (PDF) with all the information about the series including a calendar of the races can be found here (pdf) »
To compete for the Wanderers, runners must sign up individually as well. There is a $30 fee to the USATF. Here is the registration form: usatf.org/membership/application/. The key is to include the Wanderers club number which is #92 so that your score will count for the Wanderers. Since the season starts in less than two weeks, please sign up soon. BTW, you can also sign up on-site before each of the USATF races.
Louis Secreto will be organizing the team this year along with Dan Gordon. Louis and Dan can be contacted by using this form.
A few things to remember about the USATF series:
It is never too late to sign up. If you cannot participate until the summer or even the fall, that is O.K. You can sign up then and just run in those remaining races.
You do not have to run in all the races in the series. In fact, you can run in just one or two if you want.
Runners of all abilities are welcome on the Wanderers team. Speed is not a factor.
We want to keep this a fun team competition. We will try our hardest, but winning is not a top priority.
Here is how the scoring works. In each race, the USATF takes the top five club finishers to record the team score. The performances are weighted by age and gender (so if you are older, you might be doing a lot better than you think!) One of the five finishers has to be a woman (or visa versa!!)
If you have questions, please contact Louis and Dan.
2011 USATF Race Schedule
The race schedule is as follows:
Ugly Mudder 7.25 Mi Trail Run – February 27- Race Report and Photos here »
Tyler Arboretum 10K Trail Run – April 2
Triple Crown Trail 10K Run – April 30
Wissahickon Trail Classic 10K – June 4
Half-Wit Half Marathon – August 14
Radnor Red 5K Steeplechase – August 21
LOOK FOR A NEW RACE IN SEPT/OCT TIMEFRAME TBD
Delaware Open XC Championship 5K XC Race – November 26
Registration Instructions:
1. go to : https://www.usatf.org
2. be sure to specify Wanderers Club Number 92. See screen shot below: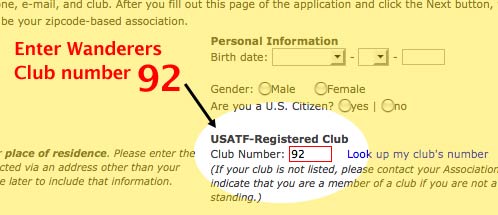 Please contact Louis and Dan if you want to join our team.
Remember: you do not have to run all these races. Contact Dan and Louis for detials »