The Bakersfield Track Club Two Halves Make A Whole Half Marathon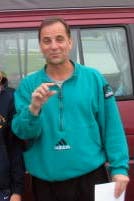 Report by Steve Carney
After getting up early and driving to a HM race last Saturday and being derailed by my MIA wallet and road race security (it was held on an army base), I searched for a replacement fitness tester race this weekend, and came up with the Bakersfield Track Club's Two Halves Make a Whole HM. It was a two-hour drive, but I really wanted to see where I was in my training and to get in a good, hard effort. The 2 Halves is an interesting concept; it's two HM races, one in Jan/Feb and one in Nov., and you get half a finishers medal each race that interlock to form one marathon finishers medal (with a lot less effort that a full marathon).
The HM race was an out-and-back along a paved bike path in Bakersfield, mostly flat, with an accompanying 5K race. The HM and 5K started at the same time, but about 100 yards apart and in different directions (the 5K east and the HM west). Race morning was nearly perfect: 43 and partly cloudy, with an expected high of 63 and rain forecast for the afternoon.
Race morning came too early for my liking, and I lingered in bed well past my 5am alarm. I was NOT looking forward to a 2-hour drive, but it did have its advantages: I was able to eat well ahead of the start and hydrated at 20 min. intervals in the car on the drive - arriving at the race well-hydrated AND in dire need of the port-o-lets. I had planned on arriving early and jogging three miles to raise my total to about 17 for the day, but my lingering meant I was left with only about 10 minutes to get some warm-up in. Pre-race excuses: since a Thanksgiving race I've been dealing with a case of PF that won't go away, but does let me run almost every day. I've also recently strained my quad/groin during interval training, but have been able to run through that also.
That said: I made one last-minute bathroom stop and was jogging to the start of the HM when I heard the race director counting down to the start near the 5K start. They tried to use one air horn to start two races about 100 yards apart. Very efficient . . . In theory. In reality, the 5K runners got an air horn start and the HM runners got a rumor of the start from the back of the pack. As I was still jogging up to the front, I passed the word of the start as I moved through the pack. My goal for the race was to get in a race and see how well my training was going. After plugging recent interval sessions into race calculators, I figured I could run anywhere from a 7:05 to 7:20 pace. Since I hadn't raced in awhile, I figured I'd try to race by feel. Try to run at a hard but comfortable pace, hopefully starting out at about a 7:20 pace, and pick it up from there.
Well, with my late start I pushed through the pack and got up to a nice-looking group just before the mile, which went by in 6:59 - definitely NOT 7:20, but I felt smooth and comfortable so I tried not to worry too much. The second mile passed in 7:04, but our little group of five felt comfortable. I'm usually the guy floating alone on race day with no one within 100 yards, so I liked running with four others. After the first two miles we started clicking out 7:10 miles, so I decided to hang here till the turnaround point and see how things were going. Our group of five strung out by four miles, and I ended up running with Mike, a boomer and apparently very popular BTC member. I felt strong, but could tell I was working hard. With the exception of the turnaround mile (I hate turnarounds - see mile 7) we were pretty consistent. A light, cold rain started to fall after mile four and continued until the end. It made running a little colder, but without wind it really wasn't bad.
I could feel Mike start to yo-yo back during mile 7, and sometime during mile 8 I felt the string break and Mike was gone. I was in familiar territory now - the next closest runner was more than 400 meters ahead, and I didn't care to look behind . . . so I decided to continue to push till 10 miles and then re-evaluate how I felt. Miles 9 and 10 were a little slower, but I still felt strong and was very much mentally focused on maintaining a hard effort. This resulted in a steady mile 11, but sometime during mile 12 I felt an old injury pop up. I had strained my left hamstring in August during intervals and lost a lot of training time. Now my left hammie was tightening up, so I decided to back off a little to prevent re-injuring it. Mile 13 was a lot slower, mostly because of it was run on soft sand. And I'm sorry, but I do not think I was running that slowly the last .1 (I'm submitting an official letter of inquiry as you read this. I'm hoping for a re-measure.).
The results: 1:34:58 for about a 7:15/mile pace (about 7:12/mile through 11 miles); 26/215 OA, 3/14 45-49 AG. I feel good about the results. I got in a good, hard effort and was able to maintain a steady pace for most of the race even though I didn't taper for it.
The splits:
Mile
Pace
Total Time
Mile
Pace
Total Time
1
6:59
6:59
8
7:10
57:18
2
7:04
14:03
9
7:16
1:04:35
3
7:09
21:12
10
7:17
1:11:53
4
7:09
28:22
11
7:16
1:19:09
5
7:12
35:35
12
7:23
1:26:32
6
7:11
42:46
13
7:34
1:34:07
7
7:21
50:08
13.1
0:51
1:34:58
<- go to the last page | old news reports (pre 2008) » | current news »