Wanderers Stayed on Course at the Tyler Arboretum 10K
| | | | |
| --- | --- | --- | --- |
| | Results | | |
| | Name | Time | Place |
| | Chris Verry | 45:51 | 24 |
| | Sharon Schmidt | 46:00 | 25 |
| | Helen Cheung | 46:03 | 26 |
| | Doug Dubrosky | 47:56 | 32 |
| | Erik Johnson | 50:42 | 46 |
| | Randy Clever | 52:18 | 51 |
| | Polly Jansen | 53:08 | 56 |
| | Matt Mauren | 54:19 | 62 |
| | Jim Millar | 59:51 | 106 |
| | Liza Kahle | 1:11:51 | 151 |
| | Anita Zalewski | 1:13:58 | 153 |
Report by Helen Cheung
Photos by Christian Mongrain
MEDIA, PA (April 5, 2008) - Eleven Wanderers and friends descended upon the Tyler Arboretum and made quick work of the 10K course. The conditions were almost perfect for running around sleeveless - temperatures in the 50s, cloudy and dry, and indeed several Wanderers proudly dusted off and wore their club singlets. As the second race in the Mid-Atlantic USATF off-road series, the Tyler Arboretum 10K course was not nearly as treacherous and easy-to-cut as the Pretzel City trail races, but it was not without its challenges. The Wanderers overcame a litany of hills and four creek crossings and managed to finish in impressive form.
As expected, Chris Verry took off at the start and never looked back, kicking in at 45:51 and earning a bronze medal in the M30-34 age group. But Chris was not the only person who started out (too) fast. Sharon Schmidt Mongrain, Doug Dubrosky, and Helen Cheung chased him well into the sixth mile and hung on for strong finishes. Sharon finished in 46:00 and podiumed again as the 2nd place female, shaving over a minute off last year's time. Helen came in 3rd among females, three seconds behind Sharon. Doug charged in soon after in 47:56. The cool hip pink gaiters around his ankles (see pictures) clearly worked out.
Polly Jansen, the Wanderers' organizer extraordinaire, made a triumphant return from an ankle injury to score a silver medal in F30-34 in a time of 53:08. Also out in front were Wanderers Erik Johnson (50:42) and Randy Clever (52:18), in his first race since last year's Tyler 10K and looking ready for Boston. Also showing mid-season shape at this early Spring race were Wanderers Jim Millar (59:51) and Anita Zalewski (1:13:58).
Matt Mauren, a consistent force in the woods, ran an awesome race as well, crossing the finish line in 54:19. He also recommended this race to his "friend but actually boss" Liza Kahle. So, in just her second trail run ever, Liza gritted out (but didn't exactly love) the hilly terrain, completing the race in 1:11:51. Despite rumors afterwards that Matt would get in trouble for this, he managed to keep his job.
Once again, the Wanderers brought their own cheering squad to the race. Christian Mongrain took the fabulous action shots below and Noah Shusterman, fresh off his BQ, lifted our spirits from start to finish. Thank you so much for the support!
Photos by Sharon's husband Christian Mongrain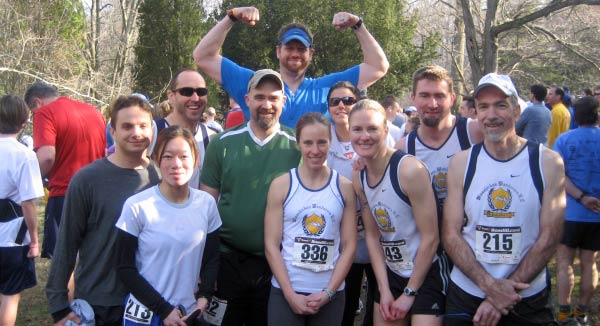 Back row (l>r): Noah Shusterman, Doug Dubrosky, Jim Millar, Matt Mauren, Liza Kahle,
Chris Verry. Front rwo: Helen Cheung, Sharon Schmidt, Polly Jansen, Randy Clever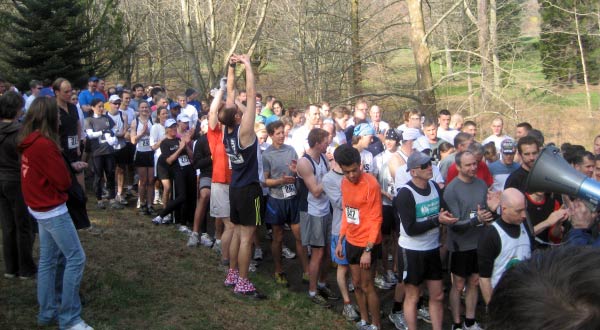 The start of the Tyler Arboretun 10K Trail Race.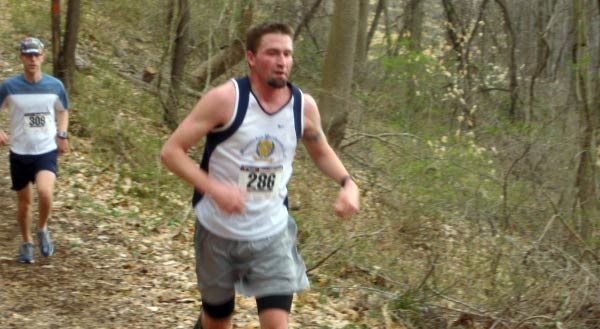 Chris Verry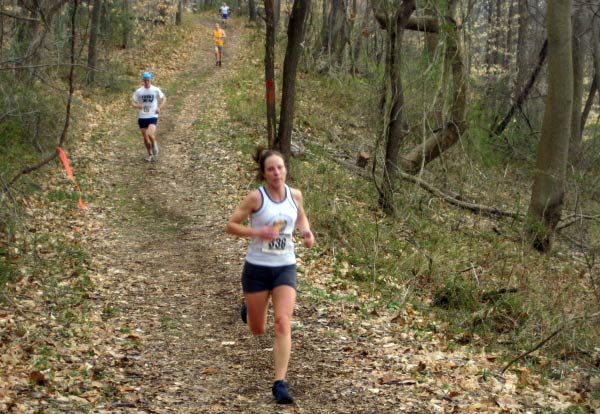 Sharon Schmidt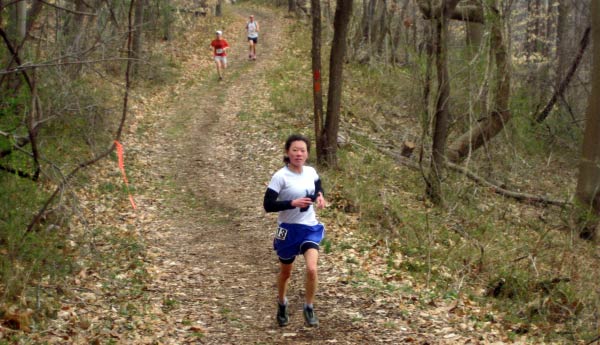 Helen Cheung

Eric Johnson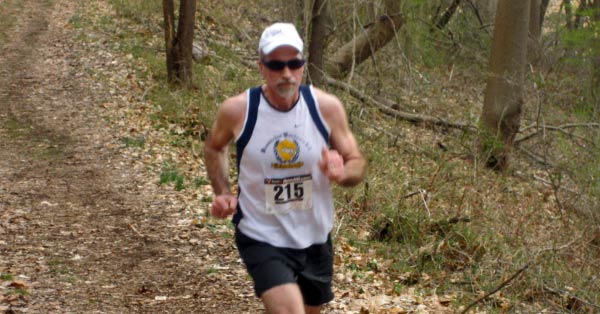 Randy Clever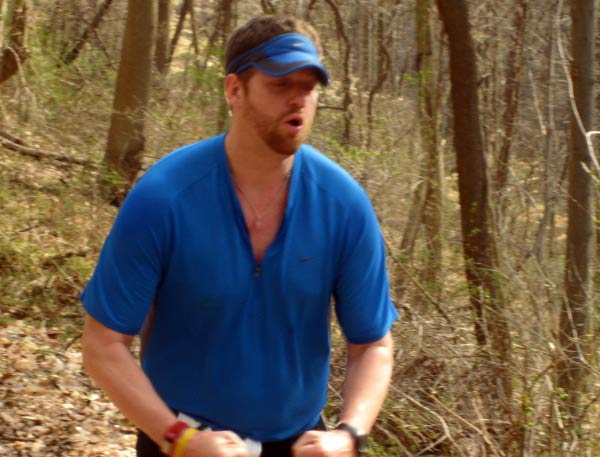 Matt Mauren

Jim Millar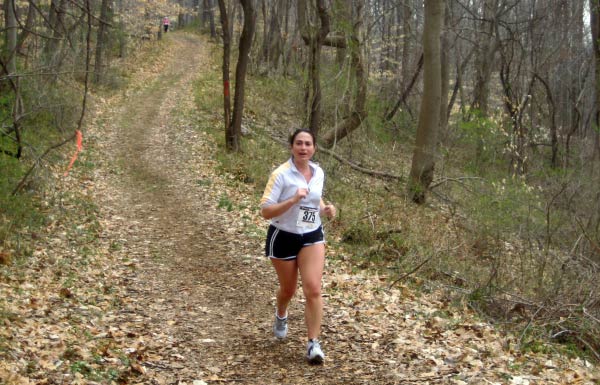 Anita Zalewski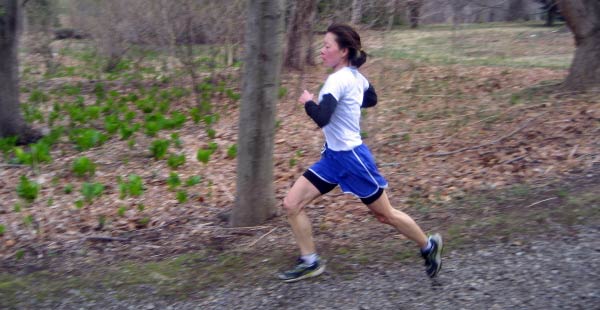 Helen Cheung

Doug Dubrosky


Polly Jansen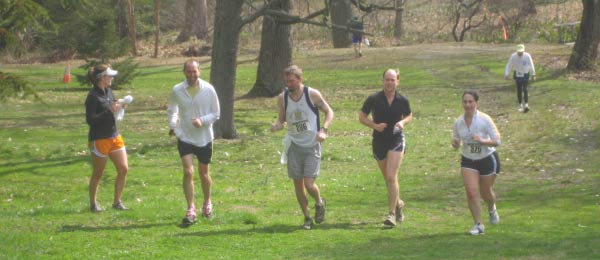 Coming in for the finish.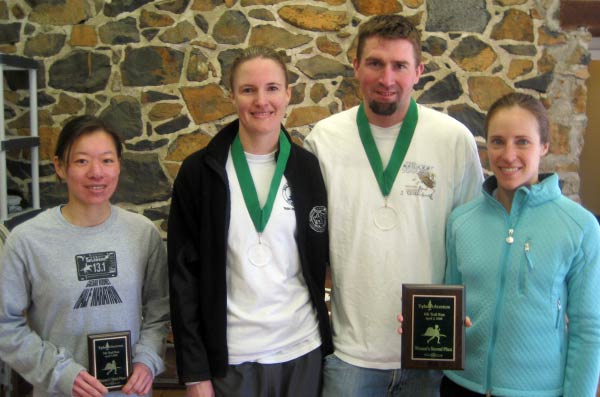 Hardware for Wanderers Helen Cheung, Polly Jansen, Chris Verry, and Sharon Schidt
Additional race pictures can be found here »
Official race results can be found here »
<- go to the last page | old news reports (pre 2008) » | current news »