Boston 2008: Wanderers in da House!
Report by Leslie Turchetti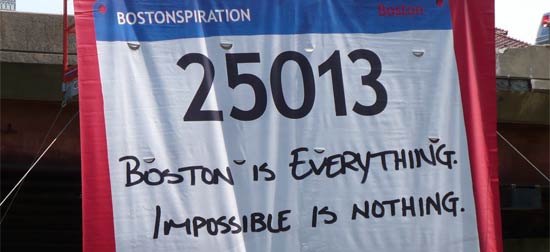 Hopkinton, MA - This year's Boston Marathon marked the 112th running of the historic race. From the beginning, there were signs that this year was going to be different than last. For starters, there was no crazy Nor'easter bearing down on New England, threatening the only ban in the race's history. Instead, the weather was lovely - an almost cloudless blue sky and temps in the 50's. Perfect for running and spectating.
Second, Wanderers from both coasts were in attendance. Those running included Matthew Palombaro, Boston first-timers Randy Clever and Justin Fogarty, and Boston perennial Paul Hines.
In addition to Marathon Monday, we were also treated to the ability to watch the women's Olympic Trials for the marathon the previous day. After catching a glimpse of our nation's fastest women, Matt and I met up with Randy and his daughter Emily for the marathon expo (the mother of all race expos!), then it was off to the North End for carbo-loading before the big race.
Marathon Monday proved to be a great day for all. Matt ran a 2:42, Justin clocked a 3:06, Randy came in at 3:51 and Paul ran a 3:31. After the race, Matt and I, Randy, and Emily headed over to the Boston Beer Works and feasted on onion rings, sweet potato fries, burgers and pizza - how's that for a post race celebration??
Below are the runners' own accounts of the day:
RANDY CLEVER:
I think it is only in retrospect that I fully appreciate what a tremendous experience running Boston is. I felt more like an observer at the time: exquisite weather in quaint surroundings, taking in the massive crowds, the body of runners that were always before and around you, the support and kindness of the fans and the blur of the last 6 miles as the full impact of those darn Newton Hills makes you wince with every step to the finish line. I know I'll never see such enthusiastic fans anywhere else. When the pain subsides, I'm sure I'll appreciate it even more as the fuzzy glow of distant memory kicks in. Of course, the company and coaching of veterans, Matt and Leslie, made the experience even more enjoyable. Anyone who qualifies should definitely do it at least once just to see what all the excitement is about. Who's in for next year?
JUSTIN FOGARTY:
The West Coast Wanderers Head Quarters is located in the mountains at around 1500 feet. Most runs around here include quite a bit of climbing. So looking at the Boston profile, I smugly laughed it off as a downhill course with a couple of speed bumps at miles 16 to 21.

I now know better.

Luckily the hills (which seemed to start at mile 1 with some rollers) were still smaller than the crowds. That 1/2 mile stretch past Wellsley was the closest I'll ever come to being in a boy band. Thousands of screaming young ladies reaching out to grab a piece of you and holding up signs about kissing is a little bit surreal for a skinny runner in his mid-30s with a horrible singing voice. Very cool.

The crazy thing is, I don't remember a single point in the course where I didn't hear someone cheering. Simply amazing.

As for my performance...I'm definitely happy with my time. Had hoped to be in the hunt to go for a sub-3 hour run, but that was probably waaaaaaaay too ambitious. Lucky for me, I knew within the 1st few miles that it wasn't a day when I'd be setting a PR, so I got to relax a bit and just soak it all in.

Overall, it was a GREAT experience and I'm definitely hooked. I'm already mapping out a training plan in my head for next year (more hills and more sleep). One thing I won't change is the post race recovery drink of champions...several pints at Doyles in Jamaica Plains. Who's with me for next year?
MATTHEW PALOMBARO:
Going into this year's Boston Marathon I had no idea how I would perform. I had been injured for more than a month and was receiving daily ultrasound penetrating heat treatments in the week leading up to the race. Boston is my favorite event and the pre-race atmosphere and race day crowds did not disappoint. It was great to hang out with Randy and Justin who were experiencing the thrill of the Boston Marathon for the first time. My race went better than I expected, though I ran in some pain and my quads and hamstrings were never able to get loose from the starter's pistol in Hopkinton to the finish line at Copley Square in Boston. All in all, I'm happy to have finished and am glad to have something to build upon for next fall's marathon season.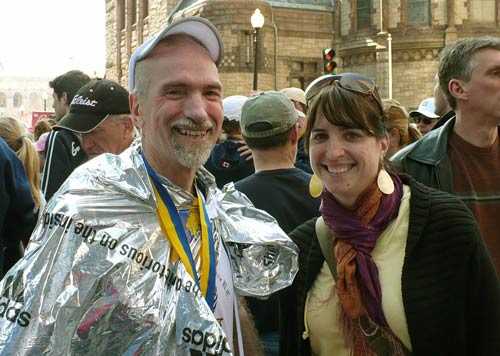 Randy wins the Comeback of the Year award for the year for his performance at the Boston Marathon. Beset by injuries for much of 2007, Randy has come back strong finishing the Boston Marathon in 3:51. Daughter Emily congratulates him at the finish line.



Matt at Woodland



olympic trials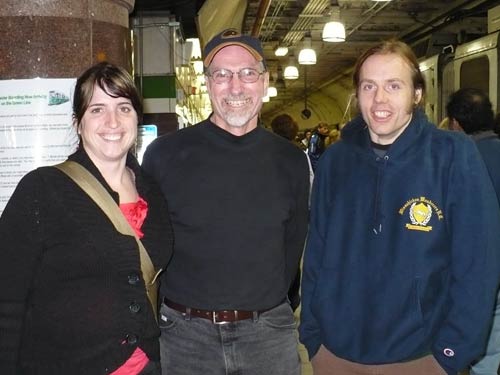 Even though our Wanderers pose in front of the Boston Transit, our Wanderers cannot be confused with Rosie Ruiz. While Rosie took the Boston Transit to "victory" in the 1980 Boston Marathon, Matt, Randy, Justin and Paul did it the old fashioned way....they ran it!! Randy, Matt and Emily are all smiles after the performance.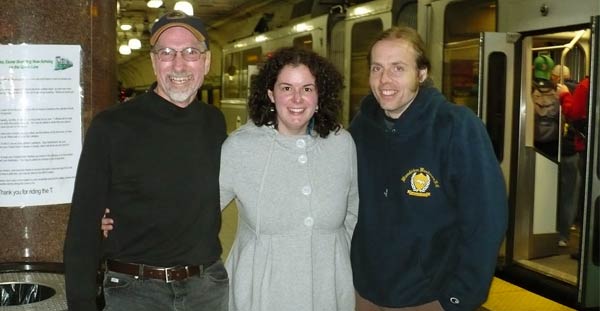 Lola joins in on a team portrait at the race!
<- go to the last page | old news reports (pre 2008) » | current news »