Wanderers Dominate in Philadelphia Marathon
| | |
| --- | --- |
| Event name: | The Philadelphia Marathon |
| Date: | November 18, 2001 |
| Location: | Philadelphia, PA |
| Distance: | 26.2 and 8k |
View the photo gallery here.
---
The Wissahickon Wanderers dominated in the Philadelphia Marathon and Rothman 8-k runs on November 18.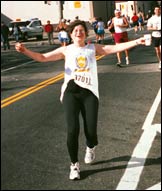 Eight Wanderers were entered in the marathon in an emphatic display of strength, and these runners produced a number of impressive achievements.
Here were just some of the milestones achieved:
Francois Bernatchez scorched the course in 3 hours and 17 minutes to capture 443rd place out of field of 4,000 runners.

Randi Garnick broke four hours in her first marathon ever, finishing in 3 hours and 57 minutes.

Tanina Rostain shattered the five hour barrier in this her third attempt finishing in a time of four hours and 44 minutes.

Scott Quitel completed his month of marathon madness by finishing his third marathon in one month. Scott's time was 4 hours and 46 minutes.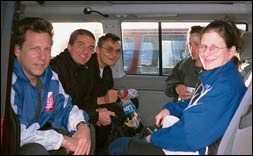 Not to be overlooked were the strong efforts of Martin Paquet, Beth Hillman, Jennifer Martin and Sally Gordon. Martin finished 2,070th in a time of 4 hours and 2 minutes. Shortly afterwards Beth Hillman finished in 4 hours and 10 minutes followed less than a minute later by Jennifer Martin. Sally Gordon, who could hardly walk at the beginning of the week because of blisters sustained in the New York Marathon, completed the course in a courageous 5 hours and 26 minutes.
In the 8-k race, the Wanderers' performance bordered on the unbelievable. Bill Frawley finished 7th in a field of more than 1,000, a feat which is frankly unheard of for any Wanderer runner. His time was a blistering 23 minutes and 44 seconds. Paul Hines finished a strong 314th in a time of 38 minutes.