Wanderers Compete in the Phila Marathon
On Sunday, November 21, 2004 the Wanderers once again made an appearance in the Philadelphia Marathon. There were a record 7,724 runners and the weather was perfect for a marathon, cloudy and temperatures in the low 50s.
Matthew Palombaro ran a personal best of 2:48:25 placing 85th overall. As amazing as his time was what is even more astonishing is that he even took time out around 15.5 miles to make a pit stop at the port-o-john! Matthew appreciated the cheering by fellow Wanderer Barbara Gorka. "Barb was out around mile 25 cheering which was fantastic. Starting around mile 23, I started to feel a bit depleted and those miles are so boring on Kelly Drive. Her cheering woke me up a bit and I was able to make a final push" according to Matt.
Dennis Crowne was also out on the course and he finished with a time of 4:48:27. While running in the final miles of the marathon Dennis commented that if he collapsed before the finish line to take his sneaker with the chip on it and throw it across the finish line. Of course that wasn't necessary. Dennis is hard-core. This was his second marathon in less than two months and he's had a great performance in both marathons.
Dan Gordon can definitely learn a thing or two from Dennis. Time to stop sipping those pints of beer and get training, Gordon!
Chris Moore made it to mile 17 but unfortunately had to drop out. "I began experiencing a shooting pain in my hip about mile 15, and despite being on pace, was done by 17." according to Chris. But it sounds like Chris will be back on the marathon scene very soon. "My efforts will be redoubled, and I'm shooting for Miami or Las Vegas in January and plan to get the 3:10 monkey off my back for good."
Leslie Turchetti competed in the 8k and had a personal best of 55:34, almost a full 8 minutes faster than her previous 8k time. "My training has been going pretty well this year, so I'm happy with my time."
And finally, there were quite a few Wanderers out manning the 18/22 mile water stop. Petra was in charge of organizing this water stop and as usual maintained her allegiance to the Wanderers. Petra's declaration before the marathon: "Just the Wanderers with the official team singlet will get water at Falls Bridge!"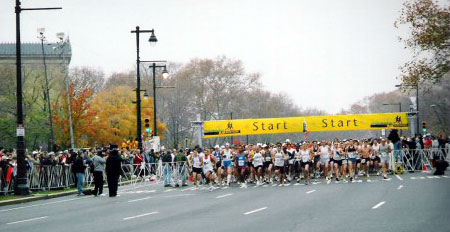 Runners at the Start of the 2004 Phila Marathon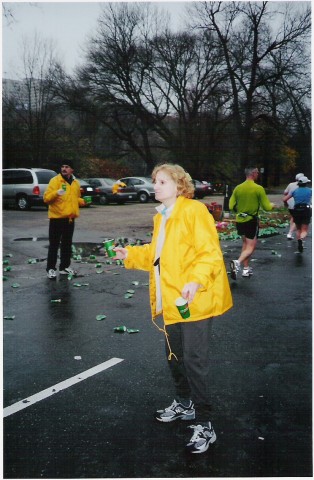 Pat handing out water at the Wanderers 18/22 mile water table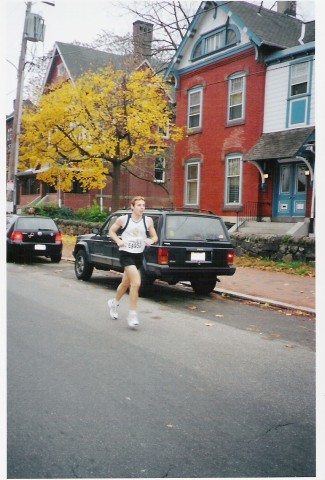 Matt on 34th Street embarking on a remarkable performance.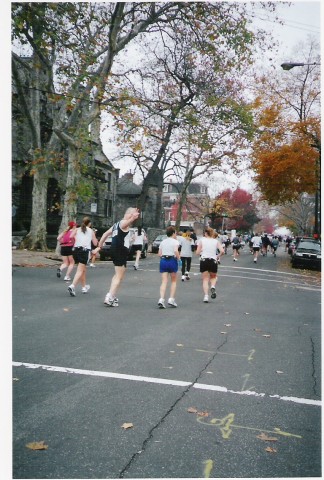 Dennis, Julie and Terrie on 34th Street.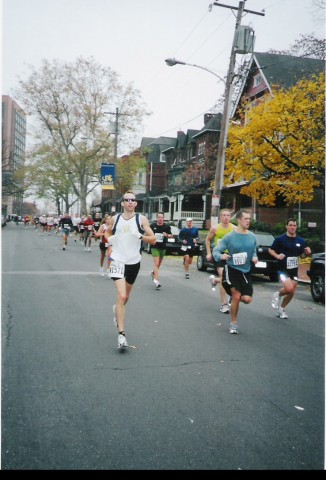 Chris on 34th Street.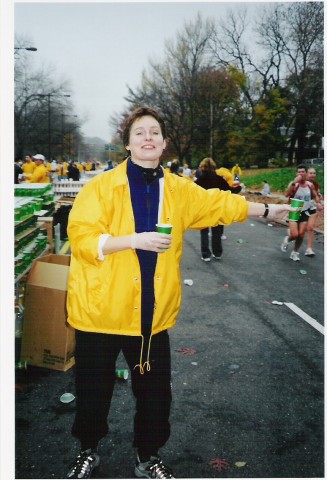 Petra at the 18/22 mile water table.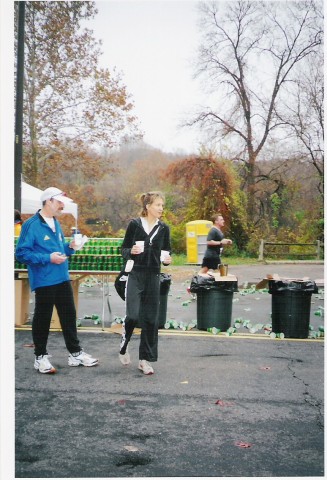 Lynn helping out at the Wanderers' table.