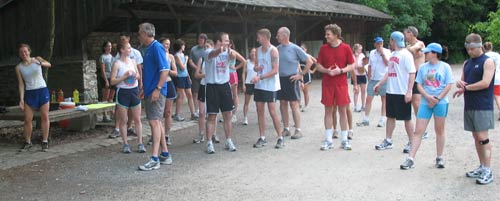 Runners Survive May Trail Series…. as recounted by Wanderers Correspondent The Mad Doc (Irene Nagle)
View event photos here >>
The month of May was full of activity and excitement for the wanderers as each week they turned their regular Thursday night runs into courses for their biannual trail races series. The first of such courses for Thursday May 3rd was designed by none other than The Great One herself, Susan Hurrey. Indeed, during the run I felt the aurora of her greatness echo through the wood of the Wissahickon, while I traversed an engaging variety of terrain. The course roughly consisted of one very substantial hill in the first half, a break of flat running on Forbidden drive in the middle, and an ending on the orange trail filled with risky rocks and other obstacles (a fallen tree straight across the trail for one), with the necessity of picking up your feet and being as sprightly as a mountain goat in order to avoid stumbling. For this race we had the technical addition of a digital timing system and were given number bibs, therefore starting the series with an extra feel of racing formality.
The following week the course, designed by Stephanie Young, somewhat mirrored the motley structure of the one the week before given the way it managed to include a good variety of running terrain. It started with of a scenic yet slightly heavy on the hills route over the same trail but in the opposite direction that Susan's had gone the week before. We had an opportunity to refresh ourselves in the middle with some flat running on Forbidden Drive until crossing back to return over some fun and bouncy trails (or bumpy, depending on your point of view). All and all, a course that was challenging but not too gruesome… in essence, refreshing and energizing for any trail advocate.
From the inspiration of Bob Reynolds came a fast-paced exhilarating battle of the titans composing the next week's course. A handicap head start was arranged in order gave some of our more vintage runners a competitive edge, as 1st place finisher Dan Gordon explained to me how he "had a head start of 14 minutes on the fastest runner. But my attitude is that a win is a win!" I also got a later confession from him that one of the reasons he ran fast enough to ensure no one ever caught up was that he kept picturing The Great One on his tail, therefore becoming motivated to do whatever it took to prevent her passing and sparing himself the taunting that would ensue. With respect to the course itself, runners described it as a mad dash with a whirlwind of frequent direction changes and lots of skipping around from one trail to another. I heard that several people managed to get lost and become actual wanderers in the midst of the very park which their titles claim them to do so. I also got the impression that although it was tumultuous in nature, it was not long enough to be utterly exhaustive, as Dan had described it as "short but vicious". It seems like it was very much to one's legs like what ripping off a band-aid is to one's skin: a quick rush of pain but not enough to do anything more but get your adrenaline flowing, which is a big reason runners like to run, for sure making Bob's course an ace.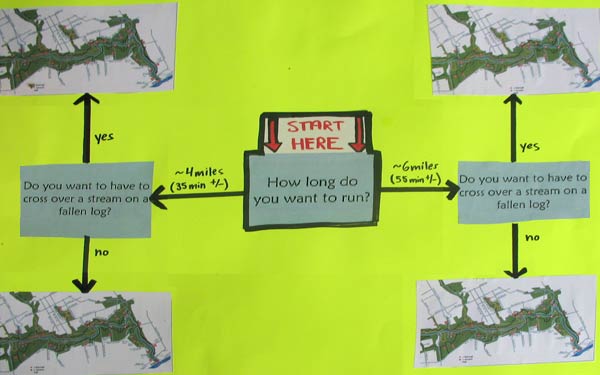 Check out the event's photos here >>
<- go to the last page | old news reports (pre 2008) » | current news »