Wanderer Chris Moore just completed the grueling Old Dominion 100 Mile Endurance Run . It's pretty bad when your GPS cannot last the entire event… Congratulations Chris on your incredible feat!
The following is a Report by Wanderer Chris Moore:
Pre-Race Planning
I had hoped to run a 70mile race (Laurel Highlands, 6/8/2013) but by the time my last brief/freak injury was behind me,  that race had sold out. I scrambled to find an alternate event.  Lots of ultras races are selling out far in advance, and having done an 100k in the fall, 50 miles seemed like a step backwards.  And already having been near "peak" training I didn't want to wait too long or have to scale back a while and risk further injury.  My decision came down to Burning River 100 in late July in Ohio and Old Dominion 100, June 1st in the Shenandoah Valley/mountains of Virginia.   Despite the elevation profile of Burning River at around 9000′ being far more conducive to a first time 100mile run,  I committed to Old Dominion which, despite nearly  15000′ of climbing, was sooner and would clearly not be as hot as the midwest in late July.  Well, that decision proved  foolish as a few days before the race temps jumped into the 90's for the first time this year.
Trying not to dwell on this, I just went about my way and made a few adjustments to plan for the heat.  Increasing Salt caps and a Lactaid product to help in flushing out the lactic acid,  as well as extra bags of ice for under-hat bandana treatments.
This race is often referred to as "old school" as it is family run, mail-in applications only, and without sponsorship in addition to being the oldest 100mile race on the East Coast (and arguably in the US).   http://www.olddominionrun.org/     And did I mention there is no pasta dinner?
Being "old school",  info on the race was marginal at best.  All I could find was a few random blogs and advice from a friend who ran it 10 years ago.  Road, trail, gravel?  Shady, exposed?  Little info was out there.
Race Day
The race started a little early for my tastes – 4AM,  and with my "pace chart", I envisioned that because of such an early start, it might be possible to finish up early enough Saturday night/Sunday AM that I could actually go back to the hotel and get some sleep.   But all expectations went out the window when temps soared into the 90's with plenty of humidity.   All that said, roughly 55 (unable to confirm #) lined up at the start ready to have some fun.
A few easy miles through town led to some rolling country highways before the pavement  dissolved into a gravel fire road and quickly turned skyward.  Since it was dark,  glow-sticks marked the course as well as those runners who went out surprisingly fast who were visible up a series of terraced switchbacks that went up as far as the eye could see.   Clearly a sign of things to come.
After cresting the top of the first mountain, we had entered into the mountains/valley that the majority of the race would circumnavigate.  And for as many long uphills there were, at least early in the race, there were an equal amount of runnable downhill sections so it was difficult not to stretch the legs out a bit and despite knowing it was only in the early teens of mileage I couldn't help to run a few miles at an 8-9 minute pace.  For the next 50-60 miles there was a nice variety of terrain.  Large chunks of fire road, a bit of enjoyable trails, a little pavement and even a 7 mile section of smooth packed  atv/bike/jeep trails which actually had some motorized traffic on it.  Scenery was pleasant but perhaps a bit unremarkable, although the wildlife was out and about. I got to see a bear off the side of the trails and a few very large snakes including a rattlesnake sunning himself on some warm pavement.   As it turns out, some other runners came across the formidable combination of momma bear with a pair of cubs,  but fortunately nothing got ugly.  I had run/walked with a fellow runner off and on since roughly mile fifteen. He was a 30yr old ex-Marine running his 11th 100 miler,  so I felt pretty confident that I was in good company.   When we left the aid station at 47 miles together, Barb speculated that we were likely in fifth and sixth place. This news had me feeling very pleased as while I made sure to start in the middle of the pack,  I/we had been slowly picking people off over the last few sections either thru more aggressive walking or running mild hills that others chose to walk.  My only complaint was a mild strain/hyperextension behind my right knee likely from pushing off hard when trying to walk fast up the steep roads. (That and heat, and that I still had another 50+ miles to run,  but other than that, no complaints!)
Beyond that the race was pretty uneventful until the aid station at mile 75. This race does not allow pacers,  but makes an exception for a "safety" runner to join for 11-12 miles for a particularly steep, rocky section which often occurs in the dark.  So for those miles I had the pleasure of Barb's company who put aside her expert "handling" duties to sample the course with me.  It was a good thing,  too,  for this was the first time during the race that I begun to experience doubt.  I knew I could finish, as I could have walked the last 25 miles and still come in under 24hrs, the proverbial benchmark for 100 mile races,  but doubts arose.  The aid station at 75 included a medical check with weigh-in.  Despite just having run thru  the hottest sections of the day,  I actually had gained a pound since mile 43 at the first weigh-in.  The medical asked when the last time I peed?  I told them I couldn't recall but I thought it was recently.  (Knowing full well it had been a long while). They questioned my kidney function,  but I kept smiling and edging back towards the course with Barb in tow.  As soon as we got back on the trail I attempted to pee,  but nothing happened.  So that didn't help my confidence.
This trail tilted upwards gradually but within a mile or two it had become the steepest encountered yet. "Sherman's Gap thru Veach Gap"  as it is referred to has some historical significance where generals had been asked to create a pass over the mountain for Washington to hide his army in the valley – but it turned out that Washington took the army to Valley Forge instead and the rest is (local) history.  Suffice to say it was both steep and rocky and led to my slowest walking mile at over 20 minutes.  Upon topping the first pass,  it turned equally rocky and steep downhill.  At this point, the 8-9 minute pace miles I couldn't resist running earlier had finally caught up with me as the trashed quads left me no confidence with which to start cranking on uneven footing.   Barb and I parted ways for the final time with our marine friend who had more confidence in his downhilling at this point.  With enough berating and abuse, Barb managed to push me down the mountain and the steep rocky decline slowly turned back into mild downhill with high grasses,  and I was able to start moving again and better yet managed to pee!  Spirits were back up.  Despite yet another long strait steep uphill climb which near the top called for the headlamps again as night had come, it seemed like it was metaphorically all downhill from there.
I did have to part ways with Barb shortly thereafter,  but with only 13.5 to go,  it seemed very manageable.  The course returned to familiar fire roads and even pavement.   By mile 93, as we were retracing the course,  I knew that I had topped the last hill and that I had several miles of runnable downhill left before the flat roads into town. Not to say it didn't get real lonely out there in near complete darkness with only a headlamp on deserted country roads in the middle of the night,  but every now and then I would get a glimpse of the lights of the town off in the distance.  I tried,  but was only able to get under a 10 minute mile a few times on the last miles despite thinking that I had turned it up a several notches.  Got to see Barb one last time with <3 to go.  By now the "aid station" was a car with its trunk open and a gas can full of water.  No need to stop but I learned that 20 hours race time had just passed.  (GPS #1 battery had already expired and I lost a half mile trying to get GPS #2 to find satellites) Between the fatigue and sleep deprivation and by then my 2nd grade level addition, i was unable to calculate my current time.   My heat adjusted "pace chart" called for a 21hr finish but  even 50-70 miles into the race it looked like 20 hrs was definitely on the table,  oh well)  But I still was going to be able to go well under my modified expectation and I finished reasonably strong,  even breaking into a mild sprint for the last 400 meters as the race looped around the fairgrounds.
20:31:27 was my official time.  Good enough for 5th place.  Only 45% of the starters finished this year.  Down significantly from recent years likely because of the heat.  And only 16 runners "buckled". (finishing under 24hrs).
Very pleased with my finish, I sat down in a chair and that was it.  Did i mention "old school"?  No glorious spread of assorted foods to gorge myself or even a can of beer that i would have been excited to open,  but then gagged and spit out remembering I hate beer post-race.  But alas a collapsible chair was plenty for me.   (With finishers spaced as much as an hour apart, they don't bother with amenities at the end – in fact the RD's had set up two motion sensors in the final loop around the fairgrounds just so that no one gets missed.)    Pride in finishing really was the only reward I needed.
Mostly complete GPS  (before the 1st GPS died,  it was about .75miles shy of the measured course)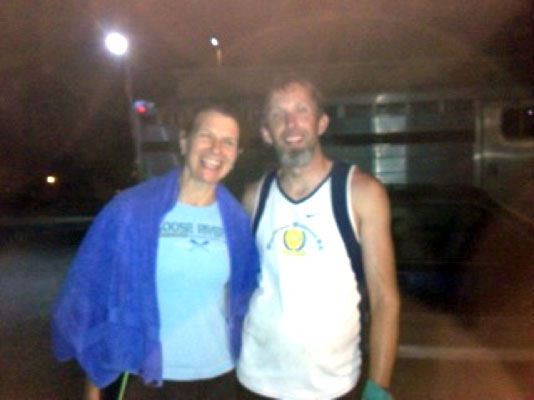 Post-Race
I took off my shoes to examine the countless blisters I had accrued despite wads of vasoline. And then just wanted to go back to the hotel and lay down.   We did so and I gingerly got into the tub. While an ice bath seemed ideal in the heat of the day, a bit of a chill had set in and the warmth was welcomed.  Despite barely being able to get in and out of the tub by myself, I did manage to point out to Barb a spot on my right calf that looked a little bruised.  Hmm?
It was now about 1:30 and all i wanted to do was get into bed. I didn't sleep a wink as my legs hurt all over and there was no position I found comfortable. But even then, 5-6 hrs of lying still was better than nothing. (I never sleep well post race due to throbbing legs).  The "race breakfast" and awards were at 9AM the following day.  I hobbled to the car, and then from the car to the garage they were using and looked around for the medical staff.  At this point my right leg's discomfort was clearly separating itself from all the rest of the usual soreness.
(photo at 9AM)
A Dr familiar with endurance races took a look at the calf and said a lot of "could be", but basically to keep an eye on it.  Award ceremony over,  an uncomfortable trip home looming, Barb packed the car as I sat still.  Stopping for lunch halfway home, the strange bruising/blotchiness on the calf had turned a dark shade of red and had also expanded. Walking was now excruciating as one leg worked for naught,  and the other one being the usual sore had no ability to pick up any slack.
(photo at 2PM)
The right calf was also 1″+ diameter greater than the left and strangely hot.   Just wanting to get home and rest we stopped only to retrieve Scout dog before heading home that evening for some quality couch time.  Ice and elevation provided no relief and only taking a muscle relaxer seemed to provide me a few hours of actual sleep before it wore off and left me tossing and turning the rest of the night.
Recovery: (or not)
Monday AM, the dark red color of my calf may have lessened a bit,  but was now covering about 40% of my entire leg from knee to ankle.  Health Insurance referral network opened at 8:30 and as soon as they opened I was on hold looking for an immediate orthopedic appointment.  Unavailable for several days,  Barb and I headed to the ER at UPenn. She dropped me at the curb and I crutched myself in and as soon as the check-in staff saw my leg,  I got to bypass the usual waiting room and headed straight back into a room. Seemingly they were a bit alarmed, which didn't help me feel confident about my prospects.   Ultrasounds for possible blood clot which showed nothing,  but the blood tests for possible infection or muscle "breakdown" told another story.  Something about ck levels (creatine kinase an indicator of muscle breakdown) were at 16k where normal levels are 45-300. Possible kidney failure? (I had peed plenty post race)  They started IV's fast and furious and were going to get me a bed upstairs as soon as they could find one. Upon getting a room,  the IV's continued but I didn't see my Dr again until midday Tuesday.  By now, I am a little annoyed.  As  any runner is prone to do,  i had my laptop and learned that CK levels in ultramarathon runners can go as high as 80 or 100k without any signs of kidney failure.  (In fact a recent study was done after Western States 100 checking CK levels and found that the average post race level was 32k and 6% of runners had them over  100k.)  http://www.wser.org/wp-content/uploads/2012/11/Hoffman-et-al.-WEM-2012.pdf  But that as long as the Creatinine numbers (actual kidney function) there is little risk and the CK #'s will return to normal within a week or two. I guess it is true that most Dr's don't really know what to do with ultramarathon runners.   As soon as I brought this up with the Dr,  she changed the tune of kidney failure and on to compartments syndrome where things are so swollen that blood flow is cut off.  I didn't have an answer for that one yet. Anyhow, she left suggesting that if my ck got below 5k i could be released. (It was down to 8k)  I still had no more ability to straighten my leg or bend it past 90 degrees,  but she was confident that this was a function of the swelling and not a structural injury.
Wednesday AM, the daily bloodwork indicated my levels were 3800 and they pulled out the IV and would release me as soon as they could get the paperwork sorted out.  As soon as they did,  I grabbed my large bag with clothes, old bruiser of a laptop, took my crutches and started shuffling the 7-8 blocks from the hospital to Barbs office.  Halfway there I stopped using the crutches and carried them too finding that walking with a pronounced limp was easier than shuffling with crutches.   2 days in the hospital followed up with an 8 block one-legged walk – made me feel a bit like a runner again.   The    discoloration is all but gone, and the swelling continues to go down,  but still I am unable to find a full range of motion with the back of my knee.
Medical Investigation ongoing.
Thanks again to Barb for driving, handling, pacing, carrying me, etc since Friday, and now having to pick up my slack around the house as I am limited mobility-wise.  Also big thanks to Bob, Annie and Mollie Reynolds for keeping Scout from "chewing the arm of the couch right off".  (Less so for posting a picture of me in the hospital on FB – I will repay that one some day)  And lastly to Mosi Smith (4th place)  who made me never question my ability/stupidity of being able to run 100 miles.
– – – – Chris Moore
Old Dominion Links:
Website: http://www.olddominionrun.org/
Also, check out their runner's info book: olddominionrun.org/history.html .
The history and course descriptions are interesting (and don't skip the medical comments section on page 20 !)
Finally, the picture that was posted on facebook earlier is shown below. Sorry Chris…but we had to include it here too 🙂
(Join the Wanderers 'Group' on Facebook here »)