The Wissahickon Wanderers are proud to present the inaugural running of the Winter Solstice Trail 10k.
December 21, 2014 at 9 a.m.
Start/Finish at the Valley Green Inn in the Wissahickon
Prizes for top finishers.
T H I S   E V E N T   I S   N O W   F U L L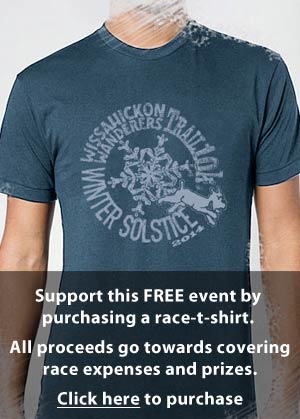 The "Trail 10k" course features glimpses of all that the Wissahickon has to offer, including steep climbs, miles of single-track, rolling descents, a "hidden" trail, scenic bridges, and a fast finish along Forbidden Drive.
GPS data of the course:  http://connect.garmin.com/activity/635114170. One water station will be located at mile 3. Course designed by Sean Reisman, with timing by Fast Cat.
This is a 100% free event, but please consider showing your support by purchasing a race t-shirt:  etsy.com/listing/211591219/wissahickon-wanderers-winter-solstice. 100% of the proceeds will go towards covering race expenses. The deadline to order a t-shirt is Thursday December 11th.
Pick-up your ordered t-shirt at the race site, on race day, Sunday December 21st. T-shirts will NOT be available to purchase on race day, so order one now! Note: You do NOT have to purchase a t-shirt to run in the race. All sales final. T-shirt designed by Carlos Cabalu.
Prizes, in the form of $25 Valley Green Inn gift certificates, will be awarded to the top male and female finishers.
Join us for post race hot chocolate and please feel free to bring your favorite seasonal holiday treat to share.
Disclaimer: This is a "Snow or Shine" event, but we reserve the right to cancel the event in the event of extreme weather conditions(dangerously icy trails, unplowed roads leading to the Valley Green Inn, etc).
Due to the unexpected high response,
we had to limit the total # of registrants to 180.
WE ARE NOW FULL – ONLY the runners below will receive bibs (and be timed)
(sorted by last name):
Jordan Alexandra

Helen Ambrose

Marilyn Arena Storck

Luigi Gets Around

David Baroody

Sarah Barringer Gordon

Audrey Bauer

Rachel Bauer

Ceasar Bautista

Mark Beattie

Al Belmondo

Charles M Bender

Laura Bender

Danna Bodenheimer

Kathryn Bohn

Patricia Boone

William Brasko

Gary Brown Jr.

Amy Van Brug

Jeannette Brugger

Brian Bugey

Christine Bush

Erich Cammarata

Doug Campbell

Lisa Cancglin

Elle Carolan

Jennifer Cecchi

Eric Chappelle

Lincoln Chase

Jalene Cherkauskas

Emily Christiansen

Angela Christine

Jessica Clegg

Sarah Coburn

Amanda Collett

Jonathan Cornibe

Kerry Coughlin

Candace Crawford

Jared Croasdale

Nisha D

Danielle D'Alessandro

Jessica Dalrymple

Evan Daney

doris derienzo

Roopak Desai

Leah Dillon

Ron Donato

Mike Dougherty

Douglas Dubrosky

Julie Dyer Holmes

Maria Dziembowska

Rosalind Echols

Amy Elisabeth

Mae Em

Terra EP

Todd Everett

Lauren Everitt

Kristin Facinelli Thew

Brooke Fahringer

Heather Falck

Jill Farabelli

Becca Fillipo

Jason Fowler

Katie Fox

Rob Frieman

Erica Fruiterman

Tara Garner

Terri-Ann Giandomenico

Amon Gibson

Carlo Gonzalez

Sophie Gordon

Eléonore Gossart

Giuseppe Guglielmello

Elizabeth Hanbidge

Victoria Hanks

Ciara Horgan Kehoe

Trish Houck

Kaity Jackson

Brian Joffe

David S Johnson Sr.

Shloka Joshi

Ashley Joyce

William J Keller

Brian Kemper

Tariq Khan

Lisa Kilpatrick

Jennifer Langenberger

Doug Leard

Ben Lemoine

Chris Lerley

Jennifer Leung

Jill Levan Davis

Emily Linn

Jennifer Litchman

Brett Lynch

Jenny Lynne

Stefanie Marie

Thomas Martin

Ashley Mc

Kyle McAvoy

James McCollum

Bill McGeeney

Diane McManus

Leslie Mellet

Matt Miller

Jon Montovani

Justin Moore

Christina Moresi

Jill Morris

Kristina Mulholland

Christine Muscarnero

Philip Niess

Meghan Nolan

Laura Nolte

Liz Pagonis

Donald Palmer

Tim Pappas

Nicole Patricia

Cherron Perry-Thomas

Kevin Peter

Caroline Murphy Phelan

Farrah Pierre-Noel

Miko Quisumbing

Melanie Rahmer

Tina Raimondo

Johanna Reade Goode

Jason Reckner

Carolyn Redmond

Elizabeth Reimer

Céline Reyes

Severe Robert Houde

Alyssa Rodgers

pete roller

Emily Rosé

Anahi Santiago

Meghan E. Sarbanis

Tara Scarangelli

Lauren Schappert

Matthew Schmehl

Reginald Scott Harris

Kyle M Sebring

Malachi Shell

Matt Silliman

Bethany Silva

Joanna Sinclair

Joe Smith

Jennifer Soss

Jeremy Spry

Anush Sridharan

Nicole Starke

Carl Stauffer

Lisa Stefanelli

Marilyn Storck

Davey Strattan White

Amy Stratton

Kourtenay Suzanne

Crepe Suzette

Kristen Szczepkowicz

Caitlin Thompson

Ieshia Tiff-Nel

Liz Tily

Rodger Tough

Susan Tracy

Michael Trainer

Cassie Tran

Parker Umsted

Ali Valin

Melissa Walsh

Jamie Walter

Rob Warner

Doug Wellons

Joseph Wentzell

Brett Williams

Mark Wolfheimer

Dennis Yuen

Alexis Zebrowski

Tony Zeferes

Rod Zilla