Wanderers Endure the Good, the Bad and the Ugly at the Ugly Mudder!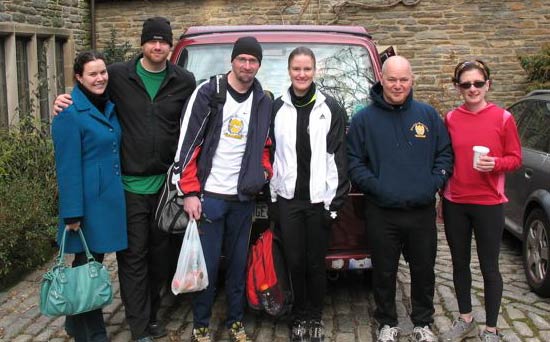 On Sunday, February 17th a hearty group of Wanderers once again made the trek to Reading to tackle the Ugly Mudder "7.2" mile Trail Race. For the first 400 or so runners, however it wasn't so much a 7.2 mile race, as a 6 mile race! Unfortunately (or fortunately, depending on your point-of-view), the front runners bi-passed a turn & cut about a mile off the course! Runners were amazed at their super-speedy times as this was apparently the year to PR!
The Wanderers field included Chris Verry, finishing 41st at 50:29. Chris spotted Sharon Schmidt-Mongrain hot on his heels at the bottom of a hill & figured he'd better get the lead out!
Sharon finished an impressive 49th place at 49:51 earning 2nd place female honors in only her 3rd trail race! Confirming that the warnings about these races were right, Sharon found running through non-trail sections & across the "moguls" field to be particularly challenging.
Laura Fanelli also strode to greatness finishing 83rd in 54:35 and earning a 2nd place finish in the Female 18-29 category. Laura found "Mt. Mudd" at the end to be a pain in the eye, literally. After sliding backwards a few times, some mud got kicked in her eye & she could barely find her way to the finish line! Maybe safety goggles are in order for next time!
Beth Auman, a Pagoda Pacer by trade but a Wissahickon Wanderer at heart made it look like these trails were old hat. She finished strong in 93rd place at 55:36 earning 5th place Female 18-29.
Polly Jansen managed to dust herself off after falling twice and finished 147th at 58:54. She earned a nice war wound on her knee for her efforts.
Matt Mauren, back for more carnage after his strong Chilly Cheeks performance finished 164th in 59:40. Matt was tempted to make up that lost mile, but decided that the beer at the Liederkrantz was calling his name a little louder.
Susan Hurrey had her post-race cocktail "tini" on her mind & scurried up Mt. Mudd to a 288th place finish at 1:07:30. After partaking, she decided it would be unwise to pilot the technovan on the way home!
Rich Greifer graced the team with his presence at his first Reading trail race. He made a valiant debut finishing in 479th at 1:37:10. Rich made everyone else look like slackers by finishing the whole 7.2!
Jeff Hayes, a graduate to the prestigious PAC team also participated & blew away the competition finishing 13th at 45:12.
Special thanks to Dan Gordon who was up bright & early to give several of the Wanderers an enthusiastic send-off in the technovan. Also to Gabe Mauren who lent cheering support and also put up with the antics and potential post-race "funk" in the back of the van!
This was the first race in the USATF Off-Road Series and the Wanderers team certainly made an impressive showing. Results are pending and should be available soon at mausatf.org.
Next up in the series will be the Tyler Arboretum 10k trail race on April 5th. Hope to see you then!
Event Photos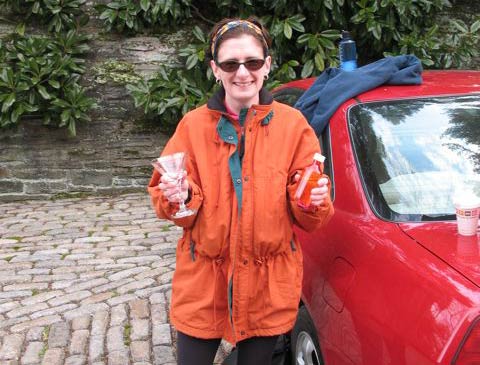 The Great One, disguising her Vodka as Robitussin prepares for her post-race celebration.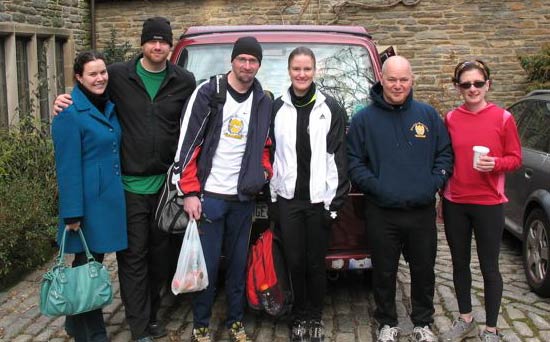 Wanderers are ready to tackle the trails! L-R: Gabe Mauren,
Matt Mauren, Chris Verry, Polly Jansen, Rich Greifer, Susan Hurrey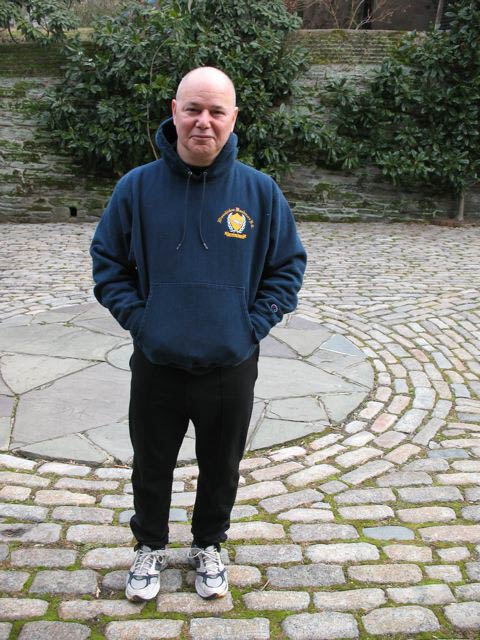 Rich puts his game face on as he prepares for his first Reading trail race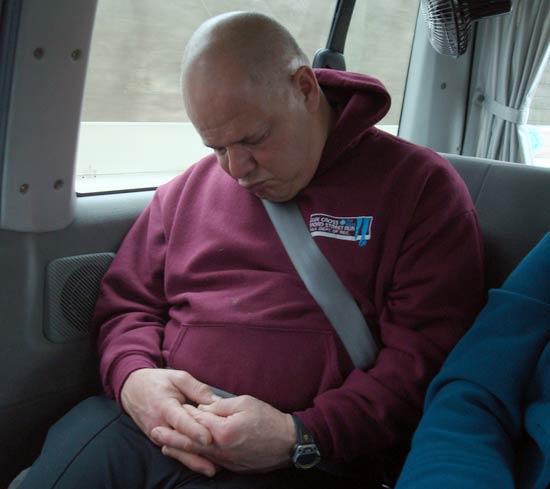 Dramamine + trail race + beer = coma!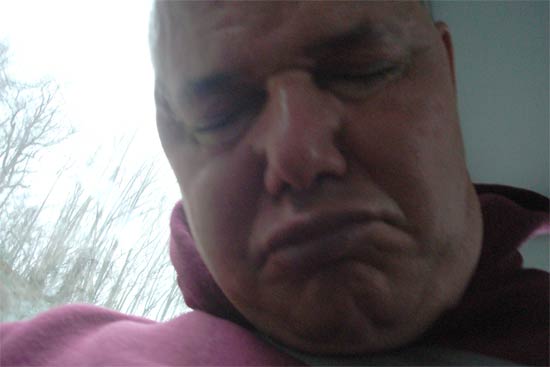 Never fall asleep in the presence of the Wanderers!
<- go to the last page | old news reports (pre 2008) » | current news »