There were two ways of running the Back of My Feet Stroehmann's relay on July 14/15. There was the hard way, then there was the really hard way. The Wissahickon Wanderers did both.
Under the guidance of Randy Clever, the Wanderers entered a team in the Bronze Relay competition. In this event, each runner in the five-member team had to run one lap of the Schuylkill River drives, which is 8.4 miles. In the Lone Ranger competition, it is just one runner who runs, or attempts to run, for 24 hours. The Wanderer's Jon Cornibe was a Lone Ranger.
Both entrants survived, and in fact did great. The Bronze Relay team consisted of leadoff runner Mea Schiff, Floyd Glenn, Melanie Wright, Rodman and Randy, with assistance provided by super supporter Charles Wright. The Wanderers team finished the 42-mile course in 7:56:19, good for 22nd place. Randy by the way also ran a lap for the New Jerusalem team for whom he volunteers throughout the year.
Jon finished an incredible 49th place out of more than 200 runners. Here are his statistics. He completed nine laps running 76.104 miles and he ran for a total of 16 hours, thirty seven minutes, and twenty six seconds. Split times were kept, and Jon beat out a steady pace….for half a day!! His lap split times varied between an hour and a quarter and an hour and three quarters for the first seven laps. But then the legs started to turn to lead as Jon finished the last two laps in two hours and thirty-eight minutes and three hours and four minutes respectively. An incredible performance!
The winner by the way in the Lone Ranger competition was Serge Arbona, 47, of Parkville, MD, who completed 18 laps for a total of 154.738 miles in the 24 hour period.
The various races raised money for the Back on My Feet running program which encourages running and fitness among people who have been homeless. Stroehmann's bakery donated $75,000 for the event.
Wanderer runners were tired but pumped after the race.
"I think it's really good to have the club represented in some charity events like this," said Randy after the race. "Being of the runner mentality, most times this running thing is about me, my fitness, my accomplishments, etc. It's good to think of "us" as a group and contributing to the community while doing something we love to do."
"BTW, I stuck around to wait for our resident runner to finish his loop, somewhere close to 9 o'clock (the race had started at 10 am). I took him home and went straight to 5 Guys to satisfy my ravenous appetite and desire for grease. It was delicious! I don't normally do such foolish things, but by that point, I could have eaten anything, including the kitchen sink."
Rodman had these comments after the race. "Congrats on finishing Mea, and congrats to all of us! I had a really positive experience today for my first ever team running event, and I thank you all for being awesome people .
The event was great – wishing everyone a speedy recovery and continued success. Keep running!!!"
Q&A with Wanderer Jon Cornibe who Competed in BOMF's "Lone Ranger" Competition
1) Were you pleased with your performance?
Overall I'm satisfied. When I signed up in January, I was expecting to cover at least 100 miles. However, that was before I developed some knee issues in May (following the Dirty German 50 miler) that sidelined me for about two months. Up until last weekend, I didn't think I would be able to run it at all. I considered emailing the RD to withdraw on several occasions. The Sunday prior, I went on a 20 mile test run and felt good enough to commit to the race (this was my first run over 10 miles since May). My new goal was to cover at least 50 miles and to try not to re-injure myself. First goal was reach; I'll have to wait until I try running again to see what condition my knees are in, but so far I feel injury free
2) How did you maintain your sanity running for that long?
I like to beak up the race mentally. Each lap is 8.4 miles which goes quickly in the beginning. I maintained an easy running pace for the first 50 miles and completed that around 7 PM. For loop 7, I picked up my ipod which gave me an added, albeit temporary, boost. Loop 8 and 9 where tough, and I focused on progressing from aid station to aid station. At this point, if you're still moving you're winning.
3) How did you feel at the end?
Exhausted. I was expecting to feel sore, but I underestimated how tired I would be. During the last lap I was having difficulty staying awake. For the last two laps, I was suffering from nausea and unable to eat or drink anything other than water. By the end I had no doubts about ending it. I didn't have another mile left in me.
4) Was the experience what you expected? Better? Worse?
Great race with excellent volunteers and support. I developed a large blister on the bottom of my foot during the second lap (due to wet shoes from the early rain). Each step was becoming painful and I thought I may need to drop early. The wonderful podiatrist at the medical tent did some blister work and fashioned padding around my foot to help relieve the pressure. I was able to continue on for another 7 laps thanks to them.
I'm more of a trail runner, but this is one road race I'd consider keeping on my calendar. It supports a great cause and there's a lot of enthusiastic support throughout the course.
Event Photos: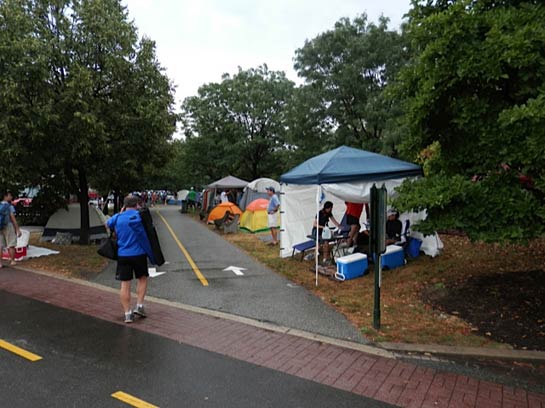 It was tent city down at Boathouse Row for the BOMF 24-hour event.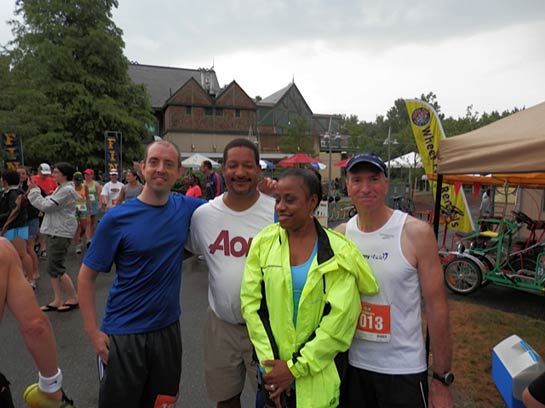 Morale was high before the race.

Randy was all over the place during the BOMF event organizing and running with the Wanderers and also running for the New Jerusalem team where he volunteers.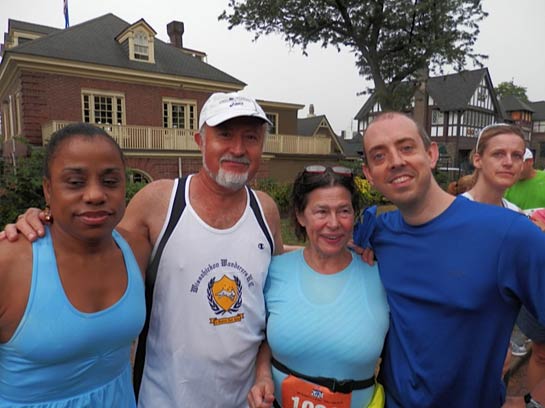 Team portrait (without Randy) prior to race.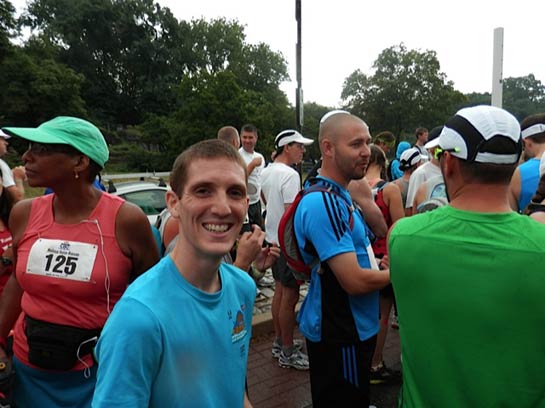 Jon was unbelievable smiling (and not weeping) as he waited at start line.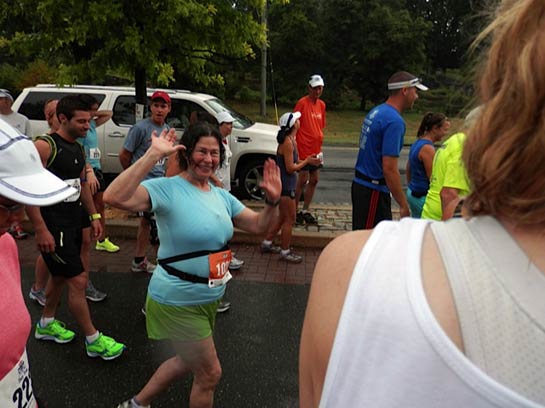 The gun has sounded and Mea is off!