Week 4 – That's a Wrap!
For the 4th and final trail race of the 2011 Wissahickon Wanderers Spring Trail series, 36 smiling runners were greeted with sunny skies and warmer than usual temps. And the higher than usual humidity made the challenging 4.4-mile course (that encompassed as many HILL'S that course designer Louis Secreto could find) even more challenging.
As for a twist, runners that where able to find & pick up trash along the course received a 20 sec time bonus with a max of 1 min off their time. I give credit to our own Noah Shusterman for the idea of trash for a time-bonus. Also, a big thanks to Linn Watson for marking the course and helping with the post-race raffle.
Tyson Smith turned in another solid performance coming across the line first with Tom Devlin and Todd Euston rounding out the top three finishers. For the women, Kristen Zielinski came in as top female runner with Polly Jansen and Helen Cheung taking 2nd and 3rd places respectively. It's good to have Helen back on the trails so soon after having her baby….Way to go!!!
The awards for King & Queen of the Wissahickon competition went to Kristen Zielinski & Louis Secreto, congrats to you both great job.
And last but not least a HUGE thanks to Eric Johnson for sweeping the course and only giving me a little grief about the number of ribbons he had to collect afterwards. Also, another great job by Fast Cat Sports for timing the race also a very BIG THANK YOU to Nathan Brand, Dan Gardner, & Faith Anderson for providing post race give a ways!
Complete results for week 4 can be found in this PDF »
King/Queen of the Wissy. Competition:
Men

Total
(weeks 1-4)
Race 1
Race 2
Race 3
Race 4
Louis Secreto
12
5
3
4
Brian Crispell
5
5
Duane Serpentine
5
5
Chris Moore
4
4
Ellis Kim
4
1
3
Pete Michner
4
4
Doug Dubrosky
4
4
Tyson Smith
8
3
5
Todd Euston
5
1
2
2
Andrew Piotrowski
3
2
1
Tom Devlin
3
3
Matt Palombaro
2
2
Chris Verry
1
1

Women

Total
(weeks 1-4)
Race 1
Race 2
Race 3
Race 4

Kristin Zielinski
20
5
5
5
5
Polly Jansen
10
2
3
3
3
Megan Shah
4
1
3
Suzannah Grosso
3
3
Helen Cheung
5
1
2
2
Jessica Hyland
1
1
Rachel Spoonhower
1
1
Week 3 – 5/19/2011:
The third race in the Spring Trail Series was wet and wild (and relatively lightly attended – just 29 racers). Given the stormy weather the couple hours leading up to the race it's remarkable that many showed!
When I pulled up to begin marking the course I was warned by concerned folks not to go into the woods because a huge storm was coming. But a race was going to happen and a course needed to be marked SO into the woods I went anyway. As predicted a huge storm came up a few minutes later which soaked me to the bone before even a half mile of course was marked (note – flour is useless for marking a trail in heavy rain).
When the lightening started I came to my senses and quickly sprinted back to the shelter of my car to wait. When it finally passed there was hardly enough time left to mark out the course. Thankfully Chris Moore stepped up and agreed to start off the race while the last half mile of the course was still being laid out. There was a good chance the racers were going to catch the race director still out marking out the trail. That would not have been pretty.
The approximate 3.3-mile course linked together some secret deer trails with real trails on both sides of the Wissahickon Creek. Brave runners survived high grass, briers, nettles, mud and swollen creeks without complaint. Those Wanderers are a tuff bunch. Much thanks to Bob Reynolds for mapping the course using his Garmin GPS and Fred Kenney for heading up professional race timing operations with race numbers, computer calculations, and even a portable printer! Also thanks to trail sweeper Louis for going back out afterwards to remove the race marking ribbons.
Doug Dubrosky
2011 King/Queen of the Wissahickon Tophies: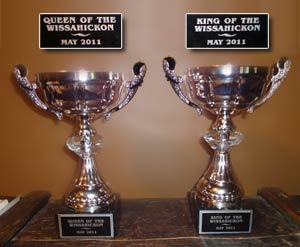 Week 2 – 5/12/2011:
The second installment of the 2011 Wissahickon Wanderers Spring Trail series featured a fast and fairly non-technical, by Wanderers standards, course designed by Pete & Leo.
The runners held up their end of the bargain by speeding through the 3.3 mile course and posting some fast results (see the pdf for full results).
Louis Secreto turned in another solid performance coming in second place, but was eclipsed by winner Brian Crispell in a fantastic finish. Rounding out the top three finishers was Todd Euston. For the ladies, Kristen Zielinski is making a strong push for the series title by taking her second victory in two weeks. Strong performances from Polly Jansen and Helen Cheung taking 2nd and 3rd places respectively.
Looks like things are heating up just in time for what should be an interesting 3rd race in the series. Doug Dubrosky will be sure to find some gut wrenching hills and seldom travelled trails. Huge thanks to Louis and Bob for sweeping the course during their cool down run. Also, another great job from Fast Cat Sports for timing the race and Dan Gordon for getting some great action shots (see below).
Pete Michener
The results for week #2 can be found in this PDF »
Photos of Week 2: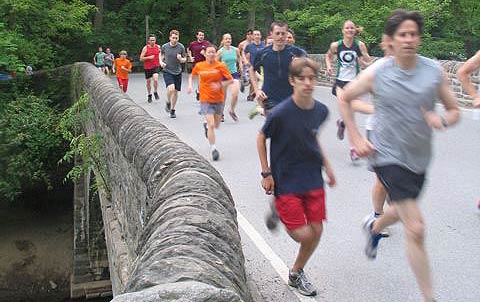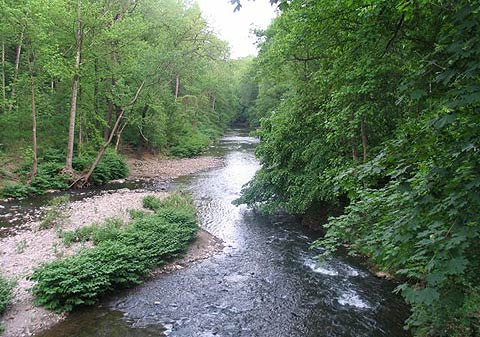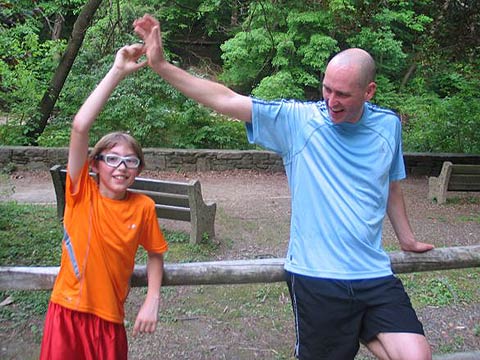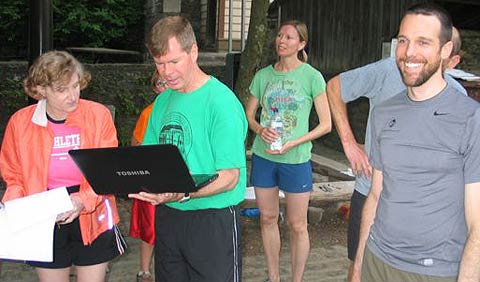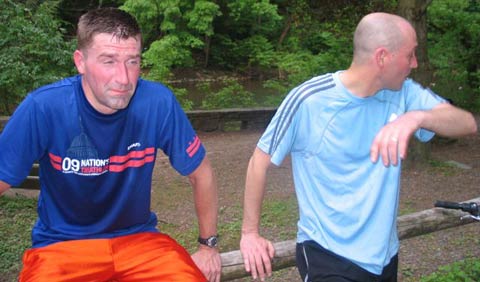 Week 1 – 5/5/2011:
We had a total of 40 runners start the course. We lost a few to bonus miles and general misreading trail markers and ended with 36 finishers.
Perhaps as expected, Louis finished first in the men's competition for "king of the Wissahickon" followed by Tyson Smith and Andrew Piotrowski. In the "queen" division, Kristen Zielinski snapped the tape, with Susannah Grosso and Polly not far behind. View the PDF with the complete results »
Pete and Leo are already fine tuning their course for next week as we look to keep the momentum going.To find out more about the 5/12/2011 (6:30 pm) race, click here »
A special thanks to Fast cat sports for their impressive timing services, and Babs, Jen Rezeli and Louis for help sweeping the course of lost runners and ribbon trail markings.
Photos of Week 1: