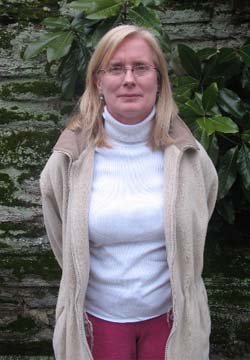 For those runners who need that little extra individual attention, there is now a solution. Marlene McGregory, who often runs with the Wanderers, has just been certified as running coach by the Road Runners Corporation of America. She is now available to provide personal coaching for runners at all levels.
Marlene, 51, is a Germantown resident and a nurse at Temple Hospital. Marlene charges $50 an hour, which is extremely reasonable for a personal training rate. She will also adjust rates for those on limited budgets.
"I am doing this because I absolutely love running," she said. "Running has meant a lot to me, and I want to give back to other people."
Marlene ran lots of cross country at Cardinal Dougherty High School in Philadelphia. As an adult, she has run many marathons, and competed three times in the Boston Marathon with a best time of around 3:30.
The training schedules can be extremely flexible from just once a month to once a week or to several times week. Marlene can help runners set up a workout program and can help in monitoring performance. Her coaching can be extremely helpful for experienced runners trying to improve performance and for beginners who want to enter their first race.
Marlene received her RRCA certification this past winter after participating in a weekend long program and passing a certification test. Her telephone contact number is 215-990-7840 or e-mail marlenemc@hotmail.com.