Race report by Barbara Gorka
It was May 2007 when Chris Moore ran his last ultra before finally succumbing to a nagging injury and taking a long break from running.  So it was fitting that his return to racing would be at that same race: the Highland Forest 1-2-3.
This race is part of the Western New York Ultra Series and consists of three 10-mile loops on single and double track forest trails. With a total elevation gain of 4500 feet, even the top runners find themselves walking the steady and steep climbs.
At the race two years ago, Chris tied for forth in a time of 4:57. With a 10K his longest race in over two years,  he entered the race unsure of his fitness but nervously ready to test himself.  During his break from running, Chris served attentively as Barb's handler for a few of these WNY Ultras and has had an opportunity to watch and talk to some of the premiere competitors. Perhaps it was the holiday weekend or the unexpected heat, but he saw only one recognizeable "elite" face in the field.
He thought he would try to run with that guy as long as he could. As it turns out, after a few aggressive attacks on the downhills around mile 15, Chris put some distance between himself and this local.  After passing a few other runners (who turn out to have been 20 milers),  Chris learned he was the leader going thru the 20 mile start/finish.  It was surprising news, and with 10 hard miles to go, left a lot of doubt.  At the start of each steep hill where walking was required,  Chris definately heard footsteps (real or imagined)  but kept trying to push.  Finally confidence returned when the last of the big hills was reached and there was only about 1.5 miles of flat easy downhill to go.  Not only did he win his first Ultra,  he took more that 30 minutes off his time, finishing in 4:25, about 6 minutes before the next runner.
Barbara Gorka, playing host to some of her NY running friends who haven't run many races of this type,  fell prey to some rookie mistakes.  From going out way too fast,  forgetting to replenish her food stash after her first loop and probably not drinking as much as the heat warranted, she bonked early and suffered calf cramps by the end of her second loop.
Contemplating whether to call it a day or head out for the third loop, she was encouraged by a fellow runner who said (as he was passing her) that he had just run a 100-miler in the heat the week before and was now out doing the 20-miler. "If he can run 100 miles in the heat, I should be able to run 30," she mumbled to herself. She took her time at the transition area, swallowed some salt tablets, and shuffled off for another 10 miles of trail fun. She finished in 6:11, fourteen minutes slower than last year, and a humbling reminder that every ultra presents new challenges to overcome. Barbara ended up third woman overall.
Wanderers NY division also featured new recruits Astrid Helfant, who ran her first 20-mile trail run in 4:12, and Janel Benson and Kara Rusch who completed the 10-miler in 1:43 and 1:49, respectively.
Race results races can be found at: syracusechargers.org/highland123/
Upcoming races in the Western NY Ultra Series include the Finger Lakes 50s (50k/50 mile) on July 4 and Green Lakes 50k/100K in late August. More information on these races and the series can be found here: wny-ultra.org
Race Photos: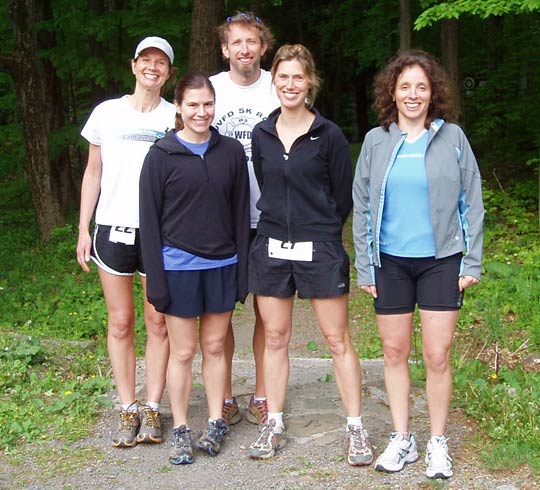 Barbara, Janel, Chris, Astrid, and Kara form the small
but tough core of the Wanderers Upstate NY chapter.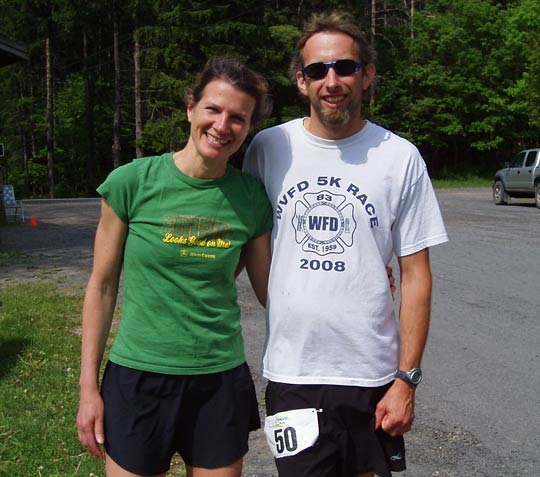 Barbara and Chris celebrate post-race.