On November 6, Mea, Floyd, Michael and Rachel completed the New York City Marathon. Below is their report:
The race was great! The ferry ride over was spectacular. We met and talked with lots of people from all over the world. We enjoyed beautiful scenery and cheering crowds the whole way, even for the late runners, like us.
There were people handing out extra food in the streets – bananas, candy, beer. One young girl was serving the hugest cannolis I (Mea) ever saw, and I wished I could have stopped to have one!
There were bands all along the way playing every kind of music you could imagine, and very professionally. There were people running in costumes that had us laughing and looking in disbelief! We loved the bridges (including the swaying of the Verrazano), beautiful views, many people stopped to take photos, and I think our hill runs here in Manayunk had us well prepared.
Michael and Rachel who had trained with our group were somewhere between Mea and Floyd for the first few miles — Michael surprised Floyd and they briefly ran together around mile 4 before Michael went back to run with Rachel. Both of us had our names prominently on our shirts and we felt we were getting a disproportionate share of the crowd's attention all along the route because of that. It was helpful!!!
It was evening when we were done, and the medals were around our necks. The two notable downsides were at the post finish line. One, they had meager food rations with nothing for a queasy stomach – banana, pretzels, Gatorade, some trail mix, Chia seeds, and an apple. And two, after you picked up your clothes bag, there was no place to change. There were 47,000 runners though (Mea's note)! But on the uniquely positive side, there were millions of spectators cheering at the sides of the road which was a phenomenal experience, especially on 1st Avenue after the 59th bridge, and coming in to Central Park. All and all this was a thrilling experience.
One other notable issue is that we both had problems with our Garmins. Mea forgot to bring hers and our daughter (Bonnie) handed it to her at mile 7, and then around mile 10 it stopped working. Floyd had a new Garmin which was seriously wrong for the first couple of miles, presumably because from the start through about mile 2, we were running on the lower level of the Verrazano Bridge under the steel umbrella of the upper level. The same problem recurred on the 59th Street bridge.
Our times were 5:23 for Floyd and 6:43 for Mea, which were quite a bit slower that we expected in both cases (over a half hour slower for each of us than we did last year in Philadelphia). Mea had a good even pace but far too many (about 20) pit stops. Floyd had stomach problems from ineffective Gu digestion, which was a carry-over from his long training runs — still looking for a more digestible alternative. Nevertheless, we both kept going the whole way with just a few episodes of walking near the end.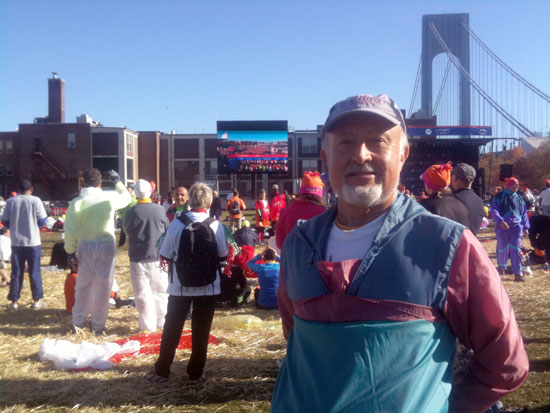 Floyd at the Coral before the race.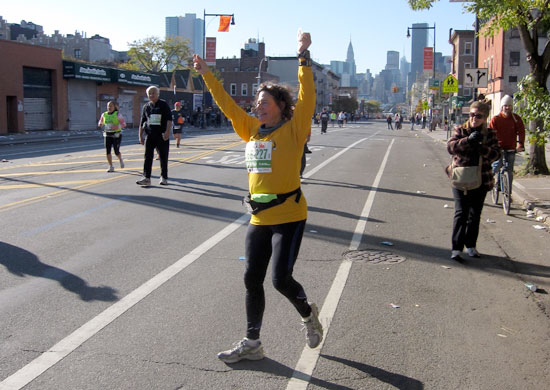 Mea out on the course.