It has been a six year wait, but a Wanderer has once again triumphed in a Pennsylvania marathon. Louis Secreto won the arduous Dam Full marathon in central Pennsylvania on Sunday in a time of 3:44:25, which was an excellent time considering the difficulty of the course.
There have been countless number of outstanding performances by Wanderers over the years. But we have to go back to 2005 to when a Wanderer actually won a race here in Pennsylvania, Matt Palombaro at the Harrisburg Marathon.
Louis accomplished two milestones in the Dam Full Marathon: his first marathon, and his first victory!!! As far as marathons, he is batting 1000!!
Louis won the race the hard way:
First he had to battle Mike Hannon of Danville every step of the way, and won by only a minute. The two runners were actually 20 minutes clear of the rest of the field.
Second, Louis had to survive 4,600 of elevation gain during the race including the strength-sapping 700-foot climb "Stairway to Heaven" toward the end of the race. (A full course description is listed below)
Third, this was your standard central Pennsylvania trail race with lots of rocks and boulders which are tough to surmount on weary legs.
Here are Louis' reflections after the race:
"I'd say that the course was without a doubt bloody hard. I've mountain biked in that area so I was familiar with some of the course. The race stated it included 4,600′ of climbing but my Garmin showed afterwards a total at least 5,700′ of climbing.
With about 6 miles or so left in the race I was told I was behind by 4:45 mins. At that point I figured just keep it together and finish, 2nd place is better than 3rd. I took it steady on the climbs and opened it up on the rolling sections.
I caught Mike near the top of the last climb "stairway to heaven" and let him lead the way down the mountain. Once the trail opened up a little I figured 'it's now or never and hit the throttle'. I passed him with a little less than a mile to go. I still had some gas left in the tank after the race and while sore, I felt great."
–Louis Secreto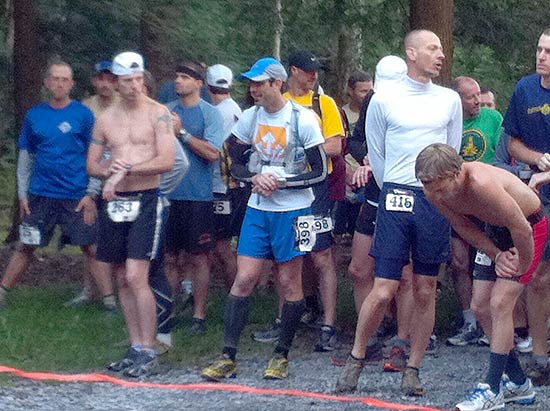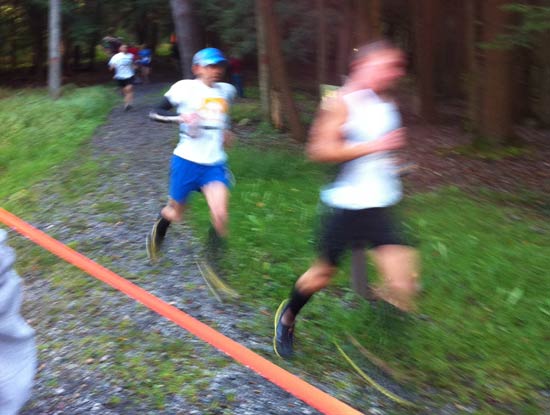 There were 83 runners in the field, almost all of them from central Pennsylvania.
Course Description: The Dam Half and Dam Full courses are all situated within Bald Eagle State Forest, and you really get the feeling of being far removed from civilization when doing this course! Mostly narrow single track trails with some jeep trails and a little bit of dirt road mixed in to relax your legs (but not too much). The Dam Half has a total elevation gain of 2,500 feet, while the Dam Full has a total elevation gain of 4,600 feet. The courses have several climbs with a few boulder fields mixed in to test your legs (and wits)! In between the climbs though, there are some nice flat and rolley sections winding through beautiful hemlock and pine forests with some stream crossings here and there. Both courses have the toughest climb of the event near the end, the dreaded Stairway to Heaven. Stairway to Heaven is a brutal single track climb with 700 feet of elevation gain within a half mile straight up the side of Naked Mountain. But once you summit, it's 1.5 miles all downhill to the finish!!!
Elevation Profile (PDF) (same as above pic): midpenntrailblazers.com/trail-race-events/damhalf/Dam%20Full%20Profile2.pdf
Race Results: patrailrunners.com/files/2011_DAM_HALF_-_FULL_OVERALL_RESULTS.HTM