The Wissahickon Trail Series Cup winners Susannah Grosso and Tyson Smith hold their prestigious awards.
The cups were awarded to the runners that accrued the most points after the four May Trail Series races.
Below you will find the results and some photos for each of the 2010 May Trail Series events.
Trail Series 4/4 (May 27, 2010):
Alex Ochman's 5.5 mile course took a twisted route up Old Line Road, then back down to Forbidden Drive, up to the Meadow briefly before plunging down Pain Hill, through the creek just downstream from Bell's Mill Rd, along the Lavender Trail, past Tedyuscung, down Rex Ave, across the creek (this time with the aid of a bridge) and back to the Inn on Forbidden Dr.
As usual, some wandered away from the marked course, at their own peril but we outran the rain and whatever else was troubling us when we entered the beautiful Wissahickon Valley. Many thanks to Dan Gordon for organizing and sponsoring the series.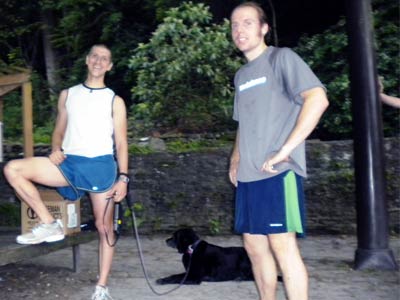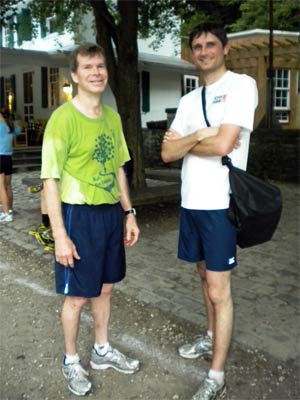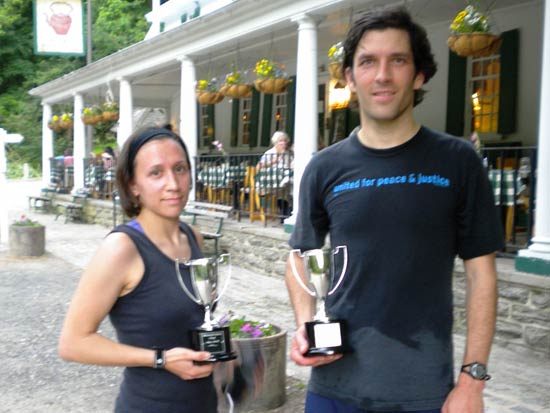 ---
Trail Series 3/4 (May 20, 2010):
Special thanks to race director Louis Secreto for laying out the course. The actual course can be viewed here (from Bob R's GPS)
Here are the top finishers (for the Wissahickon Cup):
Men:

Greg Ahlsweet (sp?) 42:11
Tyson Smith 42:34
Phil Ranly 43:35
John Wesner 45:01
Greg Polakoff 46:05

Women:

Susannah Grosso 51:17
Polly Jansen 52:31
Laurie Stewart 57:28
Terri Erbacher 1:01:24
Tammy Leigh "Green Thumb" De Ment 1:09:34
| | | |
| --- | --- | --- |
| The May trail series entered the digital age this spring. Race director Louis Secreto sports the hand held timer which was loaned by Fred Kenney. With this baby recording finishes, all results were official….sort of | | Phil put in a pitch for the Wissahickon Trail Classic coming up on June 5. |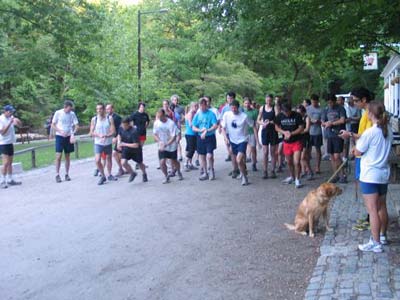 They're off! More than 30 runners entered the race on May 20.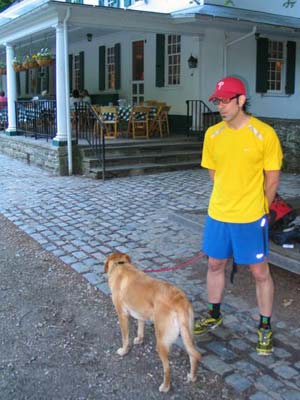 Louis and his dog Shelby await the runners to come in.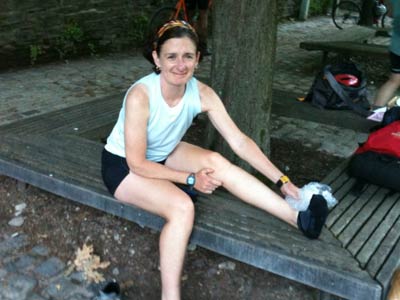 No, The Great One is not goofing off. This rest stop is legit. She sprained her ankle on one of the trails and had to limp off the course.
---
Trail Series 2/4 (May 13, 2010):
Special thanks to race director Bob "Trail Master" Reynolds for laying out the course, keeping time, and submitting this report:
The second of four races in the 2010 Spring trail race series was held on Thursday May 13th. Weather was cool and clear and the course dry and fast.
Race director Bob Reynolds laid out a 5K course (more or less, your mileage may vary) along the Cresheim Creek that included a tour through a recently reestablished path through the Enchanted Forest and a splash through Devil's Pool.
Sadly, Chris Verry, Louis Secreto & Pete Michener were DQ'd for wandering too far from the marked course, costing them valuable series points, and reinforcing the admonition that it's not trail racing unless someone gets lost.
Thanks to Fred Kenney for his finish line assistance. Following are race #2 results followed by up-to-date Wissahickon Cup points totals. On the women's side three of the top five repeated from last week while men were a completely new group. The third race will be hosted by Louis Secreto on Thursday, May 20th.
Results 2/4:
Men

Tyson Smith 18:25
Jeff Hayes
Bill Donohue
Eric Lee
Noah Schusterman

Women

Susannah Grosso 23:48
Polly Jansen
Laurie Stewart
Michelle Nettleton
Tess Wilderman
Complete race results (time sheet) located here (PDF) »
Point totals through two races:
Men:

Phil Ranley 5
Tyson Smith 5
Pete Michener 4
Jeff Hayes 4
Dave Ortega 3
Bill Donahue 3
Louis Secreto 2
Eric Lee 2
Chris Verry 1
Noah Schusterman 1

Women:

Susanna Grosso 10
Polly Jansen 8
Laurie Stewart 5
Helen Cheung 3
Michelle Nettleton 2
Sara McCartney 1
Tess Wilderman 1
---
Trail Series 1/4 (May 6, 2010):
Special thanks to Doug Dubrosky for laying out the course and keeping time.
The race length was 3.4 miles measured by GPS.
Here are the top five men and women finishers:
Phil Ranly 26.36
Pete Michener 27.19
Dave Ortega 28.14
Louis Secreto 28.29
Chris Verry 28.35
Susanna Gross 31.29
Polly Jansen 31.42
Helen Cheung 34.09
Laurie Stewart 35.52
Sara McCartney 36.14
For complete results, please refer to the official race time sheet (PDF)
Photos Race 1/4: