A new award will be unveiled with the upcoming May trail series….the Wissahickon Cup!!
The cup will be awarded to both the top male and female runner in the May series.
How It Works:
The top five finishers (both male and female) in each of the four May Trail races will be awarded points (five for first place, four for second…to one point for fifth place).
The top three race finishes will count for each runner, and the male and female runner with the highest cumulative score wins the cup.
"This is sure to become one of the most prestigious running awards in the Wissahickon and will rival the Four Corners certificates," Dan Gordon said in announcing the award. The Four Corners run, by the way, was created several years ago by Chris Moore and consists of running the perimeter of the Wissahickon, which is a hilly 22 miles. Certificates are awarded to each runner who performs this feat. "The Wissahickon Cup winners just like the Four Corners runners will have proven mastery over the Wissahickon."
The trail series starts on May 6 and will continue each Thursday night in May. The races begin at 6:30 from the Valley Green Inn. There is no entry fee and the races are open to everyone. To compete, just show up! Gordon cautioned runners to remember the informal nature of the races.
"We don't use any special timing devices, and results are basically written down on the back of the envelope," he said. "We will try to avoid recording mistakes, but they could happen and we will just have to live with it."
"Also, I want to stress that the trail series has never been very serious, and we do not want change this atmosphere," he said. "Runners can continue to treat the trail series as informal runs, but the award of the cup will add a little excitement to the races."
The four race directors for the series this spring are old hands The Trail Master Bob Reynolds and Doug Dubrosky and relative newcomers Alex Ochman and Louis Secreto. No one knows the Wissahickon better than these four. The assignment of a director to each race will be determined in the next week.
This is the eighth year that the spring trail series has been held. Any questions or if you need more information, please contact Dan Gordon.
The Cup Winners:
When the dust settled after the final race on May 27, Susannah Grosso and Jason Tyler were awarded Wissahickon Cups for their cumulative performances during the May Trail Series.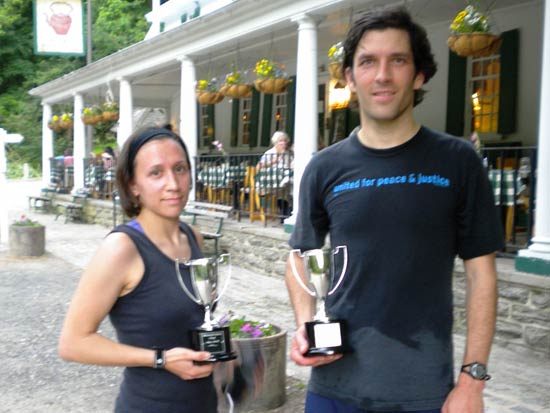 The Cup Standings After 3 of 4 Races:
Men:

Tyson Smith 9
Phil Ranley 8
Greg Ahlsweet (sp?) 5
Pete Michener 4
Jeff Hayes 4
Dave Ortega 3
Bill Donahue 3
Louis Secreto 2
Eric Lee 2
John Wesner 2
Chris Verry 1
Noah Schusterman 1
Greg Polakoff 1

Women:

Susanna Grosso 15
Polly Jansen 12
Laurie Stewart 8
Helen Cheung 3
Michelle Nettleton 2
Terri Erbacher 2
Sara McCartney 1
Tess Wilderman 1
Tammy Leigh "Green Thumb" De Ment 1