Race report by Sharon Schmidt-Mongrain
On 5/2/10, I raced the St. Croix Ironman 70.3. At the 6:30 AM start, it was pushing 90 degrees, humid, and not a cloud to be found in the sky; perhaps it was a better day for the beach as opposed to racing…
After swimming across to the start (it started from a small island across from the mainland/ transition area), I was greeted with the funniest sight of the day – a floating barge of port-o-potties. Not particularly fun for those of us prone to motion-sickness! Other than the chop and swells making sighting a challenge, the swim was definitely the easiest part of the day.
Next up was a 56-mile ride on less-than-desirable roads, seemingly endless climbing and a head-wind for 20+ miles in the middle of the course. The course is infamous for The Beast, a 0.70 mile climb with an average grade of 14%, maxing at 21 – 27%, depending on where you were on the road. While The Beast is truly deserving of its name, cresting it was hardly rewarding. The Beast is at mile 21 of the bike; the remaining 35 miles of the course included many, many more quad-trashing climbs with grades of 10 – 15%. And if the difficulty of the bike course wasn't enough by itself, the road conditions were, well, let's just say not very nice.
The RD said the road conditions were "good" this year; I honestly cannot imagine what bad is. In dodging potholes, terrible pothole patch (and re-patch) jobs, and just a generally rough, bumpy (non-macadam) road surface, I felt jostled. I'd even launched 4 full water/Gatorade bottles from my bike. I feel fortunate I didn't lose any bike parts though because I saw paraphernalia littered on the ground in a few places.
I was pleasantly surprised when I hopped off my bike and my legs felt okay. Starting, I was scared about the difficulty of the course and how my legs would hold up. My legs were tired, but felt stronger than I expected. I started strong on the run but also knew this wouldn't be good by the end; my pace was definitely faster than it should have been given the weather conditions and the run length (13.1m). By the time I started on the second loop of the run, I was reduced to walking through the aid stations and up the hills. I was so overheated and doing everything I could to take fluids in, cool myself down, and get my heart-rate down. The last mile seemed so long. Mentally I knew I could get there, but physically, a mile has never seemed so long.
I had no idea at that point where my closest competitor was. I'd managed to hold off the other women up to that point but was thinking someone may have been right behind me. It took awhile for me to believe Christian when he told me I finished 6th overall female and 1st amateur. Despite not feeling great with my overall run performance, my run time was not unreasonable and I was very happy with how I finished in the overall standings.
It was a great way to start this year's triathlon race season! And while the course and conditions made this a very difficult race, the RD, race staff, volunteers, and spectators did a phenomenal job with respect to organization, directions, marshalling, and support!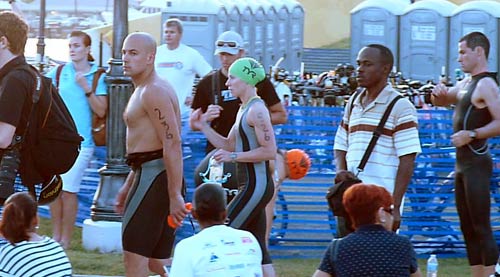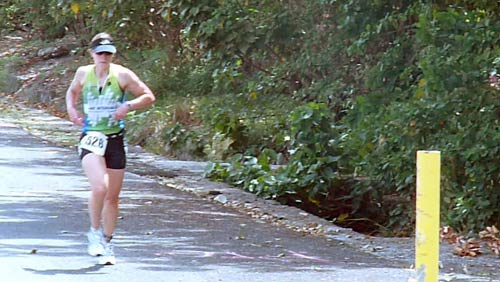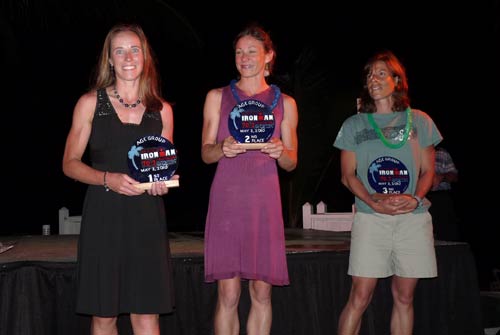 Official race website: http://www.stcroixtriathlon.com/