Race results added 5/25
Course Design and Race Report by Chris Moore
The course "Up the Creshiem Creek" planned for several weeks seemed challenging enough with multiple stream crossings, some bushwacking and a "tree crossing" (leading runners 8-10′ above the creek bed). That was before the rains came…
Unbeknownst to the course designer from upstate NY (me), it had rained in PA for nine straight days, transforming the trickling creek to a storm-swollen chute.  Rocks previously visible were no where to be seen, nor to be navigated.
That said, at least 50% of the 25 total participants ran roughly the correct course and commented on it being well-marked. The others, well, they got to run extra. No one remained dry and no one fell off of the tree to crack open their skull, or worse, sustain a running injury.
Of those we believe ran only the full course, initial tallies show Bob R as the 1st male finisher and Polly as the 1st female. Special thanks to Doug, and his band, Ruder than You for donating tickets to their show Friday 5/8 at the Troc. as randomly selected awards.
Thanks also to camera person and soon to be mommy Jenn Rezeli, and finally thanks to Fast Cat Timing for providing precision timing of the race.  (If only the course could have been that precise!)  Hope to see you all next week.  (Keep posted for times to be posted later.)
Race results added 5/25 (PDF) »
Photos by Jenn: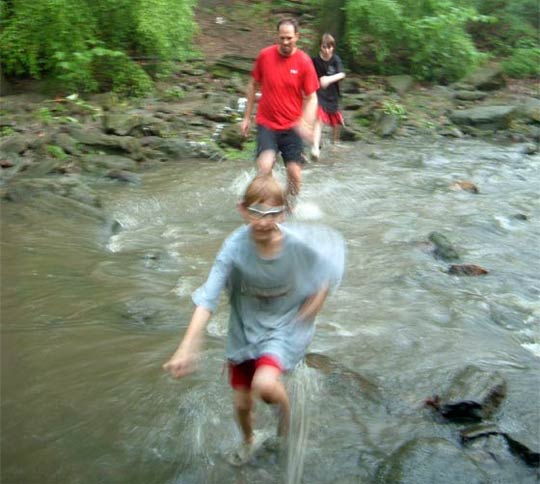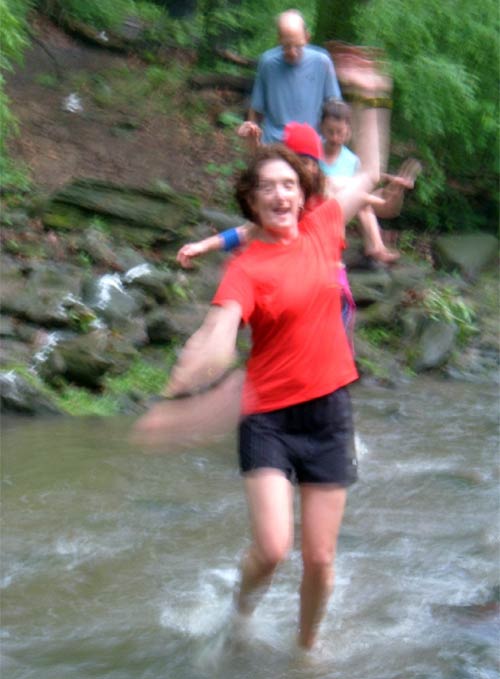 (some say the Great One is posessed)