Work is to commence shortly to restore a 1.7 mile section of trail on the Chestnut Hill side of the Wissahickon.  The Friends of the Wissahickon (FOW) have targeted the heavily used trail which runs along Devil's Pool from the vicinity of Valley Green Inn down to Kitchens Lane.
The trail will be closed off for the next three to four months while work is being performed.
About $370,000 dollars have been budgeted for the construction phase of this project.  This trail restoration is part of Stage II of the FOW's ambitious program to restore the trails in the Wissahickon some of which have been badly eroded over the years.
Runners have already seen the difference in several running trails which have already been restored.  In 2006, the trail from the top of Buck Hill to Wise's Mill Road on the Roxborough side of the Wissahickon was rehabilitated as part of a demonstration project by FOW.  That trail is still holding up very well.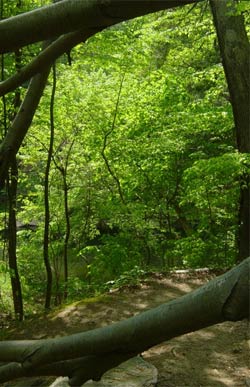 Last year,  FOW embarked on Stage I of the restoration program by rebuilding the Orange Trail from Bell's Mill Road to the Red Covered Bridgeon the Chestnut Hill side of the Wissahickon.
The Friends of the Wissahickon plan to ultimately restore 50 miles of trails over the next 10 years as part of the program called the Sustainable Trails Initiative.  The program also calls for improved sign-posting.
Three other major projects are being planned for 2010.  The first is the restoration of the Summit Avenue loop which is a popular running trail on the Roxborough side which is shaped like a U both starting and finishing on Summit Avenue.  In addition, the Houston Meadow (also called Cucumber Meadow) in Andorra will be expanded from 20 acres to 40 acres by removing trees and shrubs as part of a Fairmount Park habitat restoration initiative.  FOW director Maura McCarthy said the meadow was originally over 100 acres and had been an important habitat for birds and wildlife. FOW, Fairmount Park and the Philadelphia Water Department are also going to be breaking ground in 2010 on multiple gully and stormwater repair sites throughout the park. As part of this gully repair work, trail work is also going to be performed on the golf course climb trail down near Lincoln Drive.
Although the bulk of the work on the trails is performed by professionals, the FOW is recruiting volunteers for the sustainable trails effort.  The FOW is hoping that one-third of the cost of rebuilding the Wissahickon's trails can be saved by volunteer labor.  Contact the FOW at http://www.fow.org/ to volunteer or obtain more information.
Maura McCarthy
Executive Director
Friends of the Wissahickon