Race Report by Polly Jansen (photos added 3/19)

On an overcast, misty March 15th morning eight Wanderers descended upon Wilmington, DE for the 46th annual Caesar Rodney Half Marathon.  Always a good gauge for seeing how one's training has made it through the bleak winter months, the Caesar Rodney is no joke!
The first mile is definitely deceiving, being mostly downhill and very fast.  The true test of one's mettle does not begin, however until the second half of the race when the uphill switchbacks through Rockford Park show no mercy! Wanderers proved that all that hill running in Chestnut Hill and Roxborough this winter definitely paid off!
Here are the finishers and their chip times:
Randy Clever, 1:40:03
Tammy Leigh Dement, 2:01:34
Matt Mauren, 1:45:08
Noah Shusterman, 1:26:24
Ken Evans, 2:20:23
Chris Verry, 1:27:44
Polly Jansen, 1:38:00
Noah AnStraus, 1:47:26
Some musings from the runners:
Tammy Leigh's thoughts:  After a stellar 1st half of the marathon during which more people who actually ran the race  passed me (seriously, I'll never start up front again; it's too depressing), I was at 54 minutes at mile 6; that for me is a personal best. Then, suddenly, my legs stopped moving forward and I think I started running backwards. At mile 9 or 10, a slow moving cramp made it's way into my right.. um, er… glute, and stuck with me until the steep hill which we hit .1 mile before the finish line. ~sigh~… suddenly the pain in my butt was gone and I can only think "why???" But what the heck, it was FUN!
Noah AnStraus' thoughts:  After the first mile, I was positive I was going to set a PR by about 15 minutes.  Sadly, the rest of the race was not nearly as fast.  
Randy's thoughts:  I would just like to say that this is a PR for me this year.  (I only do PR's for the year, so I'm often happy with the results, especially if it is the only race of that length for the year – Ha)
Noah Shusterman's thoughts:  I thought it was a good race overall, even if it was kinda dreary for the spectators.  Maybe next year there'll actually be pretty weather (even if that means slower times).
Special thanks to Helen Cheung for coming down to cheer on the runners.  Also, Ken we really hope you DO receive your well-deserved finisher's medal (apparently they ran out of medals & Ken was told that his would be mailed to him…hmmm…..)!
Event Photos: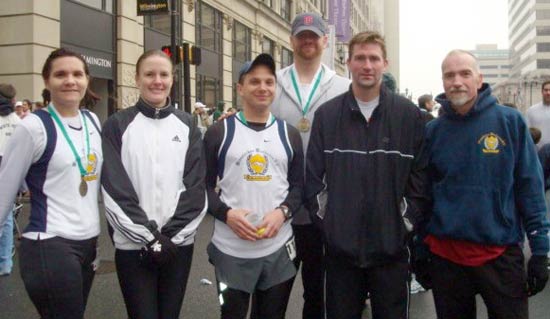 TL, Polly, Noah Shusterman, Matt, Chris & Randy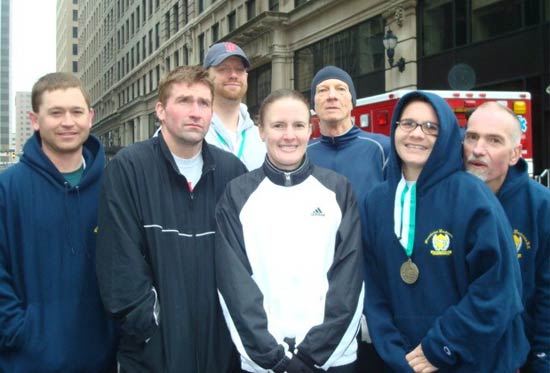 Noah AnStraus, Chris, Matt, Polly, Ken, TL & Randy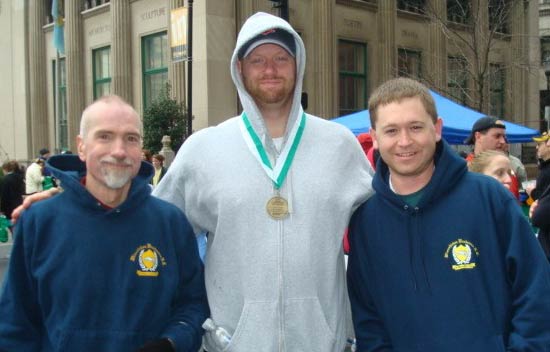 Randy, Matt & Noah AnStraus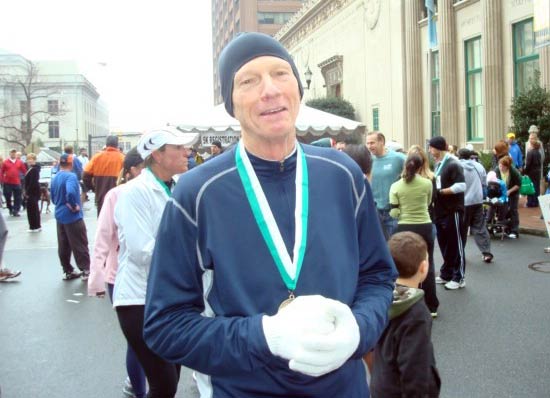 Ken with borrowed medal from TL!
Race Photos by Helen: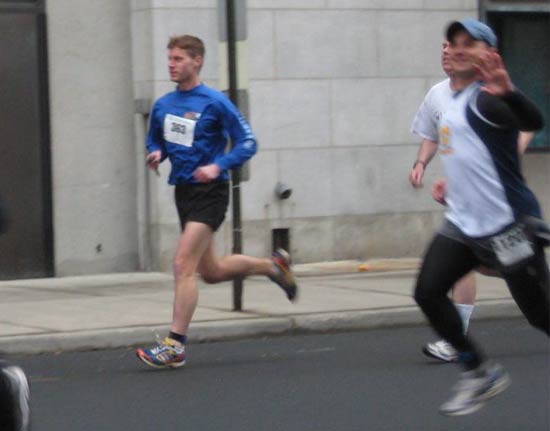 Noah on the right hand side.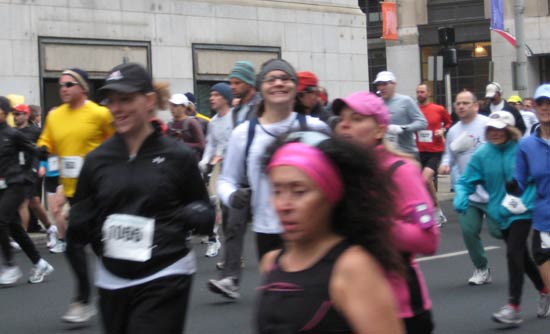 TL peeking out dead center.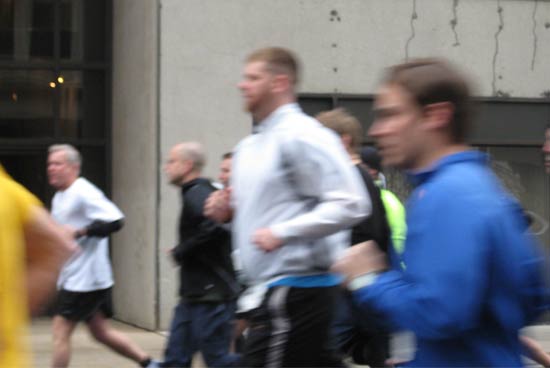 Matt Mauren on his way.
According to Helen, Polly and Chris just ran too fast thereby eluding the cameras.