A record turnout, perfect running weather, and a fast field combined to make the 6th annual Wissahickon Trail Classic the best yet.
Five hundred and twenty one runners completed the 10k trail race, and their overall performance can be summed up in one word….Fast!!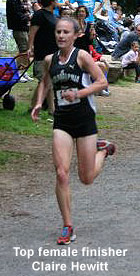 James Erickson, 25, of Philadelphia finished first in 37:01, and Claire Hewitt, 27, also of Philadelphia was the first woman finisher in 42:26.  Erickson's victory was decisive.  
Matt Grey of Lancaster who finished second was almost half a minute behind, and third place finisher and former winner Daryl Weaver of Lititz trailed by a minute and 13 seconds.  Weaver was the first finisher in the men's 30-39 division.
In the men's division, other winners were Wissahickon Wanderer Louis Secreto of Philadelphia 40-49 male; Ted Trockey of Ft. Washington 50-59 male; Fred Schufflebarger of Unionville 60-69.
In the women's division, winners were Kristin Zielinski of Philadelphia (who had earlier won the Wanderers May trail series) 30-39; Patricia Addis-Hudson of Clarksboro 40-49;  Diane Grim of Boyertown 50-59; Diane Hardies of Marlton, N.J. 60-69; and Heidi Moebius of Lancaster 70+.
The race ran smoothly thanks to the help of the many Wanderers staffing the event, our own Phil Ranly's endless preparation and planning, and race director Ron Horn of Pretzel City Sports.  Proceeds from the race benefit the Wissahickon Restoration Volunteers.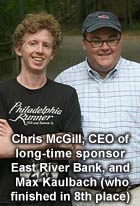 A big thank you to all the race sponsors, especially East River Bank, Nathan Sports, Valley Green Inn, Chestnut Hill College, and Whole Foods.
All the proceeds from the event will benefit the Wissahickon Restoration Volunteers whose tireless volunteering efforts help make the Wissahickon Valley such a special place. As the old adage goes, "keeping a park looking 'natural' requires a lot of work". Any additional support you can extend towards tree plantings and park restoration efforts will go to good use and is greatly appreciated. Donate now (only $10 to plant a tree; $25 to become a member) »
Photos:
127 photos have been posted (6/7/'11). Check out the photo album here »
Results: