On April 18, 2011 Wanderers Pete Michener, Leo Strupczewski and Matt Palombaro will participate in the prestigious Boston Marathon.
They each have met the stringent pre-race qualification requirements and are poised to do their best at this year's event. Read on for their pre-race expectations and preparations.
Pete Michener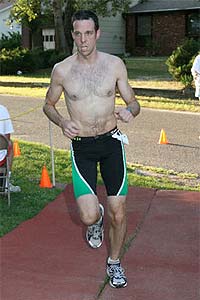 Despite a few unanticipated pit stops during the Garden Spot Marathon last spring, I was fortunate enough to qualify for Boston by running a 3:04:45. I thought qualifying was the hard part until we got to registration day for the 2011 Boston Marathon. The event sold out in 1 day, unheard of! After a few nervous phone calls and texts between me, Matt, and Leo and a lot of failed attempts…we were all in by lunch.
Since registration was in such demand this year, I wanted to prove that I belong and really get after it through the training process. Matt, our resident Boston expert, had been a big proponent of Advanced Marathoning by Pete Pfitzinger and Scott Douglas. So I orderd a copy of the second edition from amazon.com and eagerly awaited its delivery. When it finally arrived and I reviewed its contents, I realized I was entering a world of pain. It was going to be a long hard winter.
This prediction turned out to be true. I was battered by the lactate threshold runs, mid-week medium long runs that were always 14-15 miles, and worst of all the recovery days that called for 6 miles in the AM and 4 miles in the PM. I still want to know how that helped me recover. Even worse than the abuse being doled out in the training schedule was the brutal weather and weekly snowstorm we seemed to get from mid December into February. I was an icicle beard wearing physical mess and mental basket case constantly looking at the latest weather reports.
Now, as I'm sure you've noticed I love to complain. But the real truth is I've had an absolute blast. I certainly have not been looking forward to every run and even dreaded some of the harder ones. Also the training schedule has kept me away from the Wanderers group runs, which I miss so much, but I've had the good company of many fellow Wanderers on many of my training runs. I've been fortunate enough to do the vast majority of my runs with Leo, who is doing the same program and has a similar goal time in mind for Boston. No matter how I run on April 18th it's going be an absolute thrill to meet up with my fellow Wanderers in the finish area. If I can manage to make it to the finish area in less than 3 hours I'll be feeling especially good no matter how bad it hurts.
Leo Strupczewski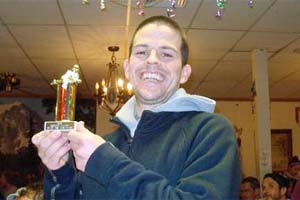 On Christmas Day, I was awake a good deal earlier than most people.
I know this because, by 6 a..m., I was running past homes in Mt. Airy. Streets were empty, windows were dark. Twenty minutes later, the same was true in Chestnut Hill. It wasn't until 6:30 a.m. or so that people actually started turning on their Christmas lights.
By then, though, I was nearly done with the workout prescribed by Pete Pfitzinger in the second edition of his book, Advanced Marathoning – a five-mile recovery run. And when I was, it was time to get on with life.
In the 13 weeks since that morning, the only thing that seems to have changed is my fitness and strength.
Running has been the first thing I've done in the morning and the last thing I've thought about at night. My priorities are so out of whack that I see work as getting in the way of training. I spend more time stretching my IT bands than I do drinking beer. Chocolate milk -for recovery – and coffee -simply so I can function – rank second and third in liquid consumption behind water. I can't provide an intelligent answer to the simple question, "What's new?" I walk slower than your grandmother.
If all goes well, these sacrifices will be worth it. Come April 18, I plan on running a sub-2:55 marathon in Boston, thanks in large part to running upwards of 70 miles a week. The taper begins today. Only 128 miles until I toe the starting line with Pete, Matt and Andy.
Matt Palombaro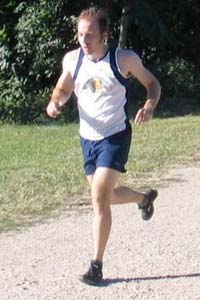 Boston is my favorite race on the calendar. There is a palpable energy in the city on race weekend that draws me back year after year. The course is challenging, scenic, and features phenomenal crowd support.
This year, inspired by Leo and Pete's work ethic, I decided to dive into a training plan more difficult than any I have done in the past. In addition to the increased mileage and harder efforts, I have been forced to become a morning runner as the training plan demands a morning workout routine (and the occasional complimentary evening workout).
I have several goals for this year. Primarily, I need to finish as this will be my tenth consecutive Boston. Second, I would like to qualify for next year's race. And finally, if the training plan works out and I remain healthy, I would love to cap off my tenth with a P.R.