Kristin Zielinski and Louis Secreto were named Queen and King of the Wissahickon for their performance in the Wanderer's 2011 May Trail Series.
For Kristin, it was a clean sweep. She won all four of the trail races in the series to achieve a perfect score of 20 points (5 points for each victory, 4 for second, 3 for third, etc.).
Louis amassed 12 points including a first place finish in the trail series opener on May 5. He tipped the winner of the 2010 May trail series Tyson Smith who finished with 8 points, including a victory in the May 26 race.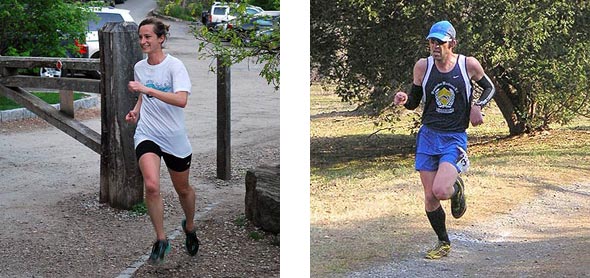 The trail series has been held for seven (possibly eight years), and for the first time last year cups were awarded to the top male and female finishers overall. This year, in addition to the cups, the titles of King and Queen of the Wissahickon were conferred on the competition winners.
Turnout was especially good this past May with an average of 30 runners (of all abilities) running in the four races which make up the series. Special thanks to Chris Moore and Bob Reynolds for overseeing the series and to Fred Kenney and Pat Barrett for taking care of the timing. Thanks also to Louis Secreto, Pete Michener and Doug Dubrosky for laying out the individual courses.
To view reports and photos from the 2011 May Trail Series, click here »
See you in September for the fall trail series!
King/Queen of the Wissahickon Standings:
Men

Total
(weeks 1-4)
Race 1
Race 2
Race 3
Race 4
Louis Secreto
12
5
3
4
Brian Crispell
5
5
Duane Serpentine
5
5
Chris Moore
4
4
Ellis Kim
4
1
3
Pete Michner
4
4
Doug Dubrosky
4
4
Tyson Smith
8
3
5
Todd Euston
5
1
2
2
Andrew Piotrowski
3
2
1
Tom Devlin
3
3
Matt Palombaro
2
2
Chris Verry
1
1

Women

Total
(weeks 1-4)
Race 1
Race 2
Race 3
Race 4

Kristin Zielinski
20
5
5
5
5
Polly Jansen
10
2
3
3
3
Megan Shah
4
1
3
Suzannah Grosso
3
3
Helen Cheung
5
1
2
2
Jessica Hyland
1
1
Rachel Spoonhower
1
1