Race reports by Polly Jansen

The Wissahickon Wanderers once again proved that weekends are not for slackers!  Ten Wanderers proved their might in four different races the weekend of November 8th & 9th:

70.3 Ironman World Championship
Sharon Schmidt-Mongrain was one of 1,254 participants in the 70.3 Ironman World Championships in Clearwater, Florida on Nov. 8th.  She qualified for her spot earlier this summer at the Rhode Island 70.3 and her performance again was nothing less than spectacular.  Sharon finished the race in 4:41:13 placing 12th in her age group out of 62 and 540th overall.  Congrats to Sharon for her truly amazing performance.  We are in awe!!
Sharon filed the following race report:
"It was a terrific event and race!!! I took between 10 and 15 minutes off of my time from the summer… The bike is probably where I'm most disappointed.  I feel like I should have done better…but who knows how I then would have held up in the run.
It's hard though.  The bike was a non-draft-legal race and so many racers were blatantly drafting, either with just one or two other people, or in packs.
I was dead at the end of the run but it had a pretty challenging hill that we had to run four times, so I was pleased I ran the pace I did.
Since I went down there with no expectations, I was pleased to have shaved time off my swim and run…and 12th in my age group made me pretty happy!"
Great job,  Sharon!!!
McGuire Air Force Base 10k Mud Run
Anita Zalewski, Erik Johnson and Josh Dennis all participated in the first annual McGuire Air Force Base 10k Mud Run.  This was quite a unique event requiring the 330  participants to run, crawl and scrape their way through several military obstacles including a 7-foot wall, several mud pits and a chest-deep water crossing (in the pouring rain, no less)!  This event was right up the Wanderers' alley and our trio finished great:  Josh in 46:59 (3rd in his age group), Erik in 47:24 and Anita 69:46!  The post-race shower probably never felt so good!
Trimax Blue Marsh 7-mile Trail Run
Doug Dubrosky and Cee Heard participated in the final of three Trimax trail races.  This was a 7-miler at Blue Marsh Lake in Leesport, PA.  Doug who rocked all three races finished in 54:04, 3rd in his age group and 3 for 3 on the podium.  Doug was 2nd overall male for the Trimax series, so congrats to him!  Cee, fresh off her 5:23 finish at the Napa Valley Trail Marathon last month brought her sister Nancy along for the event & both finished strong in 71:45 and 85:13.  Great job Wanderers for your trail dominance!!
Harrisburg Marathon Relay
Two Wanderers turned in stellar performances at the Harrisburg Marathon.  Joe Kulak finished in 3:08:46 and Richard Gardner came in strong at 4:36:10.  Randy Clever, Matt Mauren, Polly Jansen and Chris Verry ran the Harrisburg Marathon as a relay team.  The legs were 6.4 (Randy), 8.8 (Matt), 6.0 (Polly) and 5.0 (Chris).  Out of 78 teams, the Wanderers were 8th overall and 4th in the "Mixed" category with a time of 3:14:41!  And thanks to Chris' breakneck finish they were able to beat the pink tutu man!
---

The starting line at the McGuire AFB Mud Run.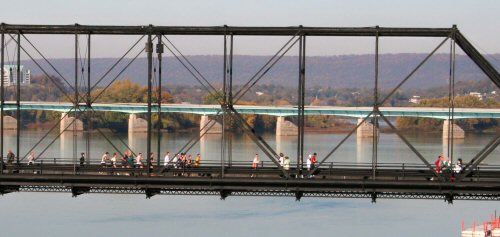 Runners crossing one of the bridges at the Harrisburg Marathon