The Half-Wit Half Marathon is no doubt a favorite of the Wanderers. What does that say about us? That we are hard-core, rugged…OK…, and perhaps a wee bit nuts!
On an unusually overcast, but humid morning (which eventually turned into a downpour for the tail end of the race) 12 of us crushed that course Wanderers style, proudly earning the right to call ourselves "Half-Wits" (for those who have done this race more than once, perhaps "Half-Wit" is a kind term)! 'Nough said–here are the results:
Louis Secreto 1:48:59 (1st M40-49)
Leo Strupczewski 1:50:34
Pete Michener 1:51:57 (5th M30-39)
Noah Shusterman 1:52:57 (4th M40-49)
Phil Ranly 1:54:39
Chris Moore 1:55:59
Chris Verry 1:57:37
Helen Cheung 2:04:57 (2nd overall female)
Polly Jansen 2:06:49 (1st F30-39)
Nancy Muir 2:15:15 (4th F18-29)
Noah AnStraus 2:32:06
Maureen Mignogna 2:55:33
Tammy Leigh Dement 3:02:25
Special thanks to Barb Gorka and Linn Watson for having their "full-wits" about them enough to be a great cheering section and provide us with some terrific photos!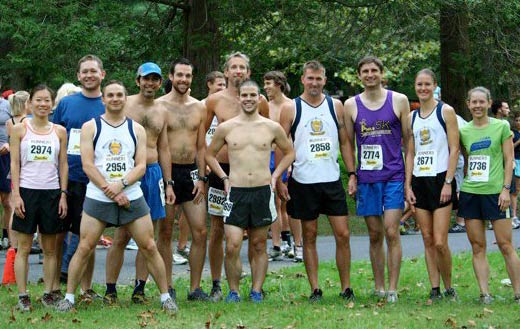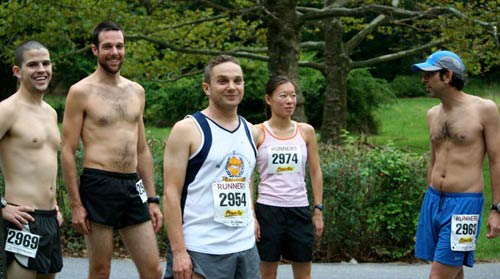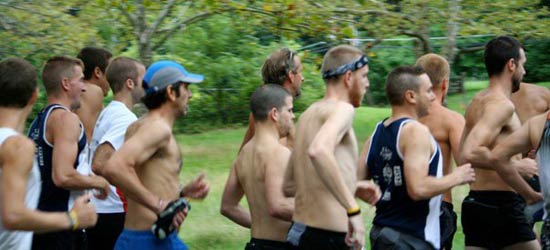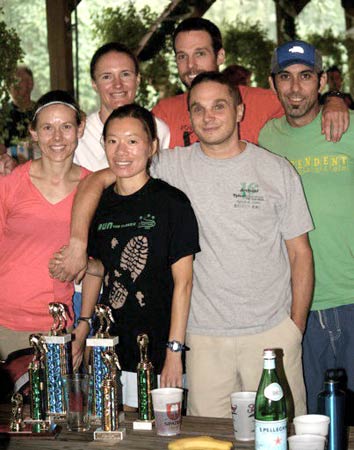 Some pictures by Helen Horn below: