Kristin Zielinski and Zach Miller Victorious at 2013 Wissahickon Trail Classic…Good Times Had By All
Race Report by Dan Gordon of the Wissahickon Wanderers
Runners from Northwest Philadelphia raced to the top positions in the women's division at the Wissahickon Trail Classic on June 8. Kristin Zielinski of Manayunk was the first woman to cross the finish line in a time of 48:42 followed closely in second place by Emily Shuldiner of Chestnut Hill.
More than 400 runners competed in this 10-k trail race through the paths of the Wissahickon, and the overall winner was Zach Miller, a resident of San Francisco who is from Central Pennsylvania. Zach finished the race in 40:25, almost a minute ahead of second place finisher Michael Daigeaun of Philadelphia
Third time proved to be the charm for Ms Zielinski in the 2013 trail classic. Kristin was third in the women's competition last year, and was fourth the year before that. Now that she is women's champion, she does not plan to give up the title easily.
"It is great to win because I never have, but at the same time, the girls that I've come to expect will beat me (from previous Trail Classics) were not there this time so I hope that they show up next time and I can fight to defend my win," said Kristin, who runs on the Rosemont Running Club team and is a founder of the Manayunk Running Club.
Male runners from Northwest Philadelphia also excelled in the race. Jonathan Cornibe of Mt. Airy was first in the 20-29 age group and fifth overall in a time of 43:19. Jeff Hayes, also of Mt. Airy, was second in the masters division and eighth overall. Matt Gould of Yardley was the top finisher in the men's masters division.
Jess Hyland of Roxborough was another top finisher, winning the ages 20-29 category in the women's division in a time of 50:41.
The trail classic managed to dodge tropical storm Andrea by only a few hours and was run in sunny conditions. "Despite the torrential downpour Friday night, the trails weren't nearly as bad as expected," Ms. Zielinski said, "but my time was a lot slower as a result. I worried Friday night that they would cancel the race. To be honest, I was looking forward to the idea of running in a downpour."
The race benefits the Wissahickon Restoration Volunteers, a group dedicated to the improvement of the Wissahickon by removing invasive species and planting indigenous shrubs and trees. The race was presented by long time sponsor East River Bank and managed by local running club the Wissahickon Wanderers.
Photos, Photos, and (a lot) More Photos
We have posted some 565+ photos that were taken by Clay Wells. As he took these photos by himself, it was impossible to capture everyone. But, clearly he got most of us. So sit down and see if you can find your photos. Visit Clay's site to purchase hi-res versions at a nominal fee.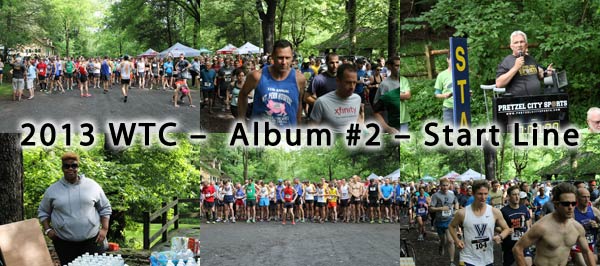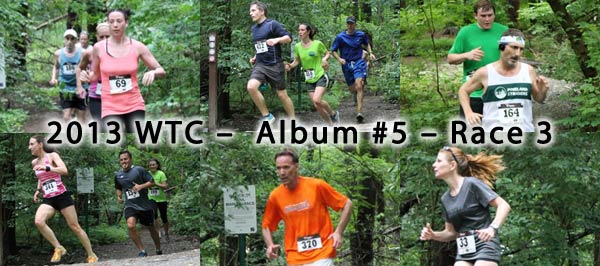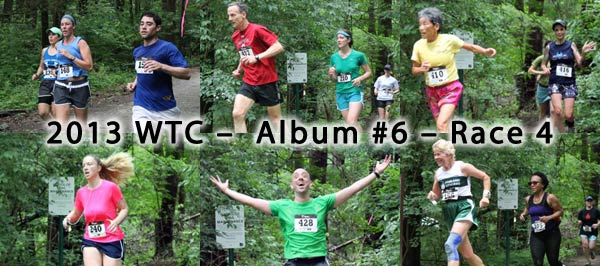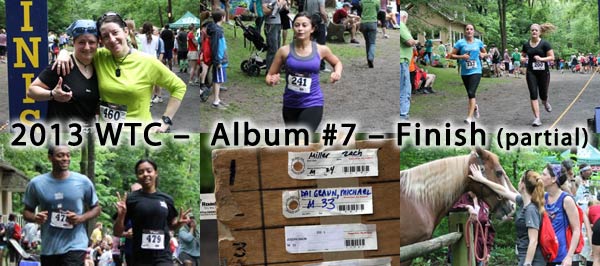 Click banner images above to view respective albums or go to our Photo Albums page here »
About The Race
The race was conducted for the benefit of the Wissahickon Restoration Volunteers.  The Wissahickon Restoration Volunteers is a non-profit, member supported organization that works to enhance the native flora in the Wissahickon Park.
A big thank you to race sponsors.
East River Bank was the presenting sponsor.
Partners: Philadelphia Parks & Rec, WRV, USATF, and the Wissahickon Wanderers R.C.
Gold Level sponsors: Whole Foods, Nathan
Silver level sponsors: Laurel Hill Gardens of Chestnut Hill and The Cedars House Cafe
And all our friend-level sponsors: Chestnut Hill College, Bryn Mawr Running Co., The Couch Tomatoe Café, New Balance, The Valley Green Inn, Barking Dogs Foot & Ankle Care, Earth Bread + Brewery, Pennsylvania Equine Council, Preferred Sports Wear, RoadID, and Valley Green Bank.
Race partners include Wissahickon Restauration Volunteers, the Philadelphia Parks and Recreation Department, USA Track and Field, and the Wissahickon Wanderers.  We thank the Philadelphia EMS service and the police officer from Philadelphia's 14th District for traffic control at Bell's Mill Road.
Race Results
Results are located on Pretzel City Sports (PDF). Thanks to Ron Horn and Pretzel City Sports.