It is hard to believe but the Wissahickon Wanderers are now 10 years old.
It all started deep in the Canadian wilds in May of 2000 when a group of running has-beens and wannabes named the Wissahickon Wanderers entered the Cape Breton long distance relay. Survival in the 187-mile race with some degree of dignity was the sole objective.  It's amazing that we are still here!
Well, on January 21, we will have our annual meeting at the Valley Green Inn.  Besides celebrating our birthday, this will be a great opportunity for Wanderers and all runners to figure out what the club should do in the year ahead.  The prestigious Athlete of the Year award will also be presented.  The meeting will be held right after the regular Thursday night trail run and should start about 7:30. 
The meeting is definitely not going to be "all business" as food and refreshment will be served.
There is a lot to discuss:
What races do we want to hold? 
Which races should the team enter? 
What public service projects do we want to participate in? 
Do we need any new Wanderers apparel? 
Should we charge dues? 
Should we establish more structure?
Your suggestions and comments are critical in deciding what we should be doing in 2010 and where we want to be in 2020!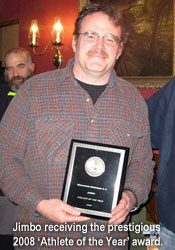 2009 might have been the year when the economy went in the tank.  But the Wanderers did great!  We won a bunch of races (well, it was really Sharon and Helen), but we placed very high a bunch of times.  The Wissahickon Trail Classic, which we managed, was a big success and the annual track meet also was a lot of fun.  Let's see if we can do better in 2010. 
Please let me know if there are any topics you want to be raised.  Also contact me at if you cannot make the meeting, but want to express an opinion.
Athlete of the Year
Finally, nominations are now open for Athlete of the Year.  It is going to be tough to top last year's winner Jim Trainor. But Wanderers performed lots of great feats in 2009. Who will be the Athlete of the Year?  Please contact me if you would like to make a nomination.
To view the photos and report from last year's meeting, click here »