The Great One's celebrity star continues to rise. Earlier this month, Susan and Gina were featured in a Channel 6 news broadcast about running in cold weather. At the same time, all viewers of promotional material for the Megatransect trail race were greeted by the smiling faces of the Great One and Maureen.
Pointing to a mountain of crushed stone and rubble behind them, Susan and Maureen seem to be saying "Do we have a deal for you!" Apparently, people were buying whatever Susan and Maureen were selling because Megatransect 2010 sold out very quickly (10 days!) and they are using the Wanderer duo to adorn the waiting list page.
By the way, this is not the first time Wanderers were used to promote events…or regional visitors guides for that matter. Last year, X-Factor graced the cover of the Hyner 2009 Visitors Guide.
Below a recent email showing The Great One and Maureen at the base of the Megatransect 25-Miler.
And the website: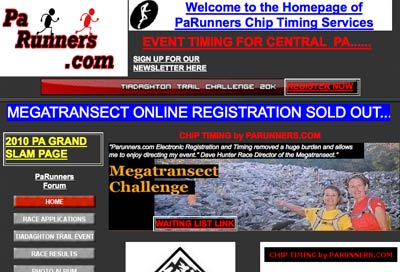 Related Links: