Report by UltraCee for now & SuperCee for ever
So Jim Millar was not passed out in the parking lot of Total Wine, but rather waiting by his sapphire blue PT cruiser at 6:30 AM.  "Who's driving?" Honestly, there was no contest.  Opportunities like this come maybe once in a lifetime.
The race started in the Fairhill Resource Management Area in rural Maryland where a 50 mile horse race had started the hour before.
There were about 25 runners and lots of horses, horse people and horse trailers.  The weather was perfect, to me, the best day of the year so far!
My favorite part about these ultra runs is getting to know the people along the way.  One guy named Steve was running his first ultra.  He wasn't carrying any water!  I offered him some but he declined.  He said he had to be given IV fluids three times in the past when he finished races.  I don't think he was in touch with his kidneys and their wonderfulness.  He was delighted with the aid stations though, simply delighted.
Another guy named Steve (too) lost his shoe in the mud and then had a hard time finding it. I ran into Jim Millar a few times on the trail and even ran with him and his friend Jeffrey for awhile.  They saved me once when I was losing the course because I wasn't paying attention and then kept me going for a few miles when I was getting tired.  I ran with two girls from a running club in Connecticut called Mr. Bimble's for about the last 10 miles.  I heard them say to one another at the mile 25 aid station, "are you ready to kick some serious butt and finish this race?"  I worried that they were going to put it in fifth gear and plow me over, had I failed to save a reserve for the finish?  But we kept running at about the same pace and all finished around the same time, around 6 hours and 45 minutes.  I think hearing the girls say that gave me a little extra kick. (Thanks Cathy & Jen.)
The course was challenging, lots of ups and down, lots of mud, 2 stream crossings and lots of horseprints to make the terrain tricky, as well as plenty of horse poop.  The Fairhill Resource Management Area is a really pretty park despite its name.  There were wildflowers blooming all over the place.  I saw some buzzards and the worst thing I saw was a random, but fresh, deer leg on the course.  It freaked everyone out.
Our finisher's "trophy" was a foxcatcher coffee mug and a crisp bandana that is promised to soften in the wash.  Some guys from some stable in NJ had set up a barbecue station and they had some of the best post race food I've ever seen.
Paul and Phil, the RD's, had done a nice job from start to finish.  The race was well organized, the trail was well marked, the aid stations were perfect and the race had a nice finish.  For me, doing a 50K after doing a 50 miler was really nice.  This 50K seemed so much easier than the one I did before the 50 mile race, I had hoped that would happen, but was afraid to bank on it!  Hooray!  It was true!!!
The sapphire blue PT cruiser beamed Jim and I back to Total Wine and from there home.  It might seem odd to some people, but it was an awesome day and I couldn't think of anything I would have rather done!
~~~~~~~~~~~~~~~~~~~~~~~~~~~
Loren Thomas, a member of the Wanderers correspondence program in New Jersey, chugged home in six hours and eighteen minutes.  Loren noted some tough conditions "…all the divots caused by the horses and beat up trail.  But it was beautiful."
Event Photos by Jim Millar
(unfortunately, the camera went dead during the race; pre-race photos only)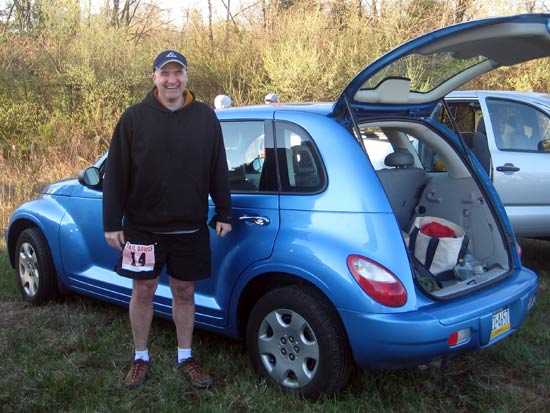 6:30 am: Jim and his PT Cruiser at the rendezvous point (Total
Wine). He sported a new look out on the trails, sans beard !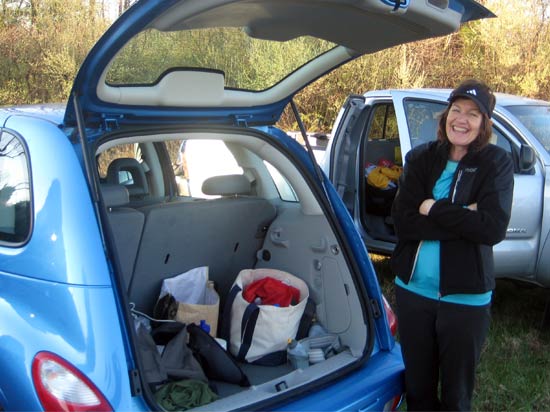 Jim asked: "Who's driving?" Honestly, there was no contest.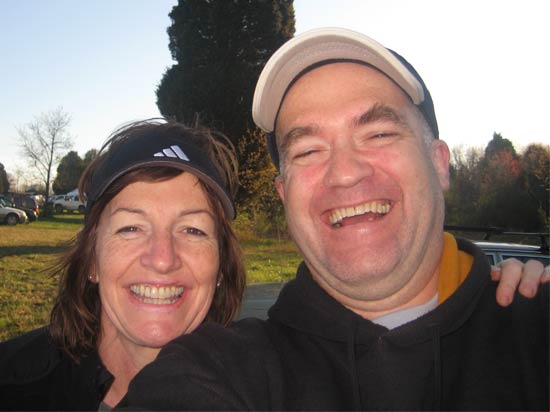 The Foxcatcher 50k did not scare SuperCee (aka UltraCee) and Jim who were all smiles before the race.

Some fellow runners before the race.