Updated 4/11
On April 4th, 2009, Wanderer Sharon Schmidt-Mongrain participated in the Garden Spot Village Marathon held in Lancaster County. Despite headwinds, she beat all the other women across the finish line. Read on for her report and photos.
Race Report by Sharon Schmidt-Mongrain
The 1st Garden Spot Village Marathon (New Holland, PA) was held April 4, 2009. The day dawned partially cloudy and not breezy, but windy.
The forecasters, calling for winds of 20-50 mph, finally got a forecast right! It was a pretty small field of runners out on Saturday. I don't know how many people started the race but final results show 143 finishers with an additional 42 relay teams finishing. I think it was the smallest race I've ever done.
The course was set up as essentially an out and back. It was a little stinky at times, but also pretty. We were treated to a variety of animals along the course, all with their own unique way of greeting the runners. The day's brutal winds made the tough, hilly course even harder.
For several miles on the way out, we had a crazy headwind and/or crosswind. (My husband rode his bike along the course and said he had to peddle downhill a few times.) Most of the course was rolling hills with a long steep climb from miles 21 – 23 and then a steep decline from 23 – 24. Until that last uphill/downhill I felt pretty good, even when I ran for several miles at a time without seeing another person. Just as I was starting to hurt but thought I could make the last couple of miles in, we turned back into the headwind.
Those last couple of miles were tough! I had a PR of 3:17:58 and was pleased with my time! For me, the race was as much a physical challenge as it was a mental. And it was a good start for me to kick off my 2009 road racing/triathlon season.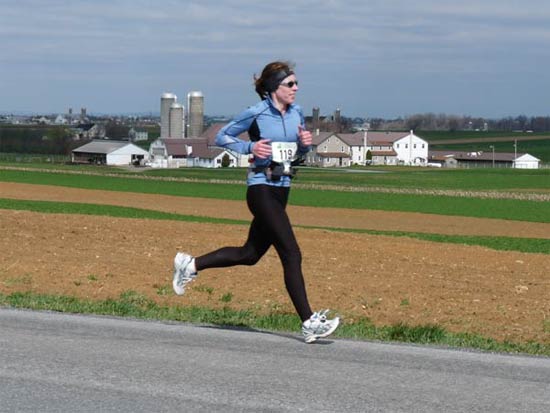 The course was windy and hilly…

…and parts of it a tad smelly too. But all in all, pretty.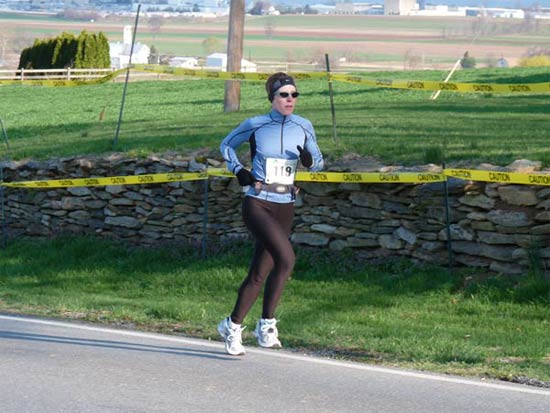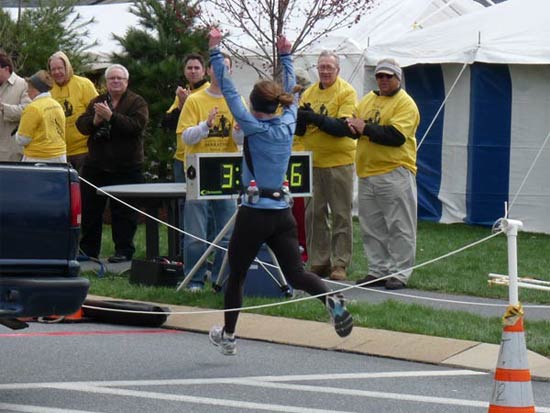 First female across the finish line. Yeah !!
Lancaster Online Newspaper Article:
Hager captures breezy marathon
Schmidt-Mongrain is women's winner in first Garden Spot Village Marathon
By CAROLE DECK, Correspondent
"Brutal" and "challenging" were the two words runners used to describe Saturday's windy weather at the Garden Spot Village Marathon.
Wind gusts over 40 mph didn't discourage the 380 participants — 141 from Lancaster County — who signed up for the first county marathon.
Runners came from all over the state and from Connecticut, Maryland, New Jersey, New York, North Carolina, Ohio and Washington state.
The majority of runners weren't novices to the sport, having competed in other marathons, ultramarathons and ironman triathlons.
Patrick Hager, of Elizabethtown, was the first to cross the finish line with a time of 2 hours, 49 minutes, 6 seconds.
"Running the first half with a group helped to block the wind, but it was brutal," Hager, 23, said.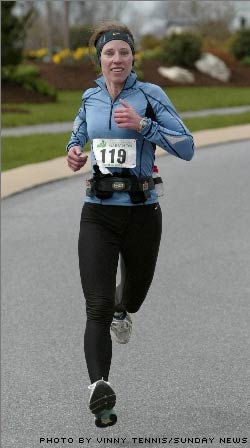 He said he was honored to compete in Lancaster County's first marathon, only his second ever.
Sharon Schmidt-Mongrain, 33, from Philadelphia, finished first in the women's category, and seventh overall, completing the course in 3:17:43.
Jason Lantz, from Lancaster, was second in 2:51:43.
Lantz, 27, who ran in his seventh marathon, said, "Marathons are never easy, but they help me believe in God. I pray all the way to the finish."
Reading resident Brent Wiley, 46, of Reading, was third in 2:54:38.
"My goal was to finish without being taken away on a stretcher," said Wiley, who ran in his first marathon in 25 years.
Schmidt-Mongrain, the women's winner, said, "The best part of this marathon was the mental challenge against the extreme wind."
Second place in the women's category was captured by Diana Widdowson, 42, from Conestoga, in 3:29:46.
After conquering the wind, Widdowson said, she's ready to compete in the "Windy City" of Chicago.
"This was my 11th marathon and the hardest," Laurie Dymond, of Chamberburg, who was the third female finisher, in 3:48:09.
This year, the 43-year-old plans to compete in her third Boston Marathon.
Pittsburgh native John Brockenbrough, 50, took first place for men 50-and-older in 3:00:14.
"It was great, challenging, and difficult … a test of character, but enjoyable," Brockenbrough said.
William Simpson, 58, of Lancaster, was second in the men's 50-and-over category, in 3:17:58. Eugene Gignac, 53, of New Cumberland, was third, in 3:20:00.
Taking first place for women 50-and-older Amy Snyder, 50, of Lansdale, in 4:12:16. Lititz native Eileen Crone, 59, wearing a No. 2, came in second, in 4:31:36. Karen Mitchell, 58, of York, was third in 4:33:39.
The last competitors to cross the finish line after 7 hours, 2 minutes were the hale and hearty Garden Spot Village resident relay team.
Bill Neuman, 69, organized the team of five residents who walked the course. The other team members were Edward Scott, 73; Noel Stephens, 85; Art Saunders, 70, E.J. Rittersbach, 70. For Neuman, the dream to participate in a marathon finally came true.
"I trained for several marathons, but ended up with injuries that prevented me from competing … until today," Neuman said.
Stephens was the oldest competitor. He walks every day to keep the doctor away, he said.
Temple resident Troy Seitzinger ran the race in memory of his 18-year-old daughter, Taylor, who died in a car accident March 19. Wearing a T-shirt with Taylor's photo on it, Seitzinger had the support of 20 family and friends cheering him through the race.
Many of the runners expressed appreciation for the well-organized event and the beautiful, well-marked country course. Most expect to return next year.
Scott Miller, Garden Spot marketing director and event organizer, estimated that the event raised $5,000 for the Garden Spot Village Benevolent Fund.
Trophies and cash awards went for men/women overall and 50-plus as follows: $1,000 for first place; $500 for second and $250 for third. Winners in age categories received plaques for first, second and third places.
"It was a great day, in spite of the wind," Miller said. "We had a wonderful team who put the event together and volunteers plus all the competitors who helped to make the first Lancaster County marathon a big success."
Links: