Race Report by D. Scott McCracken
Every once in awhile, we do something we might later regret. Perhaps it was a skipped workout. Maybe a "few too many" on a Thursday night at the Valley Green Inn. Or that time you put off fixing the leak in the backyard septic tank a little too long.
On April 11, a cadre of Elite Wanderers (is there any other type?) cowered in a steady, cold rain and had the rare opportunity to avert one of these catastrophes.
A child could have told you that four rain-swollen stream crossings would be deep and slick, and leave you chilly as a wet anchovy.
A city-slicker could have predicted horrid stench and mud-filled sneakers for those who crawled (yes, forced to hands and knees) through a shoe-sucking swamp littered with 20+ fallen trees.
An atheist could have foreseen bad karma for those who slopped in Revelations-like conditions along a course dotted with, at minimum, three rotting animal carcasses (has Ron Horn gone mad?).
Spider Man would have anticipated slippery footing and spectacular falls on the inches-deep muddy slopes of Mt. Penn.
You get my point.
Despite these obvious signs that they were heading into certain disaster (and, as Anita pointed out, missing out on a plate of hot cakes at Arner's back on US422), nine Wanderers joined several hundred self-described "idiots" at the starting line for the 15th annual Mt. Penn Mudfest 15k Trail Run in Reading, PA.
9.3 miles later, after a quick census and limb count, it was concluded that all had escaped relatively unharmed. Most were even in relatively good spirits, having appropriately repressed any memory of the event (except for Chris who was last seen huddled in a ball on the Rotary Park pitcher's mound, clinging white-knuckled to a half-eaten hot dog and softly singing "Sweet Caroline").
Given the conditions, everyone was pretty satisfied with the day, and congratulations are well-deserved in the "just for finishing" category.
Anita Zalewski, 1:58:28
Chris Verry 1:14:44, 9th place M30-39
Scott McCracken, 1:32:00, 6th place Clydesdale
Erik Johnson, 1:20:10
Polly Jansen, 1:25:49, *!*!* 3rd place F30-39 *!*!*
Ken Evans, 2:12:19
Doug Dubrosky, 1:19:53, 14th place M40-49
Tammy Leigh Dement, 1:55:27
Beth Auman, 1:51:02
Event Photos: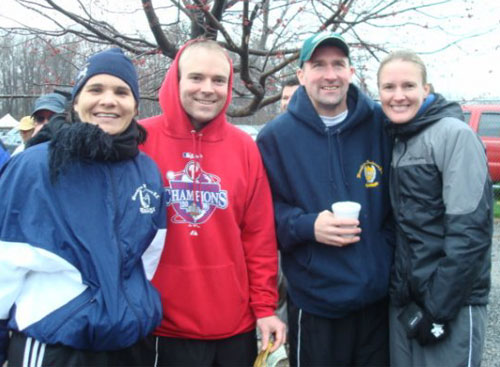 Tammy-Leigh, Scott McCracken, Chris Verry, Polly Jansen


Tammy-Leigh, Scott and Chris again.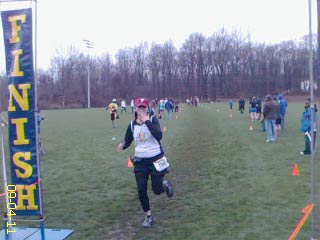 Tammy-Leigh finishing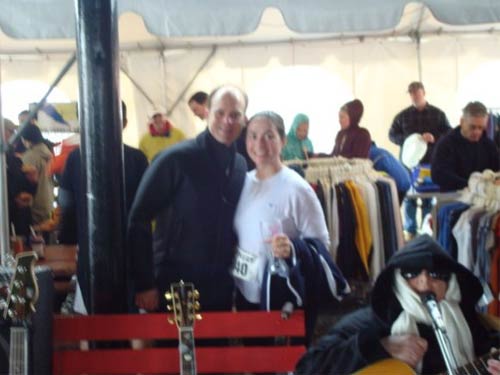 Erik and Anita after the race.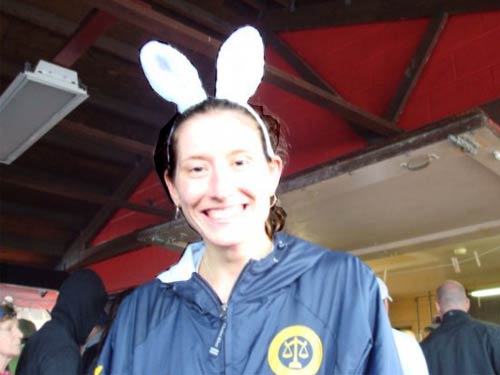 Beth also after the race.