The misty rain and upper 30's-low 40's temps seemed more indicative of a March than a January race. Regardless the 'spring-like' weather, the January 24 Chilly Cheeks 7.2-mile Trail Race definitely became one for the books.
Six Wanderers showed up for the beer & pancakes, but then realized they had to do the race first (aaaw, man!). They definitely earned a hearty celebration after surviving the treacherously rocky terrain and unforgiving hills ("Mt. Whadafug" and "Mt. Mud", in particular). The notoriously wicked course made it difficult to read Ron Horn's witty one-liners that he had attached to several trees along the course. Among them, for example, "Oh no, the dreaded pink trail!" and "Don't let the color fool you!"
Out of the record-setting 684 registrants, there were 632 finishers (so there are potentially 52 people still missing on the course?!)
The Wanderers finished well into the top half:
Leo Strupczewski – 57:55 – 9th overall & 3rd in age group!!
Amazing Chilly Cheeks debut!
Noah AnStraus – 1:15:19
Pain & suffering are reminders that I am still alive!
Cee Heard – 1:28:23
No doubt smiling through the entire thing!
Polly Jansen – 1:07:46 – 3rd in age group
Induces fear with flaming trophy (see pic!)
Chris Verry – 1:03:43 – personal record for Chilly Cheeks!
Had to be the flame hat & the knee-high "Jimbo" socks!
Stephanie Haas – 1:23:44
Cashed in those Tuesday track intervals!
Good thing there was no rule against excessive celebration 'cause that's exactly what the Wanderers did! What else is there to do on a January day?!
Event Photos: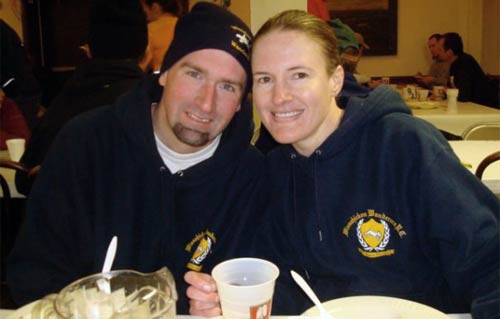 Chris & Polly smilin' now that the pain is over!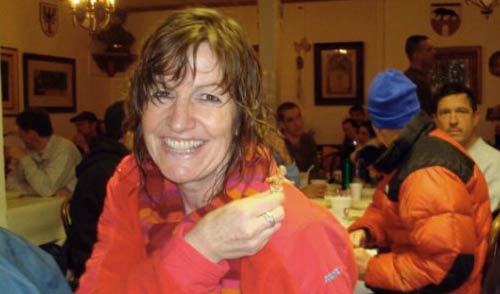 Cee swears Jesus was on her shoulder during the race!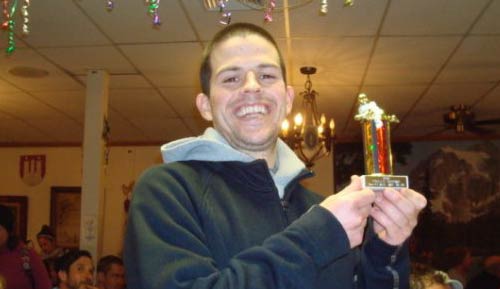 Leo got 3rd in his age group & 9th overall!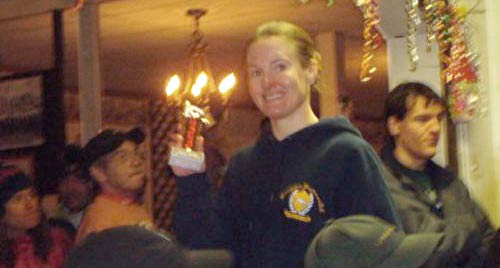 Polly silenced the crowd when flames shot out of her trophy!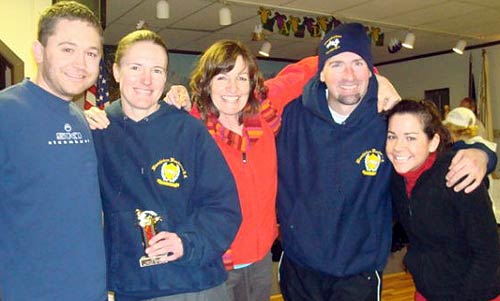 The crew survived: Noah, Polly, (Baby Jesus), Cee, Chris & Stephanie
Links: