Come out for the premier trail run in the region!

On June 6, 2009 (starts at 9 am), the Wissahickon Wanderers will host the 4th Annual Wissahickon Trail Classic 10K. Please "read more" for the details.
Please download this PDF and email it to your running friends.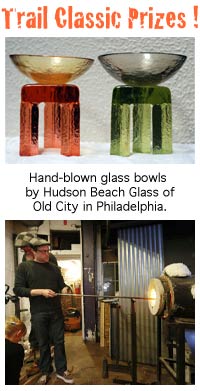 The winners in the men's and women's divisions will win glass bowls which are hand-blown by Hudson Beach Glass of Old City in Philadelphia.
Age group winners will win tree seedlings.

About Hudson Beach Glass:
Sean Gilvey, a third generation glassblower from New York, and his wife Emily, a Philadelphia native, opened Hudson Beach Glass Philadelphia in October 2008. Sean, 31, has been making glass for 19 years (ever since he was tall enough to see into the furnace) and produces his exquisite glasses, ornaments and more in the Strawberry Street store.
Check out their website for more information >
We need runners and volunteers:
Race information, directions, fees, etc., visit the race website WissahickonTrailClassic.org
Online registration: http://www.pretzelcitysports.com/online_forms/…
To volunteer, contact Phil Ranly We need all the help we can get to make this event a success.  Specifically, we need help at the registration table, water stops, trail marshals, and post-race clean-up.
About the Course:
The challenging course traverses scenic parts of the park.   A special thanks to Wanderers Chris Verry, Polly Jansen and Adam Davey for designing the course.  You can thank them when you finish! Course map here »
About the Race:
All proceeds for the event support the Wissahickon Restoration Volunteers.  The Wissahickon Restoration Volunteers (WRV) is a member-supported, volunteer- driven nonprofit that actively restores the natural environment within the 2,000-acre Wissachickon Park.
A message from race director Phil Ranly:
I helped start this race 4 years ago with these two ideas in mind.

The Wissahickon park needs help.  Invasive species and degradation of the land threaten this urban oasis.
The trails in the park are a gem and worth sharing with others in the Philadelphia region.  The race combines my love of physical challenge, friendship, and competition within a beautiful natural setting.
I hope to see you June 6!
Register here »
Please Help Promote the Race:
Please help us promote this event by downloading this PDF and then emailing it to your running friends. It is only 150Kb.
Race Reports/Links: