Race Report by Matt Mauren
March 21, 2010 ~ Wilington, DE ~ The absence of Noah and Helen cast a large shadow over the valley beneath Brandywine Park early Sunday AM. Though the usual suspects were conspicuously absent, a large throng gathered to etch their mark in history on this unseasonably warm Sunday morning in Wilmington, DE.
Neither late arrivals nor vaguely legal parking spots would deter a small representation of Wanderers from casting their proverbial lots in to this quickly evolving ANNUAL EVENT.
A nervous pack of runners tentatively lined up to anticipate the loud eruption of the CANNON that announced the start of this race.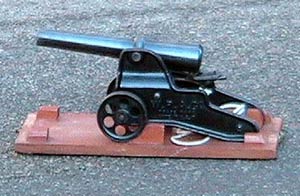 Truly a test of endurance, this race lets you press the pace for the first six miles and then mercilessly casts you into an endurance match with yourself as you're left to trot up a 3% grade change from miles six to nine…
Regardless, this pack of your fellow brethren marched diligently past winding roads, menacing potholes, and verily their own fatigue to establish NEW PERSONAL bests for their record books.
NOSTALGIA
The weather EASILY established itself as the takeaway memory of the day. Gorgeous. Sunny. Warm. Essentially, everything this race usually is NOT.
Nervous conversation surrounding 'goo' strategy…and an ensuing debate about the ability to do a HALF A GOO as Jansen claimed to do… Verry and Mauren formed an unlikely partnership around the concept that goo consumption, much like pregnancy, is an ALL OR NOTHING thing…"goo big, or goo home," was heard from a throng of angry Tea Party Protestors that AM.
Finally, as always, participating simultaneously in an event where you AND your fellow participants ALL go home with data PROVING you were healthier than you were a year ago today.
MYOPLEX as a POST RACE food option. Well done, Caesar.
LOW LIGHTS
The race filled up BEYOND capacity. Consequently, DAY OF registrants were denied tech shirts/medals/shwag bags…and even PRIOR REGISTRANTS found themselves with ill-fitting shirts. "STERN LETTERS," muttered another Tea Party Activist on Christian Street.
Results
Chris "X-Factor" Verry
overall place: 76
division place: 17/94 M 33 M30-34
Chip time: 1:26:59 pace: 6:39 (shaving 1:05 off his 2009 time)
Polly "Yes We Can" Jansen
overall place: 133
division place: 3/108 F 35 F35-39
Chip time: 1:32:08 pace:7:02 (shaving a whopping 6:12 off her 2009 time)
Matt "Diesel" Mauren
overall place:358
division place: 40/94 M 33 M30-34
Chip Time: 1:42:53 Pace: 7:52 (shaving 2:45 off his 2009 time)
Steve "Pushing the Pace" Sloan
overall place: 390
division place: 30/107 M 51 M50-54
Chip Time: 1:43:53 Pace: 7:56
Links:
Official/Complete Race Results