RESULTS (to be posted as we run these races):
9/2 – This first race was cancelled
9/23
9/30 –
Results (pdf)
– There were 30 timed runners and 2 walkers for the final race of the Fall Series. The finish for first place was one of the closest ever for a Wanderers' Trail Series race.
Run in one or more of the
FREE

informal trail races (organized by the Wissahickon Wanderers) on

All FIVE THURSDAY EVENINGS IN SEPTEMBER

: Sept. 2, 9, 16, 23, and 30 starting at 6:30 from Valley Green Inn.
Please note that for the
September 30th race

, we will do things a little differently:

Start time will be 6:45 in front of the Cedars House

(close to NW Ave view Map »)

The distances range generally from three to five miles through the woods of the Wissahickon and along Forbidden Drive. The trail series races are FREE and open to absolutely everyone.
Thanks to Fred, Pat, Jim and the other volunteers for the timing, registration, and course layouts !
In addition to veteran Wanderers, we will have "guest star" directors from Chasing Trail and Trail Sisters
Please help us promote this event. The more runners that show up, the better for everyone. Please download this PDF and then use your personal email to forward it to running clubs and friends whom you think may be interested.
There is no charge and the races are open to Everybody!
Dates: THURSDAY EVENINGS in September: Sep 2, Sep 9, Sep 16, Sep 23, Sep 30 (15th annual event!) Run in as many of these as you want.
Time: All races will begin at 6:30 sharp so that we can take advantage of the limited daylight. So show up a little early and bring this waiver with you to save time.
Safety: Please wear a mask before and after the race. Also, it'll be dark for the last one. A headlamp and/or flashlight will be required.
Place: We meet at the Valley Green Inn on Forbidden Drive in the Wissahickon (directions). The Inn, by the way, welcomes runners for post-race refreshment!
What: three to five miles of Wissahickon trails and along Forbidden Drive
Who: races are open to runners of all abilities!
Updates: Check the Wanderers website for any updated information as well as photographs of the races. In case of cancellations, we will post a note on our home page and/or our FaceBook group page.
Links to Past Trail Series:
(there were no races in 2020 and earlier this spring due to the pandemic)
Spring 2007 Report and Photos and More Photos
Spring 2005 Report and Photos
Please help us spread the word. Download this PDF and e-mail it to your running friends. Thank you.
Timing by Fast Cat
Thanks to Pat Barret and Fred Kenney from Fast Cat Timing for keeping score!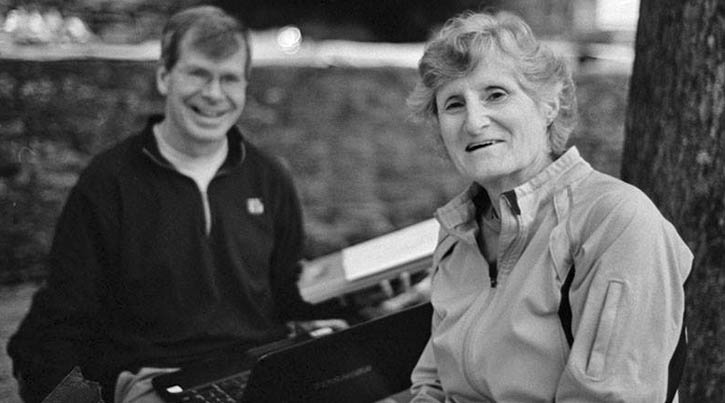 Drinks/Refreshments at Valley Green
Valley Green Inn will happily serve us drinks and food afterwards.